 Life got just a little bit tougher for most of the coaches in MLS when CONCACAF released the final rosters for the upcoming Gold Cup.
When the tournament kicks off on June 5 in Arlington, Texas, 10 out of the 12 rosters will feature at least one of the 32 selected players from MLS.
The placement of the tournament creates a significant headache for MLS sides stuck in the throes of the regular season campaign. Without any designated fixture relief, each of the 15 affected clubs will have to find a way to muddle through until June 25 without skipping a beat.
Some clubs will bear a far greater burden than others. With the start of the tournament right around the corner and most players preparing to link up with their national teams early next week, here is a team-by-team look at the fallout:
New York:
Juan Agudelo (U.S.), Dwayne De Rosario (Canada), Rafa Marquez (Mexico), Tim Ream (U.S.), Dane Richards (Jamaica)
Even the more-than-capable Hans Backe will struggle to replace the wealth of talent set to depart. The schedule gave the Red Bulls a bit of a reprieve – home matches against Columbus and New England – during the group stage, but the knockout rounds present a far more difficult task with Agudelo, Marquez and Ream likely to miss a three-game road swing through Portland, Seattle and Chicago. Look for Mehdi Ballouchy and Carlos Mendes to assume key roles in relief.
Sporting Kansas City:
Stephane Auvray (Guadeloupe), Roger Espinoza (Honduras), Craig Rocastle (Grenada), Shavar Thomas (Jamaica)
While the number of missing players is imposing, the makeup of the contingent – and the absence of one notable name – affords some measure of solace. Espinoza and Rocastle are the only regular starters in the group, but their indifferent performances so far this season make them replaceable. Teal Bunbury would have created a significant hole even in Sporting's deep forward corps, but he did not earn a spot in the U.S. squad. All things considered, this isn't a terrible hand for a side in desperate need of some good fortune.
Real Salt Lake:
Arturo Alvarez (El Salvador), Will Johnson (Canada), Nick Rimando (U.S.), Alvaro Saborio (Costa Rica)
The already bumpy road isn't getting easier: RSL plays six games between June 4 and June 25, including five through the semifinal stage. Rimando won't feature much, if at all, for the U.S. and will play for the Claret-and-Cobalt, but Saborio's call-up presents legitimate concerns about his lingering knee issues amid the fixture crunch. Losing Johnson – a key figure in midfield with his work rate – will hurt as well.
Houston:
Andre Hainault (Canada), Jermaine Taylor (Jamaica), Je-Vaughn Watson (Jamaica)
Hainault's absence won't draw much publicity, but his loss is a crippling one for the Dynamo given his performances since moving to central defense. Dominic Kinnear will struggle to replace him with understudy Taylor unavailable as well. The biggest boost for the Dynamo: Brad Davis' continued exclusion from the U.S. squad.
Colorado:
Omar Cummings (Jamaica), Tyrone Marshall (Jamaica)
Goals have been at a premium for the Rapids in recent matches – four goals in the past eight outings – so it won't help to have the fit-again Cummings unavailable. Marshall has logged a few starts over the past few games, but Colorado coach Gary Smith has enough defensive depth to compensate for his loss. The prickly schedule during the stretch – vs. Philadelphia (June 4), at Portland (June 11) and vs. Los Angeles (June 18, if Jamaica advances past the group stage) – is a hindrance, however.
Los Angeles:
Landon Donovan (U.S.), Donovan Ricketts (Jamaica)
Not even the Galaxy can replace Donovan's ample production. Look for David Beckham and Juninho to assume additional responsibility for instigating chances, but the Galaxy will need more from Juan Pablo Angel and Chad Barrett to get through Donovan's expected four-match absence without dropping too many points. Josh Saunders provides solid cover for Ricketts in net.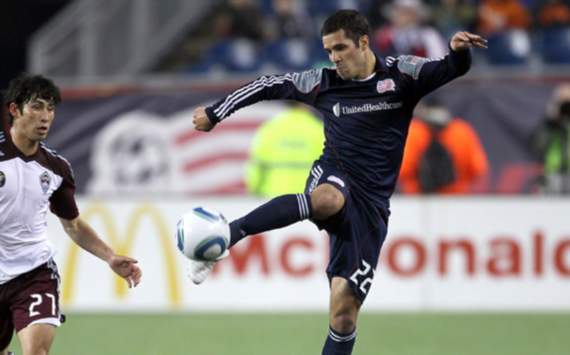 Can the Revs survive? | Feilhaber could miss five games

New England:
Benny Feilhaber (U.S.), Shalrie Joseph (Grenada)
Joseph's decision to link up with the Spice Boyz all but cripples the Revs' already suspect possession game. With Joseph likely to miss two matches and Feilhaber out for as many as five games, the Revs may have play even more directly through midfield and perhaps supplement Rajko Lekic with an additional forward up front.
San Jose:
Ryan Johnson (Jamaica), Chris Wondolowski (U.S.)
Wondolowski's surprising call-up leaves the Earthquakes in dire straits. No other international selection – with the possible exception of Donovan – exerts more influence over his side. Throw in the absence of the in-form Johnson and there are all sorts of questions to answer in the attacking third. Frank Yallop must conjure up some way to produce goals with regularity during the four matches Wondolowski could miss if the U.S. makes the final.
Toronto FC:
Julian de Guzman (Canada), Dicoy Williams (Jamaica)
Canada coach Stephen Hart took pity on the Reds and only called de Guzman into his squad. In comparison to past Canada outings, TFC will bear only a minimal share of the burden with de Guzman's so-so form. Williams has established himself as a starter in central defense, so Aron Winter will have to juggle things a bit at the back.
Chicago:
Marco Pappa (Guatemala)
Fire coach Carlos de los Cobos will pray that Guatemala does not advance past the first round. Chicago simply can't afford to cope without Pappa's special talents for more than the three matches he is already slated to miss.
Columbus:
Robbie Rogers (U.S.)
Rogers features regularly down the left for the Crew, but Robert Warzycha possesses several options – Dilly Duka probably makes the most sense in a straight swap – to compensate for his absence.
D.C. United:
Dejan Jakovic (Canada)
United's younger back line will only get younger with Jakovic away on international duty.
Philadelphia:
Carlos Ruiz (Guatemala)
Ruiz's absence may actually liven up the Union's moribund attack by forcing Peter Nowak to introduce more mobile options up front.
Portland:
Steve Purdy (El Salvador)
Purdy featured regularly during the opening stages of the campaign, but the Timbers won't miss him too much now that Jeremy Hall is the preferred choice at right back.
Vancouver:
Terry Dunfield (Canada)
Dunfield picks up regular shifts in central midfield, but he isn't irreplaceable for a side used to chopping and changing in that department. The onus could fall on rookie midfielder Jeb Brovsky to pick up some of the slack.
Chivas USA, FC Dallas and Seattle:
No callups.
Kyle McCarthy writes the Monday MLS Breakdown and frequently writes opinion pieces during the week for Goal.com. He also covers the New England Revolution for the Boston Herald and MLSsoccer.com. Contact him with your questions or comments at kyle.mccarthy@goal.com and follow him on Twitter by clicking here.