On Form

Real Salt Lake:
After shutting out Houston this past weekend, it's time for everyone to recognize that RSL is the league's best defensive team. It has allowed just two - that's right, two - goals on the year, and both of those were kind of flukes. The goals-against average is a video-game-like 0.29. Salt Lake is a frustrating team to play against because everybody is expected to defend - if you can make it through the midfield, good luck getting past the center backs. And if you can manage to somehow slip by them, Nick Rimando might be the best goalkeeper in the league.
FC Dallas:
Brek Shea and Fabian Castillo have turned into a dangerous duo over the last couple of weeks. Castillo is the bigger threat in front of goal, but Shea continues to pop up in dangerous spots from the left. Dallas needed to find some attacking consistency, and with both Castillo and Shea on form, that consistency might just be on the way.
Off Target
Salt Lake:
Where oh where has the offense gone? Everyone wants to talk about the injury to Javier Morales, but the real issue might be all the injuries at striker. It's gotten so bad that head coach Jason Kreis used reserve defensive midfielder Jean Alexandre up top last week. Arturo Alvarez is still struggling, and Alvaro Saborio, Fabian Espindola, and Paulo Jr. are all hurt. As a result, Real has only managed one goal in its last three games (against nine-man Chivas), and no striker has scored since April 9th.

Dallas:
No complaints over the last couple of games really. The defense has held three straight clean sheets and the attack is rounding into form. If there has to be something picked out to criticize you could point to the low goal totals, but I doubt FCD has any major concerns within the team right now.
Tactics
Salt Lake:
As has become the sad reality of RSL's situation, the forward line will probably be determined by who is healthy enough to play. Kreis gave Collen Warner the tall task of filling in for Morales, and the youngster was just so-so in 60 minutes of action. He had some promising moments and some frustrating ones. Warner didn't engrave his name into the role, but he didn't play himself out of contention either. I expect Warner to get the call again this weekend.

Dallas:
Castillo has earned the right to play up top in Dallas' 4-5-1 look and the team should be very steady in its approach this week. Dallas won't want to change much from the last three matches. It's hasn't been the prettiest soccer ever played, but the results have been good.
Intangibles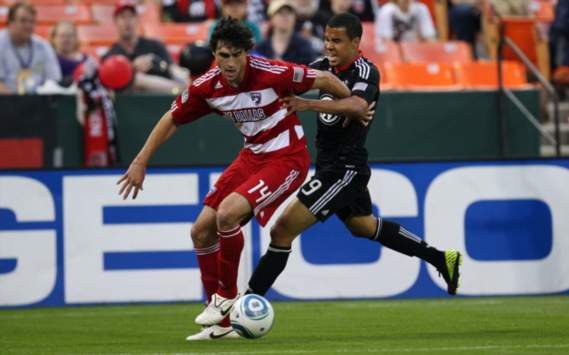 Salt Lake:
Having the first game sans Morales behind them can't be anything but a positive for Salt Lake. Now the team needs to focus on business and start showing improvement. With that in mind, this probably isn't an ideal time to be hitting the road against arguably MLS' hottest team. Plus RSL is 0-9-0 all-time in Dallas. Clearly the club has never figured out the secret to getting a result in Big D.

Dallas:
Salt Lake's attack looks stagnate right now and Dallas' defense is one of the best in the league. RSL will find its form at some point, but I doubt it comes at the Hoops' expense. Plus, RSL has always been a different team on the road, and Dallas is traditionally a bad trip for RSL.
Outcome
Jeremy Horton:
With all the offensive issues, coupled with the fact that Dallas has gone over 300 minutes without allowing a goal, I have a hard time thinking that Real will manage to score in this one. The question is, what will Dallas' offense be able to do? RSL has an outstanding defense, but Dallas should be able to find the back of the old onion sack a time or two. Real Salt Lake 0-1 FC Dallas.
Allen Ramsey:
This has all the makings of a one goal game. 1-0 to FC Dallas.
Follow Goal.com on

to get the latest soccer news directly. Check out Goal.com's

page; be part of the best soccer fan community in the world!