Can Toronto get anything from a trip to an in-form Colorado side?
On Form
Colorado Rapids:
Jamie Smith is the leading scorer for the defending champions. His mastery of set pieces is becoming a reliable way of Rapids to score goals. Finally home after their three game road trip, healthy forwards Conor Casey and Quincy Amarikwa will be ready to connect the ball with the net over and over again.
Toronto FC:
Although he's been weak overall this year, goalkeeper Stefan Frei has shown prowess in front of the net as of late. He made a few sensational saves (especially towards the final minutes) against Chicago last week. He robbed what was seemingly a great shot from Chicago attacker Dan Paladini, saving a point for his side in the process. Frei needs to show discipline in goal this weekend, the kind of discipline that we saw in the two shutouts he recorded earlier this year. Furthermore, he'll need support from his defenders who have been strong to date, albeit inconsistently.
Off Target
Colorado:
Injuries have taken their toll on the team's front line, as Caleb Folan, Omar Cummings, and Conor Casey have all missed time recently. With just one win and three goals in its past six matches, Colorado could really use some offensive firepower
Toronto:
For TFC fans there's unfortunately a lot off target for their club right now. The offense has been mediocre at best, scoring only 11 goals thus far. Toronto showed promise in its match against Chicago before letting it crumble in the second half. The next problem is the clutch factor. It had an extraordinary opportunity to secure three points last week but lost its focus in the critical moments of the match. Coach Aron Winter seems to have his mind occupied with as many off the pitch issues as he does on the pitch. If his team isn't losing matches, he's busy complaining about referees, league rules and the like. Performance starts at the top, and TFC will need its leadership to instill the discipline that it needs right now in order to avoid a turn for the worse.
Tactics
Colorado:
With three games scheduled in six days, Coach Smith is being strategic in his lineups. The Rapids will start out strong and dominant, hoping to claim a big win at home.
Toronto:
Toronto will need to expect a huge game out of the dynamic and speedy youngster Joao Plata. He might be the smallest player in the league but his heart might be the biggest. He was recently named MLS Player of the Week and Toronto will look to capitalize on that momentum if it has any chance of generating offense against the reigning champions.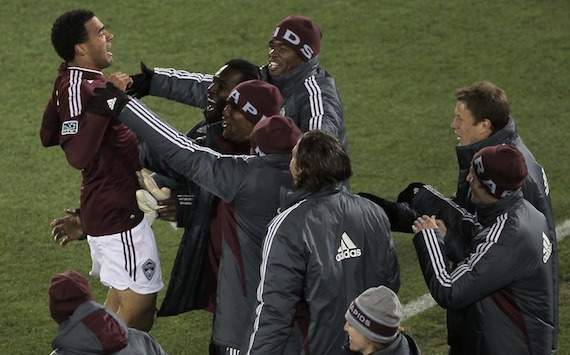 Intangibles
Colorado:
Coming back from a road trip with five points plays an important part in the assurance this players have in each other. Having different forward combinations each match could have been harmful, but it has resulted in a stronger midfield and defensive influence.
Toronto:
Toronto will be looking to strike early and get the crowd out of the game. It will miss having its loud and rabid supporters behind them so its best bet is to come out hard in order to avoid embarrassment against the champions.
Outcome
Stephanie Gardner:
It is going to be a fun night to be a Rapids fan. The champs are back home, back in form, and should beat Toronto FC 3-0.
Aamer Bajwa:
TFC's defense will rebound in this match and ride a Plata goal to victory, 1-0.
Follow Goal.com on

to get the latest soccer news directly. Check out Goal.com's

page; be part of the best soccer fan community in the world!