The schedule shows plenty of matches remaining in this nascent season, but atmosphere surrounding the Nutrilite Canadian Championship final series set to start tonight should feel more like a decisive pair of season-ending fixtures to Toronto FC and Vancouver.
Every indication to date suggests these two matches represent the most important encounters either team will face this season.
And it probably should end up that way even as these teams wade through their currently disappointing MLS campaigns. After all, the two top-flight teams in Canada are tussling for the chance to use this victory to spark a revival, the opportunity to brag for an entire year and the right to represent Canada in the CONCACAF Champions League. While some previous TFC managers may not have treated the tournament with much respect, the Canadian Championship is a title worth winning.
Neither side has made a habit of tasting victory in MLS play this season – three wins in 22 combined matches – but the dynamics will change tonight as the Whitecaps prepare to host the first leg at Empire Field (10, Rogers Sportsnet).
Toronto FC stumbled to a 4-2 defeat in British Columbia in the Whitecaps' first MLS match back in March, but both teams have altered course since that thrilling Whitecaps victory. Such a shift can only benefit a Reds side looking to address its usual difficulty in making such trips across the continent.
Aside from the results and the ongoing and unseemly contract dispute with Nana Attakora, TFC can count the early days of Aron Winter's tenure as fairly positive ones. Winter still needs an influx of talented players – particularly in the attacking third, but also at the back – to bolster a squad that is arguably weaker than Vancouver's complement of options, but he has started to mold the group in his image and plant the seeds of progress within it.
TFC's Canadian Championship hopes rest on two disparate figures if recent form tells the story. Stefan Frei remains the one consistently bright figure in the Reds' squad. The young Swiss goalkeeper must once again burnish his credentials with a fine series between the sticks. If Frei can bail out his leaky defense from time to time, Joao Plata may possess the impetus to nick one at the other end. Plata carries most of TFC's attacking hopes on his shoulders these days with Alan Gordon still ruled out with a groin injury and he represents the visitors' best hope of nicking an away goal.
Vancouver will look to its rapidly improving back four to thwart TFC's efforts to grab a critical away goal and form the foundation for attacking forays. Jay DeMerit finally returned to the starting XI on Saturday after overcoming a groin injury and played 60 minutes in the Whitecaps' 1-0 defeat at New England. If he is fit enough to play again on the suspect home turf on Wednesday night, he could partner either Mouloud Akloul or Greg Janicki in central defense with the rested Jonathan Leathers and Alain Rochat recalled to their natural fullback roles.
Most of the Whitecaps' imagination will come from Davide Chiumiento in the wide areas. Chiumiento – a substitute against the Revolution when most of Vancouver's first-team regulars had the entire night or trip off – floats around the pitch with impunity and supplies likely forwards Camilo and Eric Hassli (if fit after a hamstring knock) with plenty of service. In order for the Whitecaps to notch the necessary first leg victory (and avoid a third home draw against TFC in four years in this competition), Chiumiento must provide the inspiration.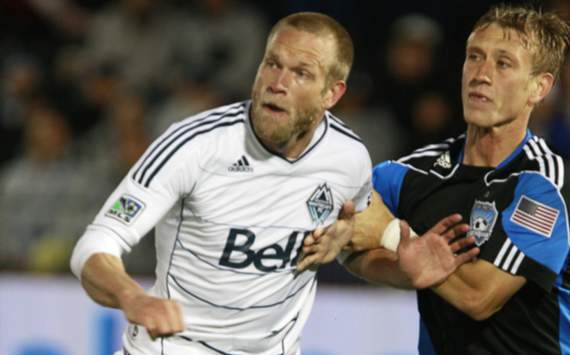 Vancouver will have plenty of motivation to start quickly tonight – it hasn't won in MLS play since defeating the Reds back in March and it needs at least a one-goal cushion to take to BMO Field next week to harbor reasonable hopes of winning the tie – but it must push forward prudently to avoid conceding on the counter. The respective shapes of the teams (Vancouver's 4-4-2 v. Toronto FC's 4-3-3) should allow Vancouver to exploit TFC's lack of coverage in the wide areas through midfield and lack of quality at fullback, but TFC's ability to cut through Vancouver in transition and score at this venue should be respected.
Those important details will play their part in the outcome, but the nature of these intensely fought ties leaves much to be determined on the field. For the sake of neutrals watching across Canada, a narrow Vancouver win would set up a grandstand finish next week. For the two teams involved, it might also keep the hope of using this series as a springboard to revive flagging MLS fortunes alive for another week. No matter the level of involvement, the stakes are high enough to bring a slice of November to late spring.
Kyle McCarthy writes the Monday MLS Breakdown and frequently writes opinion pieces during the week for Goal.com. He also covers the New England Revolution for the Boston Herald and MLSsoccer.com. Contact him with your questions or comments at kyle.mccarthy@goal.com and follow him on Twitter by clicking here.