Goalkeeper
:
Matt Reis, New England Revolution:
The Revolution couldn't muster much on offense against Vancouver besides a Shalrie Joseph penalty. However, Matt Reis was able to make that goal stand with a string of key saves, ensuring a valuable three points for New England.

Defenders:Nat Borchers, Real Salt Lake:
Borchers put in an excellent defensive shift against Houston, snuffing out the threat of Will Bruin and playing a key role in preventing any goals in a game where Salt Lake clearly missed the offensive capabilities of Javier Morales.

Andre Hainault, Houston Dynamo:
On the other end of the pitch at Rio Tinto, Hainault marshaled a resolute Houston defense, relieving Tally Hall of any serious work and nearly grabbed an assist when he laid the ball off to Koke, who fired straight at Nick Rimando.
Drew Moor, Colorado Rapids:
Not only did he grab Colorado's equalizer at D.C., Moor was incredibly active in his defensive role, too, limiting United's offensive work down the left flank and winning nearly everything thrown at him in the air.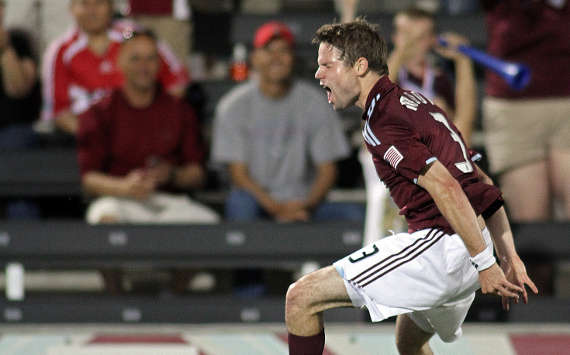 Midfielders:Landon Donovan, Los Angeles Galaxy:
Now linked to clubs from Boca to Roma, Donovan is on a hot streak, with three goals in two games during the past week. He netted against Philadelphia before bagging two and serving as the catalyst for the Galaxy's offensive explosion against Kansas City.
Andrew Jacobson, FC Dallas:
The only gaudy number Jacobson put up this week was the distance he covered in Dallas' midfield. However, that was the crucial number, as his stamina allowed him to shut down Toronto on Wednesday and Philadelphia on Friday, limiting their ability to attack and helping Dallas to six points out of six.
Corben Bone, Chicago Fire:
The young playmaker had a breakout game at BMO Field running the Fire's offense with ease and serving up a perfect assist for Orr Barouch's game-tying goal.
Simon Elliott, Chivas USA:
One of the unsung heroes of of Chivas' shock win over New York, the New Zealander was all over the midfield area, and did a very good job of shutting down the creative influence of Dwayne De Rosario.
Chris Pontius, D.C. United:
Pontius has come into his own this season with United and put in another sterling performance against the visiting Colorado Rapids, creating a series of chances for United, not mention drawing and winning the penalty for his team's lone goal.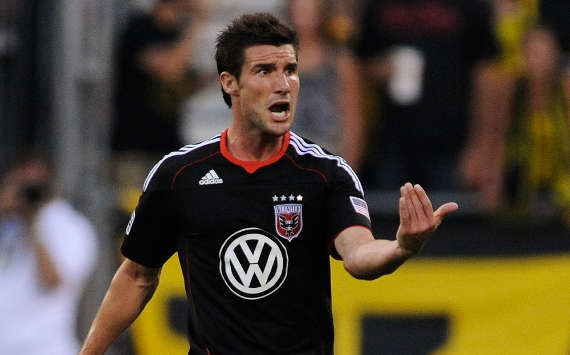 Forwards:Justin Braun, Chivas USA:
Simply put, it was Braun's finishing that allowed Chivas USA to register arguably the upset of the season in Red Bull Arena. He netted a goal of the week contender to open the scoring, showed great poise to nutmeg Bouna Coundoul for the second and simply found himself in the right place at the right time to register his hat-trick and the game winning goal.
Steven Lenhart, San Jose Earthquakes:
Even though MLS has now given Lenhart's goal to Brandon McDonald (or more specifically, McDonald's rear end), the burly striker's contribution was instrumental in giving the Earthquakes a vital home win. He drew two defenders onto him to create space for Chris Wondolowki's opener and assisted on the second and third goals against his former club, breathing new life into San Jose's faltering campaign.

Formation (3-4-1-2):
Lenhart-Braun
Bone
Pontius-Elliott-Jacobson-Donovan
Moor-Hainault-Borchers
Reis
Bench:
Nick Rimando (Real Salt Lake), Mamadou Danso (Portland Timbers) George John (FC Dallas), Jack Jewsbury (Portland Timbers), Alvaro Fernandez (Seattle Sounders FC), Chad Barrett (Los Angeles Galaxy), Fabian Castillo (FC Dallas)
CoachRobin Fraser, Chivas USA:
Fraser showed the league that his Chivas USA team is indeed for real as they posted a 3-2 road win over the New York Red Bulls. Chivas' relentless pressing in midfield and solid set piece delivery were the foundations for a win that could be a turning point for the Goats' fortunes.
You can follow Nick Rosano on Twitter for more Earthquakes and MLS chatter @nicholasrosano.