Watch complete live match coverage of Major League Soccer every week on FOX Soccer! For a complete broadcast schedule, click here

Isn't there a way to schedule more than two Seattle-Portland matches in a season?
This plea – one that does not endorse moving to an imbalanced schedule in any way – doesn't arise because this derby is the derby to end all derbies. It isn't.
People in Athens, Barcelona, Boston, Glasgow, Istanbul, Madrid, Manchester and New York aren't planning to stop and watch on Saturday night to bask in the enmity between the two clubs. Though MLS executives may deny it given the unrelenting focus and hype trained upon this particular corner of the United States this year, the world survived just fine without these two cities waging war in the American top flight.
But those modest facts do not reduce the importance of these matches to the two engaged communities and the league as a whole.
As the chroniclers in the Pacific Northwest have ably shown over the past few days, this is a bitter and nasty feud that stretches across decades. These two sets of fans care enough to hate each other across all sports and throughout all of those minor league affairs. This rivalry isn't one of those questionable displays of angst shared by only a few diehard supporters in the two cities. This rivalry is authentic.
More importantly, this ongoing spat intrigues people. So many story lines across the league – yes, even the emphasis on other rivalries – try to capture attention without demanding or warranting it. Not this one. Not at Qwest Field. Not this weekend. For two hours on Saturday night, this match will command it.
For a league still grasping for its identity and working its way through a series of tempests with injuries and referees, the debut of the Portland-Seattle rivalry is an important step. It's hard to generate the organic buzz surrounding this match in these hectic times, and it's easy to see why MLS plans to siphon off the general theme presented by this derby in other markets.
Those particular instances – no matter the amount of rancor – don't quite fit into this unusual box. And that's OK. It just means that the two meetings between these clubs won't feel like nearly enough.
Last week: 2/8 (25%)
For the season: 22/66 (33%)
Saturday
Chicago @ Toronto FC – 7:00p.m. (GOL TV Canada) – Goal.com Preview
There are positive signs coming out of Toronto these days. Maybe the Reds aren't world beaters yet, but they have shown more cohesion and more pluck than expected. There isn't much talent at Aron Winter's disposal, but there is enough camaraderie to dispatch a Chicago side still missing Logan Pause (hamstring) in central midfield.
Prediction: Toronto FC win.
Colorado @ D.C. United – 7:30p.m. – Goal.com Preview
D.C. United may not have its stadium situation sorted out, but it will have U.S. national team coach Bob Bradley in the building on Saturday night, according to the Washington Post. Bradley will presumably run the rule over Charlie Davies with an eye toward including him for the Americans' hectic summer schedule. Davies has made quite the comeback with United this season, but his credentials for a call-up remain somewhat uncertain at this point. How will his oft-stated motivation to return to the international scene impact this match against the Rapids?
Prediction: Draw.
Vancouver @ New England – 7:30p.m. – Goal.com Preview
When New England made this same exact trip from Vancouver to suburban Boston in April, the Revs were pasted 2-0 at home by Real Salt Lake's reserves. Don't expect the struggling Whitecaps to fare much better.
Prediction: New England win.
Philadelphia @ FC Dallas – 8:30p.m. – Goal.com Preview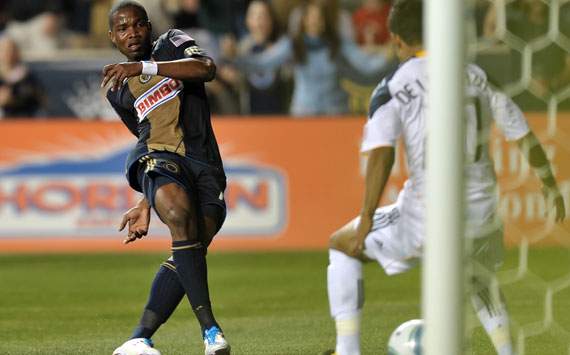 FCD announced on Thursday that midfielder Brek Shea has extended his deal through 2015. Shea will need to continue to improve to live up to the faith placed in him by FCD and the American soccer establishment, but those wider concerns fall well behind more pressing problems in the moment. In order for FCD breach a miserly Philadelphia rearguard expected to have Faryd Mondragon (groin) between the sticks, Shea and his teammates must create more than they did in Wednesday's 1-0 victory over Toronto FC. It may or may not happen, but expect FCD's four-match unbeaten run to continue either way given the Union's lack of attacking potency at the moment.
Prediction: Draw.

Houston @ Real Salt Lake – 9:00p.m. (FOX Soccer) – Goal.com Preview
RSL now has some closure after MLS handed down Marcos Mondaini's suspension (four total matches, $1,500 in total fines) on Thursday. Bigger questions now await. Can the Claret-and-Cobalt find its way forward with Javier Morales sidelined for the foreseeable future? If there is a team that can somehow find a way through, it's RSL.
Prediction: Real Salt Lake win.
Sporting Kansas City @ Los Angeles – 10:30p.m. – Goal.com Preview
Most of the intrigue surrounds David Beckham's status ahead of this clash. Beckham missed out on Wednesday's 1-1 draw in Philadelphia after Galaxy coach Bruce Arena said he needed a break and left him in southern California. It remains to be seen whether that assertion will hold up since Arena isn't known for his candor on the injury front these days. Beckham's introduction would help a Galaxy side grapple with the physical demands of a tough week, but the home team should find a way to collect all three points in this fairly awkward matchup even if the former England captain.
Prediction: Los Angeles win.
Columbus @ San Jose – 10:30p.m. – Goal.com Preview
San Jose submitted a positive performance in Wednesday night's 1-1 draw at Vancouver, but the task will change a bit against the Crew. Columbus will come out to close the game down and use the narrow confines to limit the Earthquakes' wing-oriented approach. The question at this point: does San Jose have the patience and the quality to wade through the Crew's composed defensive shape to secure its first home win of the season?
Prediction: Draw.
Portland @ Seattle – 11:00p.m. (ESPN2) – Goal.com Preview
Plenty of factors get thrown into the mix in derby matches like this one, but one variable should determine the outcome if Sounders FC can mark properly on set pieces: the Timbers struggle to produce performances or results away from JELD-WEN Field.
Prediction: Seattle win.
Sunday

Chivas USA @ New York – 7:00p.m. (Galavision) – Goal.com Preview
With all due respect to Chivas USA's form over the past month or so, the Red-and-White would need add a lot more than the suspended duo of Andrew Boyens and Mondaini to tame the Red Bulls on the road.
Prediction: New York win.
Kyle McCarthy writes the Monday MLS Breakdown and frequently writes opinion pieces during the week for Goal.com. He also covers the New England Revolution for the Boston Herald and MLSsoccer.com. Contact him with your questions or comments at kyle.mccarthy@goal.com and follow him on Twitter by clicking here.
Follow Goal.com on

to get the latest soccer news directly. Check out Goal.com's

page; be part of the best soccer fan community in the world!