On Form

Columbus Crew:
Emilio Renteria has the last three goals for Columbus to vault into the team lead, with each of them scored in a different manner. One was a header off a cross against Toronto, another a right footed penalty kick and the third a left footed strike after a move that included 17 passes. Renteria has been a godsend for a offense that had not found much success up front, and has looked like the perfect fit for the Crew's style of play. With the defense not looking as impregnable as they did during their 400+ minute streak of not conceding, the offense has found a much needed jolt of life. Renteria's work ethic and strength are put to good use as the lone striker in Robert Warzycha's 4-1-3-1-1, and his goal scoring touch is just as evident as his cannon of a right foot.
Seattle Sounders:
Midfielder Brad Evans tallied his third goal in two games in the 2-1 loss to D.C. United. Granted, it was on a penalty kick, but it shows that Evans has become the go-to-man for the Sounders on offense.
Off Target
Columbus:
While the Crew has been scoring at a much better rate in the last couple of games, they still struggle to score from open play. Almost half of their goals this season have come from the penalty spot this season, and a team can't rely on getting a penalty called every other game. The attack has improved the last two games, but it still has a lot of work to do if the club is to challenge for the top spot in the Eastern Conference.
Seattle:
The Fredy Montero and Nate Jaqua combination up front hasn't clicked recently. Head coach Sigi Schmid inserted Roger Levesque in the D.C. match to replace Jaqua. That move failed to generate a needed strike to level the score. We may see more changes as Schmid attempts to find another scorer.
Tactics
Columbus
: Up by two goals and more than a hour in against Vancouver, Robert Warzycha decided to bring on Emmanuel Ekpo for Kevin Burns, a defense for offense switch that got more than a few puzzled looks around Crew Stadium. Also confusing was the lack of change to a more traditional 4-5-1 to accommodate the substitution. With four attack minded midfielders facing them opposed to just one holding player, Vancouver ramped up their pressure, and they were rewarded with a goal and several near misses. Robert Warzycha has come under criticism during his tenure for odd substitutions, and this latest head scratcher nearly cost the Crew two points. He has shown improvement this season, but needs to avoid mistakes to keep his team in the race for a playoff spot.
Seattle:
With Mauro Rosales appearing to be returning to form after tweaking his hamstring, keeping three forwards may be the best option for the Sounders. Rosales, when he started, provided the spark and distributions to increase the number of scoring chances. If he is in the starting lineup against Columbus, look for the 4-3-3 to be the formation of choice for Schmid.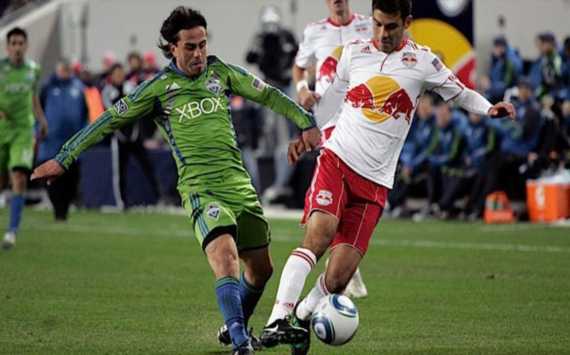 Rosales| Could be important for Seattle with Zakuani and White out.
Intangibles
Columbus
: Columbus has never beaten Seattle in any competition, with a 0-3-2 record. Seattle is led by Sigi Schmid, who led the Crew to the 2008 double. His former pupil Robert Warzycha now is Crew coach, and Sigi's familiarity with the Crew players and tactics has given him a edge in the match-up.

Seattle:
The Sounders played on Wednesday and have a short turnaround for their upcoming away game on Saturday in Columbus. Fatigue and lack of practice time could be the deciding factors if Seattle loses.
Outcome
Justin Henley:
The Crew will be rested for Saturday's match, whereas the Sounders will be playing their third game in 7 days. With their unbeaten streak on the line, the Crew edge out a 1-0 win against a resilient defensive performance by the visitors.

John Zielonka:
The Sounders struggle against Schmid's former team and head home without a win on their two-match road trip. Seattle Sounders FC 0 – 1 Columbus Crew.
For more on Major League Soccer, visit Goal.com's MLS page and join Goal.com USA's Facebook fan page!