Columbus and FC Dallas investor/operator wants to see the league take further measures to protect players as FCD wrestles with the impact of David Ferreira's injury.
FRISCO, Texas – FC Dallas investor/operator Clark Hunt feared he would one day have to discuss a serious injury to David Ferreira.
In fact, he thought that dreaded moment might arrive earlier this season.
"I was watching a game here – I won't say which one – a few weeks ago and I marveled at the fact that David's ankle did not get broken in that game," Hunt said prior to Sunday's soggy 2-1 victory over Los Angeles. "Unfortunately, two weeks later, it happened."
Ferreira will miss the next several months with a fractured right ankle suffered in Vancouver on April 23. Ferreira's injury combined with Colorado midfielder Brian Mullan's leg-breaking tackle on Seattle's Steve Zakuani a day earlier to spark a significant discussion last week about how MLS can better protect its prominent attacking players.
Hunt jumped into the dialogue by talking with league officials about potential disciplinary measures in the wake of Ferreira's injury. Jonathan Leathers' sliding lunge on Ferreira prompted no on-field call – not even a foul – from referee Juan Guzman. Leathers' tackle differed substantially from Mullan's tackle in terms of its severity and the Whitecaps fullback made contact with the ball as he tried to hook Ferreira from behind, but Hunt believes the lunge should have warranted at least a foul.
It did not, however, draw any punishment from the Disciplinary Committee because the committee concluded that Leathers' effort did not deserve a red card, according to Hunt.
"I honestly don't think the player who tackled him was trying to hurt him," Hunt said. "I think he was making a play on the ball and he did get the ball. But, clearly, it raises the whole issue on the league focusing on giving our attacking players an opportunity to do what they do best."
It is a topic Hunt treats seriously because both of his MLS sides – he also serves as the investor/operator in Columbus – have employed attacking schemers over the past few seasons. Players like Ferreira and former Crew playmaker Guillermo Barros Schelotto spend significant amounts of time on the ball and wade through a robust level of physical attention designed to dissuade them from pulling the strings.
(A note on the significant number of Hunt players involved in foul-related categories: Three of the four MLS leaders in fouls suffered – Ferreira (19), Eddie Gaven (18) and Robbie Rogers (18) – play for one of Hunt's two teams, while the fourth is former FCD forward Kenny Cooper (19). In addition to those instant concerns, Ferreira suffered a league-leading 84 fouls in 30 matches last season, while Gaven (54) finished fifth and Barros Schelotto (53) finished sixth in the same category. As a counterpoint, Columbus midfielder Dejan Rusmir is tied for third in fouls committed this season with 16, while former FCD forward Atiba Harris (51) and current FCD captain Daniel Hernandez (49) finished second and third, respectively, in that category last year.)
"I think there has been a level of physicality in the league that we've seen emerge over the past couple of years in an effort to really shut down players like David," Hunt said. "I think it's really something that the league is going to have to take a step back and really think about. It's easy to say, by the way, but it's much harder to fix in practice."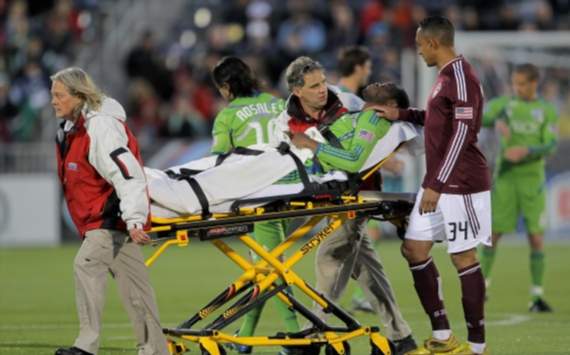 MLS took a mighty swing at clamping down on physical tackles by suspending Mullan for 10 matches (one-match automatic ban plus nine additional matches) and fining him $5,000 for his tackle on Zakuani. The imposing level of discipline issued a significant warning to players about their future conduct, but Hunt believes the league must follow up this measure by introducing further safeguards to encourage and protect attacking play.
"That certainly was a good first step," Hunt said. "That was something the league really told us they were going to do coming into this year. They were going to add discipline – more than a one- or two-game suspension – if they felt the foul warranted it. I think they really need to go beyond that and focus on the teams that tend to play physical. I don't know if that means some sort of discipline for the coach or for teams that play physical."
While measures against coaches or teams may turn out to be impractical for several reasons, those radical ideas reflect the depth of concern about the currently robust state of affairs in league circles these days.
Reaching an agreement over potential changes will likely take some time as league officials and interested parties sort through some of the key causes – the inconsistent officiating, the newly apparent haphazard and reactionary approach to supplemental discipline and the wide disparity in player skill feature prominently among them – and figure out the best way to address the concerns.
There isn't an easy fix to implement as the league balances its desire to protect skillful players with its need to shield the integrity of the game, but Hunt said he plans to spend much of the time Ferreira will spend on the sidelines this summer working on potential solutions.
"I think it's something the league really needs to focus on," Hunt said. "I know that the league's Competition Committee – which I chair – is going to spend some time on it in the next few months."
Kyle McCarthy writes the Monday MLS Breakdown and frequently writes opinion pieces during the week for Goal.com. He also covers the New England Revolution for the Boston Herald and MLSsoccer.com. Contact him with your questions or comments at kyle.mccarthy@goal.com and follow him on Twitter by clicking here.