In Form
DC United:
Slim pickings from an United side that has conceded 8 goals in their past two games, while just scoring one themselves. The team isn't quite in crisis mode yet, but the are close to it. With three games in the next week and a half at home, this might represent the best opportunity to get their season back on track. Playing at home isn't quite the advantage that it was before, but the Black-and-Red must make it count this season.
Seattle Sounders FC:
With midfielder Mauro Rosales out with a tweaked hamstring, Brad Evans moved up to become the third forward in last week's matchup against Toronto FC. Evans played a role in all three tallies in the 3-0 victory over the Canadian side. The win extended Seattle's unbeaten streak to six matches. He notched two goals, one on a PK, and earned an assist on Alvaro Fernandez's header. Evans misfired on two other occasions, and should have notched at least one more goal to add to an already impressive evening.
Off Target

United:
Ben Olsen. The savior for D.C. has not quite figured out the managing thing yet. Back in 1998, it didn't take long for Olen to adapt to playing in MLS after coming out of college. But the transition from player to coach has proved to be a bumpy road, and he doesn't have a record that most would hope at this point. He has some of his players in, but he is still dealing with certain players that were brought in by other managers. That doesn't excuse his team's poor form of late, and some of the players he has brought in haven't quite worked out yet. But to keep his bosses happy, he needs to turn it around quickly.
Seattle:
The Sounders dominated Toronto FC for most of the match, one of their most impressive wins in the franchise's three-year history. Toronto finally mounted an attempted comeback in the waning minutes of the match. Goalie Kasey Keller, who had a quiet evening up to that point, needed to make several stops to keep the visitors off the scoreboard. Seattle's coaching staff will surely emphasize the need for the defenders to stay focused for the full 90.
Tactics
United:
Right back Jed Zayner is out with a hamstring injury again, so the backline will do the United shuffle once again. Conceding 16 goals in seven games is usually a good indicator of how poorly things are going in defense, and that is exactly the problem with United right now. Rookie Chris Korb is the likely candidate to step into the right back position, but Olsen might shake things up past that in order to find something that works. It would not be a surprise to see either Clyde Simms or Ethan White starting in defense, as Perry Kitchen and Dejan Jakovic have struggled mightily in the past two games.
Seattle:
In their last game, the right and left backs, James Riley and Tyson Wahl, made numerous runs deep into the offensive zone. With wingers Steve Zakuani out for the season and Rosales taking a break, the idea was to put additional pressure on the opposition's defenders. The result makes it doubtful that Schmid will change his pressuring tactics in the upcoming D.C. United matchup.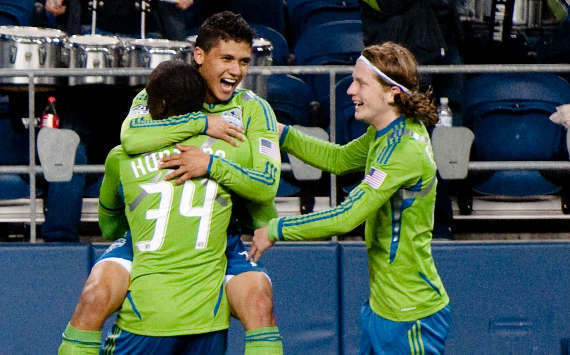 Sounders star Fredy Montero
Intangibles
United:
D.C. and Seattle have sort of an unfriendly rivalry going on, since Seattle entered the league in 2009. United has earned four points against Seattle in four league games, but all four of those points were earned in Seattle. Still, the contests are always hotly contested, and United's poor form recently just might spurn them on.
Seattle:
The players received an emotional lift after the tribute to Zakuani by Seattle's 36,000+ supporters in the 11th minute of play. Going on the road, we may see a bit of an emotional letdown. The Sounders played on Saturday night, and have to trek across the country for Wednesday's game. Mental and physical fatigue could be a factor as the game progresses.
Outcome
Steven Streff:
Seattle has never lost in D.C. in three tries, and with Seattle playing well while United is struggling, that does not look to change. Seattle comes to the nation's capital, and snatches a 2-1 victory.
John Zielonka:
The Sounders extend their unbeaten streak to seven matches. Seattle Sounders FC 2 – 1 D.C. United, with tallies from Montero and Nate Jaqua for visitors, and Chris Pontius for the home side.
Follow Goal.com on

to get the latest soccer news directly. Check out Goal.com's

page; be part of the best soccer fan community in the world!