The Forecast discusses the tough task ahead of Real Salt Lake upon its return to MLS play and previews the weekend slate.
SANDY, Utah – In the wake of Wednesday's crushing CONCACAF Champions League setback, Real Salt Lake must somehow pick up the pieces and return its focus to its domestic concerns before tomorrow's match against Portland.
"It's a very, very difficult task," Real Salt Lake coach Jason Kreis said. "I think that we'll see. The answers are in front of us. There are a lot of questions to be answered. Obviously, it's going to be really, really important."
This upcoming period will serve as an intense and thorough examination of this vaunted squad. RSL has relied on the depth of its character and the mental strength of its players to reach this lofty point. Both qualities must come to the fore to cope with the despair of missing out on a chance to achieve continental glory and watching a 34-match home unbeaten streak in MLS and CCL play end at the most inopportune time.
"From my point of view, we're going to see what kind of group we are now," Kreis said. "It's a really easy task to talk about how good everybody is and how happy we are and all those sorts of things when things are going our way. Now to have this major, major disappointment, we'll see how we respond."
Many clubs in a similar position crumble under the weight of a missed opportunity, but RSL goalkeeper Nick Rimando believes the Claret-and-Cobalt can rely on its cohesiveness to muddle through this difficult period.
"I think our team is strong enough to know this isn't going to break us up," Rimando said. "We're going to stay strong. We keep on preaching that we're a good team, we're a deep team and the team is the star. Right now, this is when it is going to count when there are these tough losses to swallow. We need to rebound, forget about it and move on to our season."
The process must move along quickly with the Timbers waiting at JELD-WEN Field tomorrow. The pain of Wednesday night will take some time to heal, but RSL cannot afford to wallow in it any longer if it wants to continue its unblemished start in MLS play this weekend.
"There's no choice," RSL defender Chris Wingert said. "In a way, maybe that's a good thing, I don't know. Maybe it's a good thing to get back out on the field and try – not that we're going to forget about it – to move on and get back to competing again."
Last week: 1/7 (14%)
For the season: 15/49 (31%)
Friday
D.C. United @ Houston – 8:30p.m. (FOX Soccer) – Goal.com Preview
United will travel to Texas hoping to erase the stench of last Thursday's 4-0 home defeat to New York. D.C. will face another stern examination tonight with the Dynamo looking to continue its five-match unbeaten run. Koke could make his MLS debut after linking up with Houston on Wednesday, but United's suspect defense will probably have to spend most of its time worrying about the Dynamo's proficiency from set pieces.
Houston has scored five of its seven goals (71 percent) directly or indirectly from dead ball situations this season, according to a tactical review published this week by MLSsoccer.com. If United doesn't find some way to limit the Dynamo's typical penalty area barrage, the visitors will eventually crack under its weight.
Prediction: Houston win.
Saturday
San Jose @ Philadelphia – 4:00p.m. – Goal.com Preview
This match counts as a watershed moment for the Earthquakes after last Saturday's 2-1 home defeat to Chivas USA. San Jose coach Frank Yallop threatened changes in the wake of a second consecutive poor performance, while the squad called a players-only meeting to air out its concerns earlier this week. Yallop could call on the likes of Steven Lenhart – fresh off his first appearance after recovering from a knee injury – to introduce more energy from the start.
The problem for San Jose lies in its adversary. Philadelphia makes life particularly difficult for its opponents with its approach and sucks the life out of most contests. While the Earthquakes will likely improve at PPL Park, the boost may not immediately yield the desired result.
Prediction: Philadelphia win.
Vancouver @ Columbus – 7:30p.m. – Goal.com Preview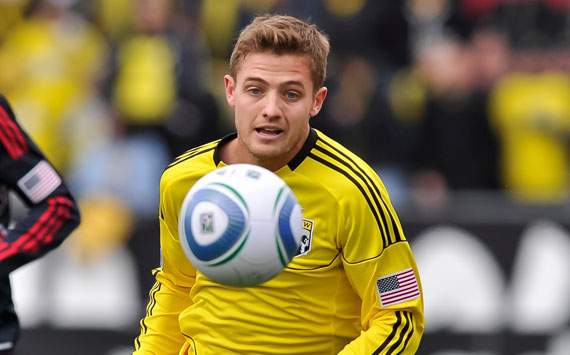 Vancouver will increase its options in midfield with Shea Salinas and Russell Teibert likely to make the squad after featuring in the 1-0 victory over Montreal in the first leg of a Nutrilite Canadian Championship semifinal on Wednesday. Gershon Koffie could also return after missing the past four games while away on international duty with Ghana's under-20 national team, but none of those additional players in midfield looks likely to help the Whitecaps address a desperate need for striking help.
Vancouver looks short on numbers up top with Atiba Harris ruled out after knee surgery earlier this week and Eric Hassli once again suspended. Camilo will start, but Teitur Thordarson doesn't have an ideal partner for the Brazilian forward with his two target men sidelined. Columbus' recent defensive strength makes it unlikely that Vancouver – a side that hasn't won since its season-opening victory over Toronto FC on March 19 – will manage to breach the scoresheet or emerge with a draw.
Prediction: Columbus win.
Sporting Kansas City @ New York – 7:30p.m. – Goal.com Preview
Sporting received a boost on Thursday when MLS announced that U.S. Soccer had overturned Aurélien Collin's red card from last Saturday's 3-2 defeat at New England. Collin – who should partner either Matt Besler or Julio César in central defense – may wish the ejection had stood with New York poised to exploit the extra space in the wide areas and pressure a mistake-prone rearguard all night long.
Prediction: New York win.
Chicago @ Colorado – 9:00p.m. – Goal.com Preview
The siege mentality adopted by the Rapids after the scorn heaped upon Brian Mullan this week may just help them work their way through their recent funk. Colorado submitted a decent performance when reduced to 10 men against Seattle, but the promising effort failed to garner any points. A similar showing against a Fire side without the services of Cory Gibbs (hamstring) or Logan Pause (hamstring) should yield greater dividends.
Prediction: Colorado win.
Toronto FC @ Seattle – 10:00p.m. – Goal.com Preview
It is really hard to envision an irate Sounders FC nation and a motivated Seattle team allowing TFC (without the suspended Tony Tchani) to enter Qwest Field and leave with any semblance of a result after the events of the past week.
Prediction: Seattle win.
New England @ Chivas USA – 10:30p.m. – Goal.com Preview
It didn't take long for Benny Feilhaber to come face to face with the team that controversially passed on his services earlier this month. Will Feilhaber's presence add a bit of extra spice to this encounter between a pair of sides on the uptick?
Prediction: Draw.
Real Salt Lake @ Portland – 10:30p.m. – Goal.com Preview
"It's tough," RSL goalkeeper Nick Rimando said about his side's transition from Champions League heartache to Rose City motivation. "The leaders on this team are going to have to step up and get this team riled up. As tough as this game (against Monterrey) is, we have to forget about it. The leaders on this team have to come together and pull this team together real quick because we have an important game this Saturday against Portland. We have to forget about it and move on."
Prediction: Real Salt Lake win.
Sunday
Los Angeles @ FC Dallas – 7:00p.m. (Galavision) – Goal.com Preview
FCD surely would have preferred another opponent to start its voyage without David Ferreira. Los Angeles cobbled together its best performance of the season against Portland last weekend and enters this match full of confidence after extending its unbeaten run to five matches. The Galaxy may not hit similar heights at Pizza Hut Park with David Beckham set to swoop in at the last moment after his Royal Wedding duties, but the visitors can shut the game down well enough to complicate FCD's first foray without the injured Ferreira.
Prediction: Los Angeles win.
Kyle McCarthy writes the Monday MLS Breakdown and frequently writes opinion pieces during the week for Goal.com. He also covers the New England Revolution for the Boston Herald and MLSsoccer.com. Contact him with your questions or comments at kyle.mccarthy@goal.com and follow him on Twitter by clicking here.
Keep updated with Major League Soccer by visiting Goal.com's MLS page and joining Goal.com's

page.