One bad tackle, one wrong step, and an athletic career can be cruelly curtailed.
It's so easy in soccer to get injured - with the non-stop running, tackles and battles for the ball. More than many sports, close-to-total health is also required to perform well in soccer. Players can't really limp around, Kirk-Gibson style, just to hit a freekick; a counterattack could start immediately the other way.
Seattle's Steve Zakuani and FC Dallas' David Ferreira are recent examples of players cut down in the prime of form and fitness by injuries.
Both were felled by tackles that caused broken bones and now their teams are bereft of their services for quite a long time.
Near the start of the Major League Soccer season, another star also had to take some time off. What was a bit unusual is that in over ten years of professional play in the league, Landon Donovan has rarely had to take time off for any ailment.
Not so in 2011. Donovan missed a three-game road trip due to a swollen knee. The Galaxy, last season's Supporters Shield winners for the best regular season record, won only one game during that stretch.
Donovan probably didn't help his knee out when he failed to really recognize the extent of the knock he took when he suffered the injury in a match versus Philadelphia.
"Early in the game I shot a ball and someone put their leg in the way and it just kind of hit and I ended up having some swelling and I probably sprained it a little bit," Donovan explained. "I didn't feel it. I felt it after the game and the next day."
The USA midfielder understands his good fortune in having avoided any major injuries. Slightly superstitious, he knocks wood whenever any reporter mentions his fitness longevity.
However, not having much of an injury history creates another sort of liability, the lack of awareness as to how long one takes to heal, for example.
"Not having had an injury like this, you don't know how to gauge it, you don't know where you're at," Donovan observed. "It's kind of touch-and-go and make sure you're doing enough but you're not doing too much to re-injure it. I think I've done a good job of staying on top of it."
As Donovan was still out resting his knee, he got a chilling reminder of how much worse his situation could be. Galaxy defender Leonardo tore both main ligaments in his right knee - an affliction that necessitated surgery and rehabilitation that will take longer than the entire MLS season.
"It is devastating and we feel badly for Leo," Donovan stated. "This year he's been playing well and he's been a big part of our team in the early part of the season. We feel bad for him more importantly than the team stuff. You don't want to see a teammate have that happen to him. Hopefully, he'll recover. He's young. We just look forward to next year and getting him back."
Donovan's importance to the Galaxy was underscored in his return to the field this past week, when he scored twice and added an assist in the 3-0 rout of the Portland Timbers.
Yet Donovan may be even more key to another team that isn't even meeting currently - the USA national team. With the most caps of any active player, Donovan is ever-present on the squad, and thus, it tends to be taken a bit for granted that he will always be available.
Midfielder Stuart Holden's injury, one that will keep him out of the crucial Gold Cup this summer, shows how even when the USA boasts its most talented midfield to date, it's nothing but a paper tiger if those players aren't actually fit and healthy.
The most skillful player in USA history may have been John O'Brien, but his fragility and injury woes were as omnipresent as his passing skill.
Crossed fingers notwithstanding, other players aren't necessarily better at avoiding bodily damage, just lucky enough to beat the odds.
MLS can't be considered a "safer" league than the EPL, given the recent broken legs, either.
If even a little blip of knee issue helps fans realize how much Donovan adds to the teams he plays with, and how much he will be needed in the Gold Cup, that's far better than a far worse scenario.
For both Dallas and Seattle, their seasons, no matter how ultimately successful, will still carry a bit of 'what might have been' if their stars had been available.
That's part of the classic nature of sports, however - the inherent element of risk and bodily harm. It's what makes the fans cheer so hard and loud when a once-injured player returns to action, especially when they were the ones who saw him go down in the first place.
The phoenix rising from the ashes is a great story. The bird who flies fast to avoid getting burned isn't as dramatic, but ultimately is a great talent based on that survival instinct alone.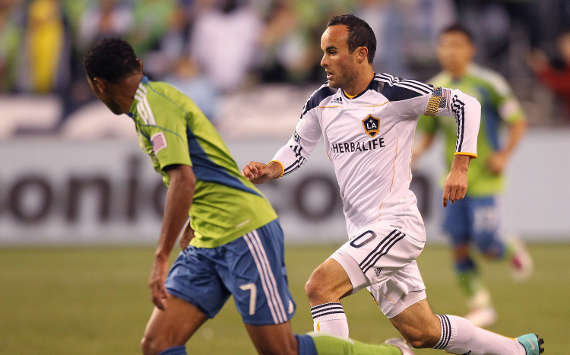 Donovan has been a constant for club and country
At some point, Donovan will start to slow down. Age is inevitable for any athlete - the one tackle that can't be dodged. Donovan may also be dogged with injuries that will take a toll on his effectiveness.
That day isn't here yet, and that fact should be celebrated, even if it doesn't come prompted by some big return. It's a big deal in itself that Donovan's never been away very long when he's been needed, either for club or country.
It's said that the biggest percentage of success involves just showing up. While the ratio may be debatable, what isn't is that showing up is the first step - everything else is a non-starter if one isn't there. Just as Donovan was Johnny-on-the-spot against Algeria in the World Cup, so is he in nearly every Galaxy and USMNT match. Not the hero, necessarily, but the one who is there to do his part.
Andrea Canales is an editor of Goal.com North America and is trying to remember to update her Twitter account.
Visit the U.S. national team page on Goal.com for more and join Goal.com's

page.