No American side has ever won a match in Mexico, but RSL must remember that it does not need to secure a victory in its CCL first leg tie in Monterrey tonight to set the stage.
Watch the CONCACAF Champions League Final Monterrey vs. Real Salt Lake live 4/20 at 10 p.m. ET on FOX Soccer. For more, click here

The excitement surrounding Real Salt Lake's involvement in the CONCACAF Champions League final has obscured the enormity of the task awaiting the Claret-and-Cobalt in Mexico.
Make no mistake about it: the best team in MLS faces a decidedly uphill task to secure a positive result against Monterrey in tonight's first leg (10:00p.m., FOX Soccer/Telefutura) if past precedent serves as a reliable indicator.
No MLS club has won on Mexican soil in 24 previous attempts. Only three visiting teams have snatched a draw. RSL couldn't even claim one of those elusive ties on its previous trip south of the border after chucking away a two-goal cushion with a quarter of an hour to play in a 5-4 group stage loss to Cruz Azul last August.
Fortunately for a RSL club carrying the dreams of an entire league on its shoulders, it does not need to shrug off the ample weight of history to accomplish its job in Monterrey. The Claret-and-Cobalt must simply cope well enough to create the opportunity for a date with destiny in next Wednesday's second leg in Sandy, Utah.
As Inter Milan and Tottenham would attest after their UEFA Champions League follies earlier this month, these sorts of ties can well slip out of reach after the first leg if circumstances or emotions impair a team's performance. Those two cautionary tales underscore why a pragmatic and realistic approach usually carries the day in such situations.
RSL managed similar concerns well enough during the semifinal stage after nursing a first leg advantage through its 2-1 second leg defeat at Deportivo Saprissa earlier this month, but, with all due respect to the Costa Ricans or the rebuilding Columbus Crew, this out-of-form Monterrey side poses a different and far greater test than any of RSL's previous knockout round opponents.
The foundation for securing the necessary score line – RSL needs to emerge from this first leg with no more than a two-goal deficit (and preferably an away goal or two) to reasonably keep hope of a first Champions League triumph alive – against a more potent adversary starts with adopting the correct mentality from the outset.
RSL possesses no leeway to continue its tendency to concede first in Champions League matches (five of nine games, including the second leg in Costa Rica) or feel the pressure of the moment in a hostile venue with 30,000 screaming fans.
Kreis has repeatedly praised his side for its mental strength over the past few months and said he believes his seasoned charges can cope with the daunting and rigorous challenge ahead.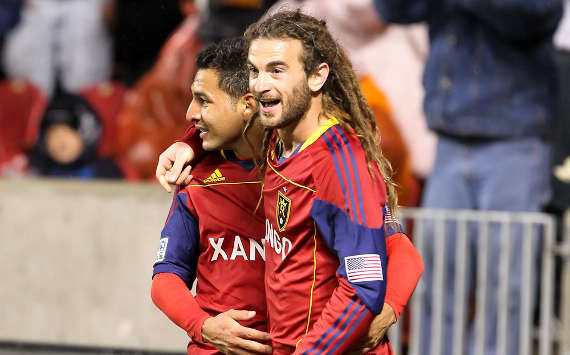 "We have a very, very mature group, a team that is extremely experienced," Kreis told reporters during a conference call on Monday. "Quite a few of our players have played with their national team in World Cup qualifying matches in some of the hardest environments. So, I don't think it can get any more pressurized than the multiple experiences they've already had. We're very well prepared for it."
Those teachings encompass far more than previous encounters for Kreis' well-drilled group. RSL will continue to rely on its possession-oriented ethos in this first leg, but the overall deportment will also include allowances for bolstering the usually stout defensive efforts with extra numbers at times and slicing open Monterrey primarily on the counter and through set pieces.
RSL must strike a delicate balance between solidity and timidity to avoid inviting a potentially fatal amount of scrutiny. The Claret-and-Cobalt must push the defensive line out when possible and relieve pressure through extended spells in possession, but this night also requires selecting the proper opportunities to keep the ball and using them wisely rather than attempting to dictate the play at inopportune junctures. In this battle of wills against a side with cagey and incisive performers such as Neri Cardozo and Humberto Suazo, RSL must retain its shape at all costs.
The best way to accomplish that objective within RSL's approach involves a hefty dose of tidiness in its traditionally neat passing game. Shoddy passes in the middle third will permit Monterrey to break quickly and stretch RSL's shape. The impact of those intermittent errors could fatally wound the Claret-and-Cobalt even with a disciplined defensive effort once Monterrey cobbles together extended spells in possession.
"Some of the best defense you can have is to be good on the ball," Kreis said. "I think it's going to be critically important when we have the ball we need to recognize we need to keep it for long stretches. We need to be very mindful of not giving it away cheaply because when you play an opponent as talented as Monterrey, they will punish you for that."
Monterrey's quality in attack assures that RSL faces the sterner challenge tonight despite its status as a fairly heavy underdog in the series. The Claret-and-Cobalt must retain its composure for the entire 90 minutes and weather the storm at Estadio Tecnológico in order to preserve its second leg chances at the fortress better known as Rio Tinto Stadium.
Few American teams have met this challenge in the past, but satisfying the difficult brief remains within the capabilities of a RSL side that has displayed its Champions League credentials on several occasions. Cinching the proper result by full time will require determination, gumption and precision, but RSL can lean on its consistent deployment of those qualities and its formidable spirit to overcome this Mexican hurdle and set up a potentially historic second leg match in Utah in a week's time.
"It's tough (to play in Mexico)," RSL goalkeeper Nick Rimando told reporters during a conference call on Monday. "We have seen it first hand at Cruz Azul, but I don't think we are afraid to come in here. We were the underdogs before and we know what it is like to come into an environment and not expect to win or pull a result out. I think we have the guys who can do that. There is nothing that says we can't go in there and get a result. We don't have to win, but getting a result would be good for us."

Kyle McCarthy writes the Monday MLS Breakdown and frequently writes opinion pieces during the week for Goal.com. He also covers the New England Revolution for the Boston Herald and MLSsoccer.com. Contact him with your questions or comments at
kyle.mccarthy@goal.com
and follow him on Twitter by clicking
here
.