Watch the CONCACAF Champions League Final Monterrey vs. Real Salt Lake live 4/20 at 10 p.m. ET on FOX Soccer. For more, click here

Omaha, Neb., isn't really considered a soccer hotbed, and it was even less so when young Jason Kreis was growing up in the area. Yet the budding player and his parents didn't let that deter them from developing his game.
Kreis went on to be drafted in the fifth round of the inaugural MLS draft, 43rd overall. He will probably retain forever the record of the lowest draft pick to be league MVP (Kreis won that honor in 1999).
It seemed Kreis was constantly being a pioneer. He wasn't particularly fast or extremely technical, but he had excellent instincts, and he scored goals in buckets. Kreis was the first American-born player to be voted MVP in MLS, and the first-ever player to score 100 league goals. In another historic accomplishment, Kreis is also the first person in MLS to go from player to coach overnight.
To an individualist who isn't afraid of the road less traveled, the bleak record of MLS teams playing in Mexico doesn't matter much.
Conventional wisdom would declaim that Real Salt Lake's coach should caution his team to play as defensively as possible in the opening leg of its CONCACAF Champions League final versus Monterrey. After all, Real Salt Lake is playing away.
Yet Kreis is not conventional, and RSL didn't sit back in the semifinals versus Saprissa, even in the intimidating Saprissa Stadium. Kreis didn't anticipate doing differently in the Estadio Tecnológico.
"I am a big believer that in the game of soccer, if you attack well enough, you will limit the amount of times that you have to defend," Kreis said Monday in a conference call with reporters. "We're not going to change our philosophy now that we're in the finals."
It didn't happen right away, but with the support of the Salt Lake ownership, Kreis has built a winning team in Utah. It's a squad that plays with a balance of skill, creativity and cohesion, all traits that MLS outsiders like to scoff at as being non-existent in the league.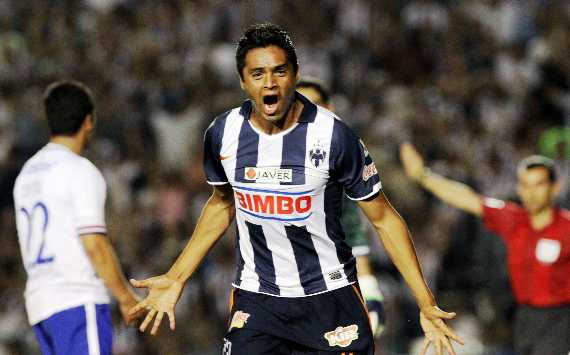 Monterrey will offer Real Salt Lake a stern test in the CCL final
"We are flying a banner that says not only Real Salt Lake on it, but MLS," said owner Dave Checketts. A CCL trophy win, Checketts, explained, "Would be a big dose of credibility for the league and an important comment on what Jason has done."
It's not that MLS clubs haven't won the continental club championship before - D.C. United and the Los Angeles Galaxy did, but that was before the victory provided entry to the Club World Cup. No MLS team has won the competition under the new format.
Kreis laid the foundation for building a winner early on after taking the reins.
"I asked Jason to retire," Checketts recalled of his head coaching offer. "Several weeks after becoming head coach of the team, he himself jumped on a plane and went to Argentina and came back with three players, two of which, Fabian Espindola and Javier Morales, are critical players to our success. That's where it started."
It was Kreis who also suggested Garth Lagerwey as general manager, and the voluble former goalkeeper turned out to be an ideal fit for the club.
"We just began adding pieces, all under the banner that there weren't superstars, or anyone way above the others," Checketts explained. "There's a tremendous team chemistry and you see it in the way they play, in the way they move the ball, the way they attack and the way they endure adversity."
Possession is key to the style that Kreis has developed with Salt Lake.
"We need to keep the ball and not give it away, because a team like Monterrey will punish you for that," Kreis maintained.
Kreis trusts his players to perform without resorting to hacking or primitive tactics like randomly thumping the ball down the field. In turn, his players reward his belief by continuously producing good results.
Salt Lake's team captain, Kyle Beckerman, pointed to Kreis' playing days as a crucial ingredient of his effectiveness as a coach.
"He had the experience. When he was playing, he didn't like the way things were done and when he became the coach he had the chance to change it and do things the right way. It has really been a joy to work with him. Everyone who has come to the team really enjoys playing for the club because things are done right here."
Beckerman is the midfield engine of the club, but he praised Kreis for the team's progress. "He gets the support from the owners and it trickles down. I feel that from day one when I came to RSL, we began to do the right things; in training and off the field. We started to see the success come from the hard work we put in and Jason deserves a lot of the credit."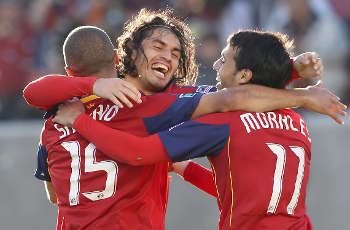 Real Salt Lake's team spirit has carried the squad far
Goalkeeper Nick Rimando echoed Beckerman's view on the coach, explaining that Kreis continually preaches the value of the squad as a whole. Perhaps that derives from his Cornhusker roots, where the state motto is, "Equality before the law".
"We have to buy into his philosophy of winning as a team," Rimando said. "We're all stars on this team. We're a team that fights for each other, on and off the field. That's what he [Jason Kreis] wanted to grow here at RSL and that is exactly what he is doing. We want to fight for Jason and for our teammates."
Against Monterrey, every bit of that camaraderie will be tested, but if there's anything Kreis and his players have learned to welcome, it's a challenge.
Andrea Canales is an editor of Goal.com North America and is trying to remember to update her Twitter account.