On Form
Portland Timbers:
In their Major League Soccer regular season home debut, the Portland Timbers were a sight to see. In front of more than 18 thousand passionate fans -- sticking it out through torrential rain -- the MLS expansion club netted four goals. It would have been five had Kenny Cooper's header goal in the 12th minute not been nullified by the official. Jorge Perlaza got a brace to lead the way.
F.C. Dallas:
Welcome back David Ferreira. The reigning league MVP got off to a somewhat slow start to the season, along with his team. But that trend was sure to pass at some point and it finally did in last week's blasting of Colorado. The Colombian was all over the pitch and popped in two goals along the way.

Off Target
Portland:
For a team that had clear offensive struggles throughout their first several games of the season, the Timbers exploded. In two matches in Oregon, the Timbers scored six goals -- two vs. Chivas USA in a U.S. Open Cup play-in match; four vs. Chicago Fire on Thursday night. Of course, every goal in the 4-2 win over Chicago, the fans were treated to an celebratory slice of wood off a giant log. TIMBER! It's looking like Portland is building itself a home-field advantage comparable to that of a fellow Pacific Northwest foe, Seattle Sounders FC.
Dallas:
Right now the thing missing most for F.C. Dallas is consistency. The Hoops now have a good performance under their belt but must be able to show that it was no fluke and that, as a group, they're ready to grind out results all season long. A tough trip to Portland won't make things easy though.

Tactics
Portland:
It was a 4-4-2 executed to perfection on Thursday night. Much of the opposition's focus is on Kenny Cooper. With that in mind, Perlaza took advantage of it, netting two goals. This is all with Darlington Nagbe still working his way into full-match shape, recovering from his sports hernia. Now with the threat of both Cooper and Perlaza, the what-was-struggling Timbers front line now looks formidable.
Dallas:
The overloaded midfield for Dallas in the 4-5-1 seems to be working well with some many attacking options getting forward. Don't look for anything to change after the best performance of the season last week.
Intangibles
Portland:
Perlaza didn't even have to do anything personally to become more of an offensive threat. On Wednesday, the Timbers announced the signing of Perlaza's former teammate in Colombia's first division club Deportes Tolima, Diego Chara. With the addition of Chara, the Timbers first Designated Player, the execution in the final third should be on par with that of the Timbers' on Thursday.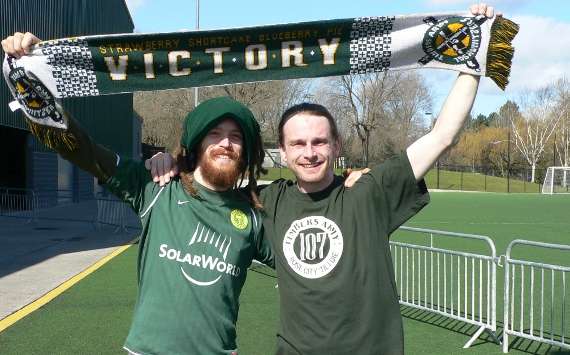 Dallas:
Well done Portland fans. Well done. Your house is now a place people don't want to visit as the opposition. Loud and seemingly well versed in the game, Portland's home crowd is a real advantage. And then there's that Kenny Cooper guy who used to play for Dallas, and two tough teams looking to build on good performances. Plenty of intrigue here.
Outcome
Giovanni Albanese:
It seems this Portland team is creating a stout home-field advantage. Even with just two days of rest prior to its contest with FC Dallas, the Timbers will most likely come out and please all in attendance. Portland 3, Dallas 1.
Allen Ramsey
: Sorry Portland fans, but not this time out. The Timbers just aren't ready for what Dallas has to offer. Too much experience together for the Hoops. Kenny Cooper will get one though. Portland 1-3 F.C. Dallas.
Keep updated with Major League Soccer by visiting Goal.com's MLS page and joining Goal.com's

page.