Welcome to MLS, Portland.
Four words just about sum up the awe-inspiring scene in the Rose City last night as the Timbers opened up JELD-WEN Field with a 4-2 victory over Chicago.
Jorge Perlaza scored two goals to send the drenched fans home happy, but those ardent members of the Timbers Army stood out as the stars of an enticing show played out on national television.
In its first night in MLS, Portland carved out its own compelling place in the league stratosphere and etched yet another chapter in the city's extensive love affair with the sport.
Here are five other take-home points from the Timbers' first home match:
1. The atmosphere in Portland is pitch perfect: Everything about the Timbers' opening night at JELD-WEN Field hit the right note: the collaborative rendition of the national anthem, the intimate stadium and the rabid and vocal supporters. Portland's performance and subsequent victory in its home debut served as the rightful cap to a wonderful night in a venue that already stands out as one of the league's most difficult for opposing teams.
2. Dour conditions didn't dampen the spectacle: The rainy weather exacted its usual toll on the quality of play on the JELD-WEN Field turf, but it did not remove any of the excitement from the match. There were flashpoints all across the field – particularly as the officials interjected their assessments and the players stretched out the match in the second half – and six goals to keep everyone involved more than entertained.
3. The intensity of the evening impacted Chicago's ability to compete: The Fire just about crumbled under the weight of a match that greatly exceeded the usual spark in a regular season affair. For much of the first 60 minutes, Colorado staggered through without much composure at the back – Cory Gibbs' ill-advised tackle in the corner to prompt Portland's second goal stands out as the most jarring example of the pattern – or possession through midfield. Chicago coped well once it secured its footing and nearly came all the way back from a three-goal deficit (one could argue Marco Pappa deserved two goals for his audacious display of skill for the second goal), but its poor performance probably did not merit a result on the evening.
4. Jorge Perlaza finally revealed flashes of his quality: The Colombian striker has come in for some deserved criticism over his performances in the early stages of the campaign, but his double on this evening showcased his instincts. The first goal – a darting run behind the Fire's defensive line, a tidy hesitation move to shake Logan Pause and a fine finish inside the far post – stood out as the pick of the two, but the second goal highlighted the poaching instincts Perlaza will need to deploy on a regular basis to increase his return.
5. Carlos de los Cobos may have a budding goalkeeper situation on his hands: Chicago goalkeeper Sean Johnson entered this season as the unquestioned number one for the Fire, but his performances have not matched the high standard he set last year. Johnson has presented ample cause for concern with his inability to deal with crosses (a particular trouble spot in the wet weather) and his less-than-exemplary footwork (he was nearly chipped from 15 yards last night due in large part to iffy work in that department). The ups and downs are part and parcel for a 21-year-old goalkeeper, but de los Cobos may have ponder a switch to Jon Conway if the inconsistency continues to harm the Fire's already rickety defensive efforts.
Last week: 3/8 (38%)
For the season: 12/34 (35%)
Saturday
Seattle @ Philadelphia – 4:00p.m. – Goal.com Preview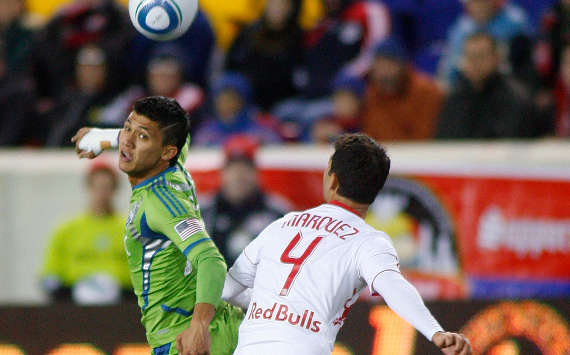 Seattle has created plenty of intrigue surrounding Fredy Montero's potential inclusion as he recovers from wrist surgery – Sounders FC apparently named him in its 19-man squad for the trip to Pennsylvania – but the Colombian's involvement doesn't really alter how Philadelphia will approach the game. The Union will attempt to keep things tight at the back and hit Sounders FC on the break. It isn't an expansive brief, but it is one that can yield dividends if Peter Nowak's side improves from last Saturday's 1-0 victory over New York.
Prediction: Philadelphia win.
Chivas USA @ Vancouver – 7:00p.m. – Goal.com Preview
Red-and-White boss Robin Fraser has tinkered with a 4-4-2 formation in training this week as he prepares to take his charges to British Columbia, but that potential shift won't matter too much unless he can somehow squeeze substantial production out of his forwards against a prolific Whitecaps side.
Prediction: Vancouver win.
D.C. United @ Toronto FC – 7:00p.m. (FOX Soccer) – Goal.com Preview
United will make the trek north with Perry Kitchen (illness) unlikely to feature and Santino Quaranta (suspension) ruled out entirely. Those absences will sting a bit, but D.C. can rely on Ethan White to replace Kitchen in central defense after his assured debut last weekend against Los Angeles and one of several candidates to pick up the slack for Quaranta. After Toronto's rather suspect display in midweek, it stands to reason that Ben Olsen's side can pick up a point in Canada with a dogged and resolute performance.
Prediction: Draw.
Sporting Kansas City @ Columbus – 7:30p.m. – Goal.com Preview
This match offers up an interesting contrast in styles with attack-minded Sporting squaring off against the defensively sound Crew. Columbus hasn't conceded in 283 minutes, but it must attempt to contain a Sporting side with several attacking options even with Omar Bravo (hernia) sidelined. The wide areas – Columbus' fullbacks against Sporting's wingers (in the usual 4-3-3 setup) – could provide decisive in the final outcome, but the Crew may create the telling edge by exposing Sporting's defensive concerns.
Prediction: Columbus win.
San Jose @ New York – 7:30p.m. – Goal.com Preview
The Earthquakes return to the scene of their finest hour as a reincarnated franchise to grapple with a Red Bulls side still trying to find its way after last year's postseason heartache. Two goals in four games isn't the return Hans Backe expected from a side expected to produce far more in front of goal. Thierry Henry (Achilles) may take the field once again to attempt to set things straight for the home side, but his influence – or, in most instances these days, lack of it – may not decide the game. Instead, the outcome could rest on how New York manages the threat posed by Simon Dawkins and thwarts San Jose's attempts to strike on the counterattack.
Prediction: New York win.
Sunday
Los Angeles @ Chicago – 4:00p.m. (Telefutura) – Goal.com Preview
This three-game road trip hasn't proceeded as planned for the Galaxy with only two points secured through two matches. Los Angeles may not contradict the apparent trend in Bridgeview with David Beckham, Juninho and Jovan Kirovski ruled out through suspension and Landon Donovan likely set to miss out on a third consecutive match with knee inflammation. While Los Angeles' central midfield deficiency shouldn't pose too many problems against the Fire, the fatigue of a third match in eight days – even with the Fire's quick turn around from the defeat in Portland last night – and the problems presented by Marco Pappa and Patrick Nyarko in the wide areas should prove far more difficult to overcome.
Prediction: Chicago win.
FC Dallas @ Portland – 6:00p.m. – Goal.com Preview
While it is easy to get swept up in the positive feelings surrounding the Timbers' impressive first victory, that performance does not obscure the fact that John Spencer's side doesn't keep the ball particularly well. Portland's deficiency in possession will cause them problems against FCD because the Hoops can control the majority of play and heap pressure on the Timbers' suspect defense. It remains to be seen whether the Timbers will have the reserves to respond to address those concerns in the wake of last night's emotional victory. Strong home support can only carry a team so far
Prediction: FC Dallas win.
New England @ Houston – 7:00p.m. (Galavision) – Goal.com Preview
The circumstances never seem to matter when New England travels to Robertson Stadium: the Revolution always returns home with points. In order to maintain their unblemished record (4-0-1 in five visits) in Houston, the Revs must accomplish two goals: cobble together a workable solution in central midfield with Shalrie Joseph and Pat Phelan suspended and limit Brad Davis' influence on the game. Don't bet against New England somehow finding a way to muddle through so given its history against the Dynamo.
Prediction: Draw.
Kyle McCarthy writes the Monday MLS Breakdown and frequently writes opinion pieces during the week for Goal.com. He also covers the New England Revolution for the Boston Herald and MLSsoccer.com. Contact him with your questions or comments at kyle.mccarthy@goal.com and follow him on Twitter by clicking here.
Follow Goal.com on

to get the latest soccer news directly. Check out Goal.com's

page; be part of the best soccer fan community in the world!