Goal.com's editors and contributors weren't unanimous on the choice, but the trend toward one choice was clear early on. FC Dallas midfielder David Ferreira collected votes from across the country for his performance against the Colorado Rapids this past Friday.
"Two goals and involvement in Dallas' first goal proved that when the 2010 MLS MVP is on his game, he is a match winner," said D.C. contributor Steven Streff.
Salt Lake City's Jeremy Horton was excited to see Ferreira back to fine form.
"Finally, a showing from an FC Dallas team many of us thought would contend for the Supporter's Shield, courtesy of reigning league MVP Ferreira," Horton said. "Everyone knows what he likes to do, but Colorado still couldn't stop him from doing it. Ferreira makes the best attacking runs out of the center of any midfielder in the league, and he showed it as he repeatedly tore up Colorado on his way to two goals in a 3-0 thumping."
Out in Texas, editor Allen Ramsey also gave Ferriera his vote.
"Two goals and a brilliant performance from the reigning MLS MVP," noted Ramsey "Seems the Hoops can actually be dangerous when they keep eleven on the pitch."
Finally, even in Colorado Ferreira earned praise from correspondent Stephanie Gardner.
"He has been silent up until this point of the 2011 season, but very loudly made an impression on MLS fans by playing a huge role in the defending champions' first loss of the season," Gardner acknowledged.
"The reigning MLS MVP has had a slow start to the season, along with his team," Nick Rosano said. "But he and Dallas exploded in a big way on Friday night, putting three goals past Colorado in an MLS Cup rematch. Ferreira's brace was critical and his first goal was a thing of beauty as he capped off an excellent all-round performance. Would Dallas be champions right now if he had played this way on that cold Toronto night?
One other player earned multiple nods as well, though not as many as winner Ferreira, and that was Seattle's goalkeeper, Kasey Keller.
"The veteran stopper is playing in his final season," observed John Zielonka. "In the 2-1 victory over the Chicago Fire, Keller made three world class saves in an eight-minute span to seal Seattle's first win of the season. He thwarted the Fire onslaught with his lightning-fast reactions to hand Chicago its first loss of the year."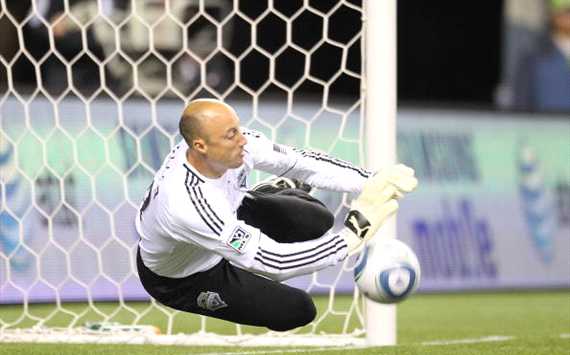 Justin Churchill was also impressed.
"Kasey Keller put the Seattle Sounders on his back in their 2-1 defeat of Chicago. The 41 year old goalkeeper had a few amazing saves to shut down the Fire offense in second half"
Houston's Danny Cruz also garnered a vote for active play in the win over Vancouver, but one vote stood out as being especially unusual.
Editor Shane Evans called out New York Red Bulls defender Tim Ream for a game-changing gaffe.
"His contributions on Saturday were vital to the Philadelphia Union's efforts in gaining their third shutout of the season," Evans pointed out. "Without him, the result would have been much different."
Follow Goal.com on

to get the latest soccer news directly. Check out Goal.com's

page; be part of the best soccer fan community in the world!