VANCOUVER, B.C. – The crazy opening matches in Vancouver's debut MLS campaign have revealed two unassailable truths about these Whitecaps.
One of those conclusions – a significant home-field advantage created by a loud, English-style temporary stadium packed with fervent supporters– benefits the playing staff. The other – the fortitude to fight and persist through adverse circumstances – reveals the tenets used to mold this expansion squad by coach Teitur Thordarson.
"A lot of the credit has to go to Teitur," Whitecaps assistant Denis Hamlett said last week. "He's got the guys and the whole staff believing in a certain way how he wants to get things done, play a certain way, fight for each other and leave it all on the field. You've seen that in the first couple of games we've played."
The desire to implement such a determined approach also comes through in the blend of players Thordarson and Whitecaps director of soccer operations Tom Soehn chose to comprise this group. Seasoned European performers like Jay DeMerit, Terry Dunfield, Eric Hassli and Alain Rochat coupled with MLS veterans Joe Cannon, Atiba Harris and John Thorrington to create an experienced spine for a side with several youthful additions from the second-division team and the MLS SuperDraft.
"It was important, absolutely important, because they bring a lot of experience to the group," Thordarson said. "I just feel that the mix we have here – with a lot of experienced guys and the younger players who haven't played on this level before but have a lot of talent – is good."
A series of injuries and suspensions have tested Thordarson's theory in the first five matches. Expected starters such as Davide Chiumiento, DeMerit (groin), Dunfield (groin), Greg Janicki (hip) and Thorrington (calf) have all missed time through injury, while leading scorer Hassli has procured two dismissals in his three appearances for intemperate behavior and recent stalwart Gershon Koffie also found himself suspended for last night's 3-1 defeat in Houston.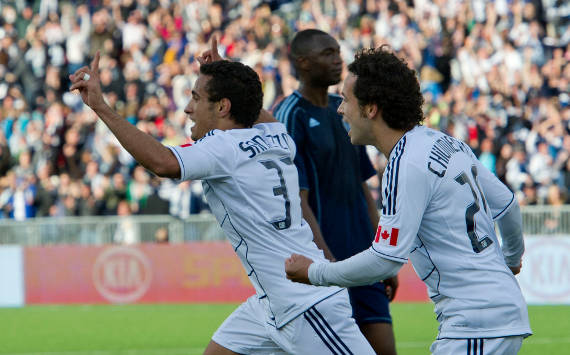 The situation has created significant turnover within Vancouver's starting XI and heaped significant pressure on younger players such as Michael Boxall, Camilo, Nizar Khalfan and Blake Wagner to fill in those gaps. There have been ups and downs along way, but the touchstones within the squad have smoothed the transition, according to Whitecaps goalkeeper Jay Nolly.
"It's a lot of the older guys – the veterans like John (Thorrington), Terry (Dunfield), Jay (DeMerit) and Joe (Cannon) that have been around – helping the younger players and getting them caught up to speed," Nolly said. "The situation we're in now where we're losing players to red cards and we have a lot of injuries, we need those young players to be ready right away. You see a lot of those D-II guys who are stepping in and doing excellently. That's the level the coaching staff has put in with the players and we just have to keep going forward with it."
A consistent and streamlined tactical approach has also made it easier for those players to settle into the MLS level. Thordarson prefers a standard 4-4-2 setup with few frills to inspire confusion. The fullbacks push forward when possible, the central midfielders operate mostly as holding presences, the wide players roam the flanks and the forwards often serve as the springboard for the attack by receiving service, holding up the ball and bringing others into the play. The roles are simple and well defined to permit each player to comprehend and perform the task assigned to them.
"It goes back to Teitur having a system that says this is how we're going to play and this is what we're going to do," Hamlett said. "So when you're called upon, you know exactly what to do. I think you see it where young guys have been thrown in – (Michael) Boxall, Camilo, Russell (Teibert) – and they know exactly what is required. It's a much easier transition. We don't feel like we're at sixes and sevens on the field when there's something new because of the preparation we put in during the preseason."
While the system has yielded positive and predictable results – five points from three home matches, zero points in two road tests – in the early stages, there is room for growth as the Whitecaps work toward fielding their preferred starting XI.
On paper, Vancouver appears to possess a fairly strong side with a combination of creativity injected by Chiumiento, defensive strength provided by DeMerit in the middle and the impressive Rochat at left back, graft with Dunfield and Thorrington in central midfield and potency with Hassli and either Camilo or Harris up front.
Without a consistent run of games with the same starting XI, it is, however, hard to judge exactly how the Whitecaps will perform with all of their pieces in place and whether those parts are enough to vie for a postseason berth.
"We have been unfortunate to have to change things around several times now," Thordarson said. "We're only a few games in (to the season), so hopefully we can play with at least 70, 80 percent of the same guys from game to game."
Despite the constant turnover and the setbacks away from Empire Field, Vancouver has established a foundation in its nascent days based upon those unimpeachable conclusions and left its coach encouraged that his side is adjusting well to the rigors of the American top flight.
"It's gone very well," Thordarson said. "I think we've shown that – in the games that we have played so far – that we don't have to fear anybody. We can play with anyone in this league."
Five Points – Week 4
1. Chavés continues his under-the-radar goalscoring binge: Chicago didn't generate much buzz when it imported Diego Chavés and Gastón Puerari from Uruguay earlier this year, but the Fire has reaped the benefits from pairing the two forwards up top during the opening stages of the campaign. Puerari has revealed his quality in spurts, but Chavés has distinguished himself as a real find after consistently impressing with his cultured movement, his incisive combination play and his predatory instincts.
The former Querétaro man bagged his third goal in as many appearances (a club record) in Saturday's 2-1 defeat at Seattle and could have added a couple of more if the defiant Kasey Keller hadn't diverted a couple of goal-bound efforts.
Chicago must soon sort out its defensive concerns – the four-man setup didn't look much better than the three-man back line, though Josip Mikulic missed out with a left quadriceps strain – in order to sustain its decent start, but it appears that Carlos de los Cobos can now rely on Chavés to offer a fairly regular supply of goals and quell the preseason questions about the Fire's options up front.
2. Ream reveals the perils of playing it out of the back: New York coach Hans Backe has asked Rafa Marquez and Tim Ream to assume much of the responsibility for starting the Red Bulls' work in possession from central defense. Marquez and Ream are generally discreet and tidy distributors over short and long distances, but they are not perfect. The amount of passes they make in a given match exposes the Red Bulls to potential danger if either of them chooses to make a diagonal pass out to a fullback at the wrong time or mishits any sort of pass through the center of the park with numbers committed into higher areas.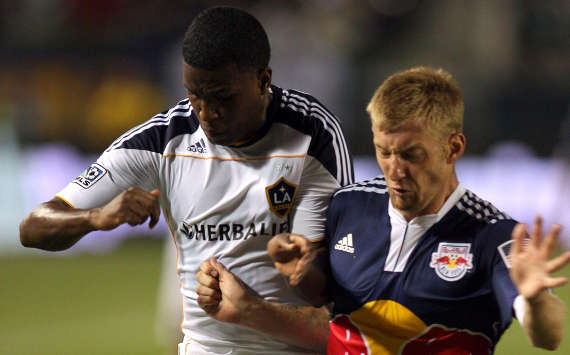 Ream cost his team at least one point – and it probably should have been three after Juan Agudelo hit the woodwork twice and the Red Bulls dominated the run of play – in Philadelphia on Saturday night by scuffing a diagonal ball destined for the right flank. A quick two-versus-one developed through the middle as Danny Mwanga intercepted the poor pass and slotted Roger Torres through for the decisive finish in the Union's 1-0 victory.
"I just mishit it," Ream told Big Apple Soccer after the match as he assumed responsibility for the mistake. "That's all there is to it. There is no other explanation. Just a complete mishit by me."
3. Davies' flop rescues a point for D.C.: Abbey Okulaja represented just about the only person in RFK Stadium fooled by Charlie Davies' dramatic tumble to the ground, but his incorrect opinion mattered the most as the veteran referee pointed to the penalty spot to gift United a 1-1 draw against Los Angeles on Saturday night.
If Okulaja decided to blow the whistle in that situation, he had to follow the stoppage of play by presenting Davies with a yellow card for simulation because Omar Gonzalez made little, if any, substantive contact with the D.C. striker. Instead, he chose to throw United a life line. No wonder why the Galaxy blew its collective top – Jovan Kirovski's post-match dismissal plus the biting post-match comments from Bruce Arena and David Beckham – after the decision and Davies' cheeky conversion robbed them of two deserved points at the start of a three-match road swing.
4. RSL's reserves impress in the victory over New England: Real Salt Lake coach Jason Kreis does a particularly good job of drilling his squad with detailed expectations and instructions and placing his players in positions where they can reasonably expect to succeed if they follow them. Case in point: Kreis rested all but two of his starters from Tuesday night's glorious 2-1 defeat at Deportivo Saprissa and sent his reserves out to play a fatigued New England side at Gillette Stadium.
The result – a 2-0 victory in which RSL hardly looked troubled once Chris Schuler grasped the lead after 27 minutes – reinforced the conceptions about the visitors' significant squad depth, but the manner in which this fairly inexperienced side managed its lead without fuss or hesitation provided a greater example of RSL's overall strength.

"I think we do a fair job in our training sessions to make sure everybody knows what is expected of them," Kreis explained after the match. "We had a good chance at halftime – we were already up with a 1-0 lead – to talk about what kind of decisions we wanted and what we wanted to be doing tactically with and without the ball. The guys followed through with everything that was put to them tonight – even from minute one with the game plan we approached the game with."
5. Patience required as Houston continues to construct its side: Houston's 3-1 victory over a threadbare Vancouver side on Sunday night offered up plenty of hope for the future as a pair of 21-year-olds excelled and a promising, but injury-riddled, winger made his first appearance for the Dynamo.
Danny Cruz submitted a man-of-the-match performance with his industrious work down the right flank, while Will Bruin notched his first MLS goal and continued his impressive adjustment to this level. Colin Clark capped a fine night for the home team by making a much-anticipated cameo off the bench as he continues his recovery from a second ACL tear in his left knee.
It will take a few polished additions, a renewed commitment to solid defensive work and a significant chunk of time for the Dynamo to return to its past glories, but the victory over the Whitecaps offered plenty of positive signs as Dominic Kinnear seeks to cultivate new building blocks to complement the likes of Bobby Boswell, Brian Ching, Geoff Cameron and Brad Davis.
Kyle McCarthy writes the Monday MLS Breakdown and frequently writes opinion pieces during the week for Goal.com. He also covers the New England Revolution for the Boston Herald and MLSsoccer.com. Contact him with your questions or comments at kyle.mccarthy@goal.com and follow him on Twitter by clicking here.
Follow Goal.com on

to get the latest soccer news directly. Check out Goal.com's

page; be part of the best soccer fan community in the world!