Vancouver somehow tries to explain Eric Hassli's jersey throwing incident in Wednesday night's 1-1 draw with New England and the Forecast reveals its usual weekend picks.
VANCOUVER, B.C. – Explaining away the jersey-under-jersey crime Vancouver striker Eric Hassli committed in Wednesday's 1-1 draw with New England did not get any easier after a night of reflection.
Hassli irked his teammates and shocked everyone inside Empire Field with his exuberant decision to throw his kit into the crowd to celebrate scoring his third goal in three games. By doffing his top while on a yellow card, Hassli earned a deserved second caution and reduced his side to nine men with more than a half an hour still to play.
"Initially, I thought he threw a towel," Vancouver goalkeeper Jay Nolly said. "I still saw him with the jersey on, so I didn't see him take it off. As soon as I saw the ref going towards him, I knew he was sent off."
Everyone who fielded questions about Hassli's stunning act professed ignorance regarding Hassli's decision to don two jerseys before he came on at halftime. Most players queried said they would have tried to dissuade Hassli from that particular course of action had he consulted with them, though one colleague opined that few players would have noticed the act in the locker room.
"You don't care to care to look at somebody (to see) what they're doing with their equipment," Vancouver defender Jay DeMerit said. "That's up to the individual. The jersey police was not in the locker room."
Vancouver coach Teitur Thordarson said Hassli leaned on the crutch you'd suspect he'd choose to explain his boggling decision: the old "I thought they do things in MLS like they do them in Switzerland" approach.
"The whole thing is based on a mistake," Thordarson said. "He didn't know that they treated the rule this way here. Apparently in his home land, they can do this if they have another t-shirt on underneath it. But the FIFA rule is quite clear."
One can imagine that the fine Vancouver plans to hand Hassli for his second red card in three appearances will underscore that already obvious point. Oddly enough, Thordarson contends the soft-spoken Frenchman is not the type of player who runs afoul of referees with regularity despite the mounting evidence to the contrary.
"He is a very humble guy, you know," Thordarson said. "One of the nicest guys you can meet. All of these red cards he's gotten and all of the stuff that has happened around him is a bit unfortunate. He is not that type of a player where he should be having a lot of red cards or yellow cards."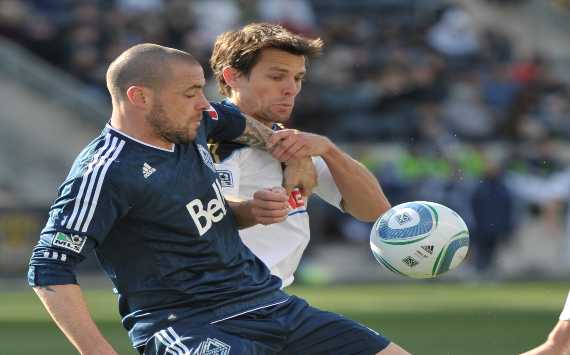 Those cards have cost the Whitecaps dearly – perhaps a point in Philadelphia and two more against New England in addition to two missed matches – in the early stages of the season, but DeMerit said the players are prepared to put the unusual incident behind them as they prepare to face Houston on Sunday without their prolific striker.
"You have to (get past it)," DeMerit said. "The last thing you want is to be dwelling on issues like that. That's not what we're about. It's about staying positive, it's about continuing to come together as a group and making sure we're doing the right things."
Last week: 2/8 (25%)
For the season: 9/26 (35%)
Friday
Colorado @ FC Dallas – 9:00 p.m. ET (FOX Soccer) – Goal.com Preview
FCD must improve significantly upon its previous displays in order to secure a result here. The suspended Jackson won't feature for the home side, but Schellas Hyndman may wait to see if Jair Benitez (hamstring) is fit enough to feature before settling on his starting XI. Even if Hyndman opts to shuffle his pack once again after making three changes prior to last Friday's defeat in Columbus, the reconstituted FCD will face a tough task against an in-form Rapids side squaring up to its first significant test of the campaign.
Prediction: Draw.
Saturday
Chicago @ Seattle – 4:00 p.m. ET – Goal.com Preview
Sounders FC represents a tactical nightmare for Chicago if the Fire opt to play their preferred three-man back line. Seattle possesses the necessary players to compete two-versus-three in central midfield with Osvaldo Alonso and Brad Evans in the engine room, while Steve Zakuani and the right midfielder of Sigi Schmid's choice could exploit the exposed space in the corners. It is perhaps a blessing in disguise that injuries to Cory Gibbs (groin) and Josip Mikulic (quadriceps) may urge Carlos de los Cobos to revert to a four-man setup.
Fredy Montero's projected absence with a wrist injury won't hurt the visitors' cause either, but this matchup just doesn't seem to suit Chicago unless Seattle falls prey to the red card fever sweeping through the Fire's opponents this season.
Prediction: Seattle win.
New York @ Philadelphia – 7:00 p.m. ET (ESPN2) – Goal.com Preview
Union manager Peter Nowak may have to field some questions after this match about his somewhat suspect decision to play a fair share of his regulars for 120 minutes in Wednesday's 2-2 draw at D.C. United – and subsequent penalty kick defeat – in a U.S. Open Cup play-in game.
Prediction: New York win.
Real Salt Lake @ New England – 7:30 p.m. ET – Goal.com Preview
Tough to tell what these two jet-lagged teams will offer up at Gillette Stadium. If RSL can conjure up something resembling its usual work in possession, the Revs could be in significant trouble because they struggle against teams that can keep the ball. But that brief may prove too difficult for the Claret-and-Cobalt to enact after Tuesday's CONCACAF Champions League exertions even if Jason Kreis makes a few changes to his starting XI.
One point worth noting for the Revs: A.J. Soares will miss out after his dismissal in the 1-1 draw at Vancouver on Wednesday. Darrius Barnes looms as the likely replacement with Franco Coria (hamstring) omitted from the travel party to British Columbia.
Prediction: Draw.
Los Angeles @ D.C. United – 7:30 p.m. ET – Goal.com Preview
Bruce Arena's side kicks off a three-match road swing with this match against United. With subsequent visits to Toronto FC (Wednesday) and Chicago (next Saturday) on the docket, the Galaxy could pick up several points on their travels. It is, however, best to pick up results before fatigue strikes. Keep an eye out to see whether Arena persists with David Beckham in central midfield with Chris Birchall suspended.
United will seek to build off its penalty kick victory over Philadelphia in a U.S. Open Cup play-in match on Wednesday by shoring up its defensive efforts. Perry Kitchen (U.S. U-20 duty) could return if deemed fit enough to play and Dejan Jakovic should return from his one-match ban, but D.C.'s defensive issues may not conclude with their insertion into the starting XI.
Prediction: Los Angeles win.
Columbus @ Chivas USA – 10:30 p.m. ET – Goal.com Preview
Good news for Chivas USA: Paulo Nagamura (calf strain) could make his season debut to obscure the continued absence of Jimmy Conrad (concussion). Bad news for Columbus: Andres Mendoza (adductor strain) will not make the trip, according to the Columbus Dispatch. Good news for the neutrals: they hold no obligation to watch this potentially dire match and possess other viewing options to pass the time.
Prediction: Draw.
Toronto FC @ San Jose – 10:30 p.m. ET – Goal.com Preview
Aron Winter may have installed a new culture for his Reds, but his project probably hasn't reached the point where TFC can stage successful road trips to the West Coast. Expect a few goals from the home side in the wake of last Saturday's entertaining 2-2 draw with Seattle.
Prediction: San Jose win.
Sunday
Vancouver @ Houston – 7:00 p.m. ET (Galavision) – Goal.com Preview
The Whitecaps will travel to Texas without central midfielders Terry Dunfield (groin), Gershon Koffie (suspension) and John Thorrington (calf) and striker Eric Hassli (suspension), but they could have Jay DeMerit back in the fold to bolster the defense and the U-20 duo of Omar Salgado (United States) and Russell Teibert (Canada) to strengthen the squad.
Vancouver could face a Dynamo lineup stripped of Brian Ching (rib), Brad Davis (hamstring) and Jermaine Taylor (foot), but Whitecaps coach Teitur Thordarson is under no illusions about the difficulty of the trek to Robertson Stadium.
"I'm hoping the team can perform up to the level that they have been doing," Thordarson said. "That will definitely be needed down there. Houston is a tough team to play. They are physical, they are well organized and they work very hard also."
Prediction: Houston win.
Kyle McCarthy writes the Monday MLS Breakdown and frequently writes opinion pieces during the week for Goal.com. He also covers the New England Revolution for the Boston Herald and MLSsoccer.com. Contact him with your questions or comments at kyle.mccarthy@goal.com and follow him on Twitter by clicking here.
Keep updated with Major League Soccer by visiting Goal.com's MLS page and joining Goal.com's

page.