Goalkeeper:

Tally Hall, Houston Dynamo:
Hall's goalkeeping heroics certainly saved a point for a flat Dynamo side on Friday in Seattle, and indeed, his six saves nearly held up as game-winners until Steve Zakuani's 80th minute equalizer.
Defenders:
Drew Moor, Colorado Rapids:
When MLS plays on international dates, the spotlight often falls on many of the unheralded players on the team, as was the case with Drew Moor this past weekend. Moor's splendid defensive performance helped the Rapids secure all three points despite missing their lethal attacking duo of Omar Cummings and Conor Casey and his shutdown of Chivas USA's attack freed up other players to push forward and eventually help grab the game-winner.

Brandon McDonald, San Jose Earthquakes:
Usually, explosive is a term associated with wingers, full backs and forwards, but on Saturday night, McDonald just seemed to pop in his central defensive role. With Dallas overloading San Jose on the flanks, McDonald was everywhere, especially in the first half, reading the game well, making interceptions and using his great athleticism to frustrate the Dallas team that controlled possession for large parts of the match.
Carlos Valdes, Philadelphia Union
: With Vancouver the better team at PPL Park before going down to ten men, Carlos Valdes played a key role in holding their forward pairing of Atiba Harris and Eric Hassli in check, even frustrating Hassli to the point where he fouled Valdes and earned his second yellow card. He and fellow Colombian Faryd Mondragon have played a huge part in the Union's two clean sheets to open the season, something that would have been unthinkable with last year's Union side.
Midfielders:

Jamie Smith, Colorado Rapids
: While he doesn't draw the same kind of plaudits as the likes of Omar Cummings, Smith has proven time and again that he is an integral part of the Rapids team, a conclusion evident once more on Saturday night. The Scotsman provided

Joel Lindpere, New York Red Bulls
: Another one that falls in the category of unheralded performers, but not for long. Lindpere has quickly proven to be one of the best acquisitions of the Hans Backe era in New York and showed it again as his team ground out a tough 0-0 draw at Columbus. Lindpere's dynamic midfield play meant the Crew had a tough time getting numbers forward, and the Estonian nearly stole all three points for his team, only to be denied by a fantastic Will Hesmer save.

Osvaldo Alonso, Seattle Sounders FC:
Seattle may have been ultimately frustrated by Houston at Qwest Field on Friday night, but not for lack of a midfield. Led by the tireless Alonso's never-ending quest for the ball, the Seattle midfield controlled possession and created plenty of chances for the forwards, who, to put it gently, were not quite as effective as their counterparts in midfield.
Javier Morales, Real Salt Lake:
While everyone played their part, it is impossible to argue against Morales' stellar performance as the best of the night in RSL's 4-1 demolition of Los Angeles. The Galaxy had no answer to him in midfield as he netted an excellent goal, converted a penalty and set up his forwards with some excellent distribution. David Beckham, watch and learn.

Marco Pappa, Chicago Fire
: The Guatemalan winger showed on Saturday exactly why he can be the man to lead the Fire back to the playoffs. His trickery and distribution from the flank gave Sporting KC plenty of headaches and he was involved in both of the Fire's opening goals, topping it off with a sublime strike that eventually stood up as the game-winner.

Forwards:

Chris Wondolowski, San Jose Earthquakes
: Wondo's back, and breaking records. His two deft finishes on Saturday night led the Earthquakes to their first victory of the season. To give you some sense of just what he has done for the storied Earthquakes franchise, he has now passed Eric Wynalda and is rapidly closing in on Brian Ching in the all-time top scorers chart, he just surpassed Landon Donovan as the franchise leader in game-winning goals and has now scored an MLS-record 12 consecutive regular-season goals for his team, dating back to 2010.
Paulo Jr., Real Salt Lake:
With Alvaro Saborio on international duty and the formidable LA Galaxy coming to town, Paulo Jr. had some big shoes to fill on one of the biggest occasions of the nascent MLS season. He got involved from the get-go, assisting Andy Williams' second half goal and continually troubled the Galaxy defense with his energy and physicality, netting the final goal of the game as a reward for his efforts.

Bench:
Jon Busch (San Jose Earthquakes), Chad Marshall (Columbus Crew), Shalrie Joseph (New England Revolution), Steve Zakuani (Seattle Sounders FC), Fabian Castillo (FC Dallas), Fabian Espindola (Real Salt Lake), Javier Martina (Toronto FC)

Formation (3-5-2):
Hall
Moor-McDonald-Valdes
Smith-Lindpere-Alonso-Morales-Pappa
Wondolowski-Paulo Jr.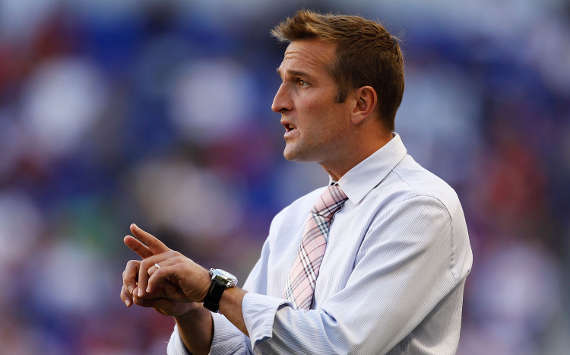 Jason Kreis | Guided RSL to impressive form
Coach
Jason Kreis, Real Salt Lake: Kreis might not have been exaggerating when he said that the first half against Los Angeles was "probably the best soccer I've seen in front of this stadium [from] this team." However, credit must certainly also go to Kreis, with the display against LA perhaps the epitome of the style that the young coach has been trying to implement with this team, leading many to wonder if a quadruple (Supporters Shield, MLS Cup, CONCACAF Champions League, U.S. Open Cup) is a realistic goal after all.

You can follow Nick Rosano on Twitter for more Earthquakes and MLS chatter at @nicholasrosano
Keep updated with Major League Soccer by visiting Goal.com's MLS page and joining Goal.com USA's Facebook fan page!