Real Salt Lake ascends to the top of the rankings with an impressive 4-1 victory over Los Angeles.
1. Real Salt Lake
– Bumping the Claret-and-Cobalt up to top spot was the least Jason Kreis' side deserved after its first-half clinic en route to a comprehensive rout of the Galaxy. (2)
2. Colorado – It isn't always pretty for the Rapids, but style points don't matter when cashing in three points without Omar Cummings. (1)

3. New York – Speaking of ugly results, the Red Bulls really clawed their way to a point in Columbus without six starters – a new MLS record – from their week one victory over Seattle. (3)
4. Philadelphia – Two consecutive one-nil results show the Union's emphasis on improving its back four has some merit. (8)
5. San Jose – Give the Earthquakes credit for a positive and professional performance in Frisco on Saturday. Chris Wondolowski's stellar double deserves the headlines once again, but this victory resulted from a team effort, particularly in the second half. (10)
6. Los Angeles – David Beckham's performances, at this point, are becoming a bit of a problem. Fortunately for the former England captain, the defensive issues will continue to take center stage until Omar Gonzalez and Donovan Ricketts return and Leonardo shifts to the bench. (4)
7. Chicago – A few of Carlos de los Cobos' critics – and there are many around the league – may have to catch their breath for a week or two, but there are still questions about the Fire's credentials given the red cards picked up by their opponents in each of the first two matches. (11)
8. New England – While fortune has played a significant role in the Revs' hot start, they have also revealed a bit of defensive resolve that will prove crucial as Steve Nicol integrates more pieces into his lineup and mandates better work in possession. (13)
9. Sporting Kansas City – Welcome to MLS, Omar Bravo. You'll see calls like that one time and again. Get used to it. (6)
10. D.C. United – Despite Fred's buzzing in the second half at Gillette Stadium, United suffered from a lack of imagination in the final third. The dearth of quality in the final third prompts two rather uncomfortable questions: where is Branko Boskovic and why can't he find a way to get off the bench to help this United side? (7)
11. FC Dallas – If the efforts of Brek Shea and Zach Loyd during the first two weeks of the season provide a reliable indication of the available cover, FCD may have overestimated its depth in central defense. Hurry back, Ugo Ihemelu. (5)
12. Seattle – Finally, a goal. Now about securing that cathartic victory in San Jose... (16)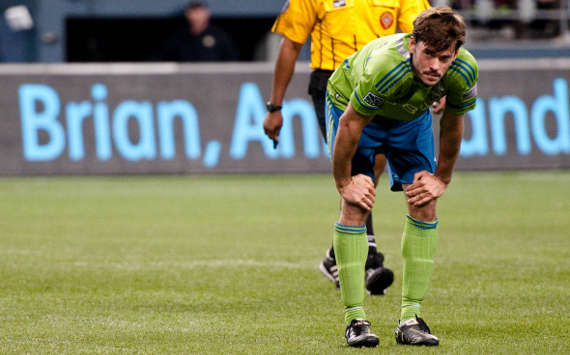 13. Vancouver – Eric Hassli learned a very harsh lesson about timing his tackles in Chester. As for the rest of his teammates, they supplied a game performance in their first road defeat. (9)
14. Houston – It's tough to shake the nagging feeling that the Dynamo needs another option in central midfield to supplant Lovel Palmer. (12)
15. Columbus – One point won't do when three points were required. The frustration level in Columbus – and, one suspects, in Robbie Rogers after his second-half withdrawal – continues to build. (15)
16. Toronto FC – Aron Winter will take the three points, but it's fair to surmise that he is still wondering how the rugged Mikael Yourassowsky picked up a second yellow card by tromping off the field too slowly. (18)
17. Chivas USA – Still plenty of work to do for Robin Fraser, it seems. Blair Gavin's hamstring injury won't help matters for a side desperate for any semblance of creativity. (14)
18. Portland – There were lengthy spells of positive play for the Timbers in Toronto, but the final touch – and the necessary dose of defensive solidity – appears a step beyond John Spencer's side at the moment. (17)
Kyle McCarthy writes the Monday MLS Breakdown and frequently writes opinion pieces during the week for Goal.com. He also covers the New England Revolution for the Boston Herald and MLSsoccer.com. Contact him with your questions or comments at kyle.mccarthy@goal.com and follow him on Twitter by clicking here.