FOXBOROUGH, Mass. – Lots of people offered their counsel when Charlie Davies started to ponder his next professional move last fall.
Davies' coach at Sochaux thought he should move elsewhere on loan to find the first team action he needed after returning from life-threatening and body-mangling injuries suffered in a October 2009 car accident. His agent, his family members and his friends all had their say as well.
In the end, Davies relied on that advice and used his own broadened perspective to select his destination.
"There were definitely choices, but, ultimately, it was (about) coming to a place where you're going to be most comfortable and have the best support system around you," Davies said during an interview on Friday. "Are you able to beat being in the United States? I don't think so."
The decision to ply his trade in MLS – one United States coach Bob Bradley called a "must-move" and a "no-brainer," according to Davies – did not come without its own unique set of hurdles.
D.C. United earned first crack at Davies' services through its perch atop the allocation order and indicated its interest quickly. The destination seemed like an awkward fit at the time – too close to the scene of the horrific accident and all of the questions surrounding it – but it has turned into a significant boon to Davies' recovery.
The entire organization held Davies accountable from the moment he stepped foot in the club's Florida training camp in early February. In order to earn a 12-month loan deal with striker-needy United, Davies had to prove his fitness and his health. He has faced the tough questions time and again. He has pushed to meet the high standards expected of him on and off the field without the option of shirking away from them.
Other clubs and other coaches may have allowed Davies to take a shortcut here or there. Not D.C. United. Not Ben Olsen.
"He's been instrumental for me in my process of getting back to full form and being potentially better than I was before," Davies said of his former international teammate and current boss. "Not only in (game) situations, but during training (sessions), he'll just really hammer it into (me) as far as things I used to do good and what I can do better than before. He's just really pushing me to the limit. That's all I can ask for from a coach. He's doing everything he possibly can to get me over the hump."
For a first-year coach with only modest experience in the technical department, Olsen has displayed his man-management chops in spades. There is more than an element of care and patience in the way Olsen has nursed Davies along and resisted the urge to throw him off the deep end straight away.
By keeping Davies on the substitutes' bench for the first two games, Olsen has done his best to allow the talented striker to find his footing, encourage him to fight for his place and temper lofty expectations.
"Ben's been great," Davies said. "I think he's a little mastermind. He knows that a player like me – one who is very confident – doesn't like to really come off the bench. He's starting me on the bench, which is easing people's expectations, and he knows I'm going to come out with a bang every time I play. He knows especially when I'm not starting, he's going to light a fire in me and bring the best out of me."
Three goals – including two from the penalty spot – in two matches suggests Davies' role off the pine could translate into more extensive action in forthcoming matches. While Davies has yet to reach the peak form of his heydays just yet, he has shown enough glimpses of true quality– a darting move here, a well-timed run there – to raise hopes that he may eventually return to his electrifying best.
Despite Davies' early success, Olsen is in no rush to further increase the scrutiny on his new striker. Circumstances may soon dictate Davies' inclusion in the starting XI – Josh Wolff departed Saturday's match at New England with a hamstring complaint, while Joseph Ngwenya has struggled in the first two matches – but it is not a shift that will come easily.
"He's done well off the bench for us," Olsen told reporters after the defeat in New England. "He's done a very good job of being the guy off the bench for us. Will he be a starter for us eventually? That remains to be seen. But his attitude and the energy he brings to this group has been fantastic."
Those qualities stem from the confidence and the optimism Davies exudes. After working his way back from the darkest of days, he remains convinced that his goals – exceeding his pre-accident form and fitness, returning to duty with the U.S. national team and, ultimately, playing in the 2014 World Cup – are attainable so long as he continues to work diligently to achieve them.
"I'm pretty close," Davies said. "I'd say that once I get back to that (level), I think that I'll actually be better just from everything I've gone through. You sit back, you see the game and you learn from another perspective."

Five Points – Week 21. Midfield balance promises better days are ahead in Seattle:
Sounders FC took far too long to break its crippling drought in front of goal in Friday's 1-1 draw with Houston, but the run of play suggests Sigi Schmid has found the right mix in midfield. Erik Friberg looked at home on the right flank and supplied consistently dangerous service. Brad Evans didn't submit a trademark display after his return from a right hamstring strain, but his runs from central midfield did add another dimension. Throw in the exemplary contributions from Osvaldo Alonso in the middle and Steve Zakuani and it's easy to see why Schmid thought this midfield four offered the best chance to win.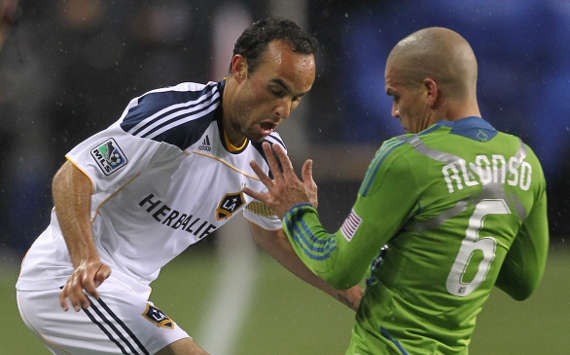 The trick in Seattle, as always, is to find the right combination up front to turn the pretty buildup play into tangible production. Fredy Montero appears a beat or two off despite his tendency to fire at will, while Nate Jaqua and O'Brian White look better suited to reserve duty. The best answer – at least in the short term – may involve injecting Mauro Rosales into a withdrawn role once he is fit. The move should allow Montero to take up a higher position while retaining the ability to drop deep and interchange with the creative Argentine midfielder.
2. Beautiful and contradictory sucker punch seals TFC win:
Toronto FC coach Aron Winter wants his side to play the ball neatly on the ground, but he may make an exception after a piece of direct play sealed the points in the Reds' 2-0 victory over Portland.
In its own way, Stefan Frei's accurately measured drop kick represented a thing of beauty. Under any possible measure, Javier Martina's second goal of the match – a sumptuous volley from the Route One service – offered up a stunning conclusion to the move.
3. Calamitous midfield display dooms Los Angeles in Sandy:
Real Salt Lake passed Los Angeles off the park in a rampant first half on its way to a comprehensive 4-1 win at Rio Tinto Stadium. While the makeshift Galaxy back line lacked any semblance of cohesiveness, the midfield four deserves much of the blame for the torrid night. In order to succeed against RSL, an opponent must close down the passing lanes and limit space and time through midfield. Los Angeles simply could not accomplish the task at hand as RSL's movement unlocked the Galaxy time and again.
The ragged passing in the buildup to Andy Williams' second minute opener just about typified the Galaxy's night. Poor passes from David Beckham (a third consecutive off-night for the former England captain, by the way) and Chris Birchall allowed Kyle Beckerman to obtain possession and start the move that eventually ended up with Williams' cool finish.
4. Wondolowski fuels impressive San Jose victory:
Earthquakes talisman Chris Wondolowski has now scored his side's past 12 regular season goals after striking twice to fuel San Jose's 2-0 victory at Pizza Hut Park. Frank Yallop's side offered up a positive team performance – particularly in the first half – but the added bit of class once again arrived through Wondolowski.
The first goal oozed top-level quality as Wondolowski controlled Chris Leitch's diagonal pass with his chest, turned and lashed home with his left foot in one fluid motion. While Wondolowski's deft header for his second goal did not inspire such fawning, his ruthlessness starkly contrasted with his profligacy against RSL last weekend and Milton Rodriguez's wastefulness when presented with two gilt-edged chances in the second half.

5. Champs submit display of consummate professionalism at Chivas USA:
One goal always looked like enough for Colorado to secure all three points on its trip to southern California. After Quincy Amarikwa coolly slotted home after 32 minutes, the Rapids slowly and surely choked the life out of the game to ease their way to victory. Chivas USA lacked the proper inspiration, but the visitors did most of the hard work by chasing ardently through midfield and keeping the proper defensive shape. One-nil isn't always the prettiest of scorelines – and it definitely wasn't in this instance – but it handed the Rapids a second win on the bounce and a fourth consecutive shutout against the Red-and-White.
Keep updated with Major League Soccer by visiting Goal.com's MLS page and joining Goal.com USA's Facebook fan page!
Kyle McCarthy writes the Monday MLS Breakdown and frequently writes opinion pieces during the week for Goal.com. He also covers the New England Revolution for the Boston Herald and MLSsoccer.com. Contact him with your questions or comments at kyle.mccarthy@goal.com and follow him on Twitter by clicking here.