Los Angeles Galaxy players and coaches were upset with their performance and the officials following a 4-1 rout at Real Salt Lake Saturday.
"Basically every player on the field for us in the first half was outplayed by a player wearing a Real Salt Lake shirt," coach Bruce Arena said. "When that happens, you're not going to win any games."
Arena was also upset by Salt Lake's second goal, which came on a penalty kick. Keeper Josh Saunders came off his line to attack a ball. Salt Lake's Paulo Araujo Jr. won the ball and headed it forward. Saunders pushed him over and was given a yellow card.
"I think the official did very poorly on the decision for the penalty kick," Arena said. "Last week we had a goal called back without even touching the goalkeeper, and this week it becomes a penalty kick."
Arena and Los Angeles players conceded the goal did not alter the outcome of the match, but they are clearly exasperated with what they describe as inconsistent officiating.
"I think the standard [of officiating] in our last two games has been pretty bad," captain David Beckham said. "No excuses tonight. We came up against a good team, and they outplayed us."
The news wasn't all bad for Los Angeles.
Juan Pablo Angel was able to notch his first goal with the side in the 79th minute. It came on a free kick that Beckham served quickly into the box. Nick Rimando collided with a defender, allowing Angel to touch the ball into the net.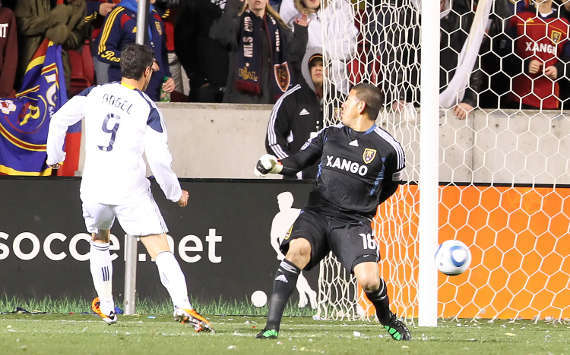 "It was good. I wish it would have been under different circumstances," Angel said. "I have a mix of emotions. It wasn't a good game for us."
Los Angeles will return home to host the Philadelphia Union next Saturday.
"The team morale is good," Beckham said. "We have to forget this game now... We're gonna have our fans behind us and come up against another tough team [next week]."
For more information on all things Real Salt Lake, visit www.realsoccernation.com.
Follow Goal.com on

to get the latest soccer news directly. Check out Goal.com's

page; be part of the best soccer fan community in the world!