SANDY, Utah - Real Salt Lake players and coaches were ecstatic after a convincing 4-1 win over the Los Angeles Galaxy Saturday.
The rematch of the 2009 MLS Cup was not nearly as competitive as the previous three meetings between the sides. All three were one-goal affairs, with the 2009 Cup decided in penalty kicks.
Not so Saturday night, as Salt Lake controlled the match from start to finish.
"[That was] 45 minutes of the best soccer I've seen in this stadium and from this team," coach Jason Kreis said. "It was a sheer delight to watch that."
Salt Lake took control early, scoring two goals in the first ten minutes of play. The side never let up. Javier Morales scored his second goal (and Salt Lake's third) just before halftime. The 3-0 halftime lead all but secured the match for Salt Lake.
"We feel like we can beat any team here," captain Kyle Beckerman said. "It always helps when you can get that early goal. Once we did, we just kept rolling."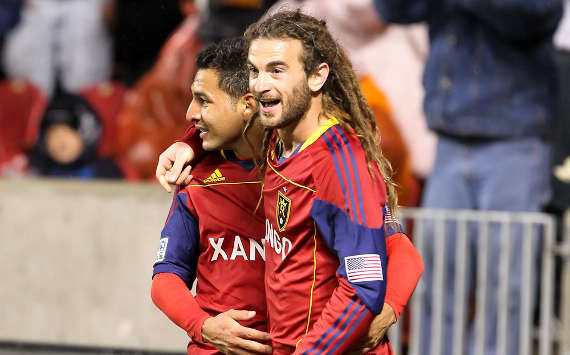 Salt Lake played without the 2010 Newcomer of the Year Alvaro Saborio and starting midfielder Will Johnson. Arturo Alvarez was unavailable as well. All three were away on international duty.
The absence of Saborio and Alvarez allowed Paulo Araujo Jr. to get his first MLS start for Real Salt Lake. He made the most of the experience, assisting on the first goal, drawing the penalty kick for the second, and scoring the fourth himself.
"[Paulo Jr.] was really really good when we had the ball," Kreis said.
Salt Lake's depth continues to be a strength. Kreis noted that he has three very strong strikers in Saborio, Paulo Jr., and Fabian Espindola.
Salt Lake is now 2-0-0 in 2011. The side will have a bye next week in preparation for the second leg of the CONCACAF Champions League semifinal Tuesday, April 5, in Costa Rica. Salt Lake leads the home-and-home series 2-0.
Still, the side is thrilled to get the win in MLS play.
"We came out exactly how we wanted to," defender Chris Wingert said. "Our priority was to get three points, and that's what we did tonight."
For more information on all things Real Salt Lake, visit www.realsoccernation.com.
Follow Goal.com on

to get the latest soccer news directly. Check out Goal.com's

page; be part of the best soccer fan community in the world!