Break out your roster cards. It's time to learn about a few unfamiliar faces.
International play has once again ravaged squads across the league as countries prepare for friendlies and qualifiers during this FIFA match day. The full slate of international matches will see reserves across the league thrust into the spotlight as starters at least for one weekend.
Losing the likes of Omar Cummings and Landon Donovan – plus the spate of injuries plaguing several teams – will probably hurt the quality of play this weekend, but it will also pave the way for some clubs to use the recently expanded rosters to good effect.
Such silver linings won't inject that missing bit of invention into matches or subdue New York's angst about its tattered squad. They will, however, create opportunities for other players to prove their worth and supplement their work in training with match practice.
The experience gained across the league could prove useful as clubs progress through a 34-game season. Other circumstances throughout the campaign will test the overall quality of a roster. With ambitions still harbored by all 18 clubs at this point, there is no time like the present to evaluate the current holdings. The answers may arrive rather harshly this weekend and they probably won't salve any wounds enforced by the absences, but they could prove useful in the more rigorous quests that lie ahead.
The Forecast didn't earn its anticipated spot in the Bhutan squad for its pair of friendlies against Afghanistan, but it did carve out enough time this week to offer up its usual prognostications.
Last week: 4/9 (44%)
For the season: 4/9 (44%)
Friday
Houston @ Seattle – 10:00p.m. (FSC) – Goal.com Preview
Both teams need a positive result after a difficult opening week, but the circumstances favor Sounders FC here. Houston has picked up just one draw in four overall trips to Seattle and failed to breach Philadelphia at home last weekend. With Jermaine Taylor away with Jamaica and the Dynamo forced to tweak its back line to adjust to his absence, Sounders FC may just be able to kick start its sputtering attack in the wake of shutout defeats to Los Angeles and New York.
Prediction: Seattle win.
Saturday
Portland @ Toronto FC – 2:00p.m. (TSN) – Goal.com Preview
TFC returns to BMO Field with a bit to prove after last weekend's 4-2 defeat in Vancouver. The Reds enjoyed plenty of possession at Empire Field, but they struggled to keep pace with a Whitecaps side more than able to capitalize on a series of defensive errors. Moving Adrian Cann back into the middle may help to address some of the issues, but TFC must shore things up across the entire back four to take advantage of their ability to keep the ball. Fortunately for the Reds, they should be able to use this date against the disheveled Timbers to work through those issues while also securing three points.
Prediction: Toronto FC win.
New York @ Columbus – 4:00p.m. – Goal.com Preview
In some countries, the Red Bulls would have possessed the ability to push off this game given their decimated squad. They do not enjoy such a luxury here and must face the possibility of dropping points. Four regular starters will miss out while away on international duty, while Thierry Henry will also skip the match to recover from a hamstring injury. Hans Backe's required tinkering – including starts for Carlos Mendes and, perhaps, Luke Rodgers – should give the Crew ample opportunity to rebound from a poor showing in D.C. and replicate the 2-0 victory in this same fixture last season.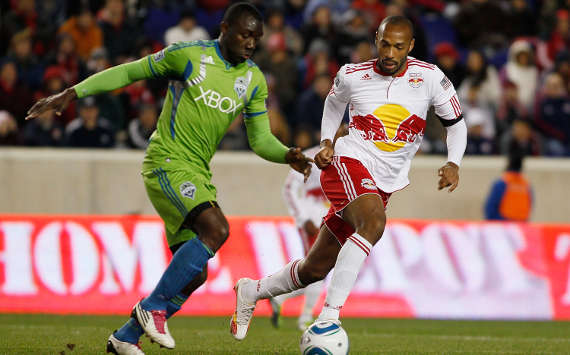 Prediction: Columbus win.
Vancouver @ Philadelphia – 4:00p.m. – Goal.com Preview
Reality may smack the Whitecaps straight in the face after an ideal start against Toronto FC last weekend. Winning at Empire Field against a poor Reds side is one task, but a cross-country trek to face the Union represents a more difficult proposition. With Jay DeMerit included in Bob Bradley's U.S. squad and several other notable injury concerns within the group, the Whitecaps may have to approach their first road match as a matter of damage limitation.
Prediction: Philadelphia win.
Sporting Kansas City @ Chicago (Telefutura) – 4:00p.m. – Goal.com Preview
Both sides displayed encouraging signs last weekend, but it remains to be seen how that early success will translate to this contest.
Chicago did well to pick up a point in Frisco, though Fire captain Logan Pause subsequently expressed some mild displeasure about his club's inability to snatch a victory after Brek Shea's second-half dismissal. Fire coach Carlos de los Cobos will have more options available with Yamith Cuesta, Gabe Ferrari and Dominic Oduro (trade with Houston for Calen Carr) all acquired in the past week. Will the extra bodies add more punch at the sharp end?
Kansas City displayed its attacking intent at Chivas USA with Omar Bravo on the board twice in the 3-2 victory, but SKC coach Peter Vermes must replace the injured Michael Harrington (groin) and the departed Kei Kamara (Sierra Leone) and Shavar Thomas (Jamaica) for this contest. Unlike a Fire side expected to press the initiative at home, Sporting may not moan too much about sustaining momentum with a draw here.
Prediction: Draw.
D.C. United @ New England – 4:30p.m. – Goal.com Preview
The Charlie Davies roadshow soars into New England this weekend as the former Boston College star and Manchester, N.H. native treks home to play in front of friends and family. Davies may or may not earn a start after his debut double off the bench, but he'll likely encounter the returning Kevin Alston (hamstring) and Didier Domi (knee) among the revised Revolution back four.
For both sides, the start of this match looms as particularly important. D.C. will want to carry over its momentum from its 3-1 home win over Columbus last weekend, while New England showed how much an early goal matters to its chances by notching early and securing a 1-1 draw at Los Angeles.
Prediction: Draw.
San Jose @ FC Dallas – 9:00p.m. – Goal.com Preview
Both teams fell a bit short of expectations last weekend, but this match likely provides only one club with an opportunity to rectify matters. FCD will have to cope without the suspended Brek Shea after his dismissal in the draw against Chicago, but the Hoops should still manage to keep the ball against the Earthquakes and poke around until they find the necessary holes to exploit.
Prediction: FC Dallas win.
Los Angeles @ Real Salt Lake – 9:00p.m. – Goal.com Preview
Much of the news out of La-La Land on Thursday focused on David Beckham's ascension to captain for this weekend's clash of Western Conference powers. While Beckham should boost his so-so performances from last week with the armband in tow, the improvement likely won't be enough to compensate for Landon Donovan's absence. RSL must adjust to a significantly larger contingent of missing players – Arturo Alvarez (El Salvador), Will Johnson (Canada) and Alvaro Saborio (Costa Rica) are on international duty, while Jamison Olave (hamstring) and Nick Rimando (ankle) are injury doubts – but the Claret-and-Cobalt always seems to find a way to post a result at home.
Prediction: Draw.
Colorado @ Chivas USA – 10:30p.m. – Goal.com Preview
"They look similar to Salt Lake when they won," Chivas USA defender Jimmy Conrad said about the visiting Rapids earlier this week. "They were a little unsure of themselves and what they were doing, and then they won the championship and they thought, 'we're doing the right things and this work does matter and it does pay off.' I don't think Salt Lake has looked back since they were the eight seed and they squeaked in to be the champs. Now they're the elite of the league because they got that spark. I think Colorado is playing with that a little bit, that confidence and swagger."
So how can Chivas USA overcome the Omar Cummings-less Rapids and secure a result, Mr. Conrad?
"We need to make them feel uncomfortable for a little bit of the game and we have to capitalize on our chances," Conrad said. "We were in a lot of good spots on Saturday night, but maybe we didn't make the most of our opportunities."
Prediction: Colorado win.
Kyle McCarthy writes the Monday MLS Breakdown and frequently writes opinion pieces during the week for Goal.com. He also covers the New England Revolution for the Boston Herald and MLSsoccer.com. Contact him with your questions or comments at kyle.mccarthy@goal.com and follow him on Twitter by clicking here.