On Target

Philadelphia Union:
New keeper Faryd Mondragón was quite simply a revelation in net against the Houston Dynamo in the Union's season opener. His clean sheet, 1-0 win was only half the story—wearing the captain's armband, the 39 year-old Colombian looked every bit the leader as he commanded a back line unrecognizable to fans used to last year's defensive lapses.
Vancouver Whitecaps:
Eric Hassli and Terry Dunfield. Local boy Dunfield scored a dream goal in his dream return to Vancouver. I'm sure there were questions in his mind if he could cut it in MLS…those no longer exist. His tenacious tackling and timely runs caused Toronto FC all sorts of trouble and there is no reason this won't continue. Also expect to see the captain's armband to go to Dunfield in the absence of Jay DeMerit. Hassli on the other hand was quite confident of success in MLS it was just the fans who didn't know. A two goal performance versus TFC has changed all those views.
Off Target
Philadelphia
: Team Manager Peter Nowak's other main off-season acquisition--striker Carlos Ruiz—made much less of an impact. Ruiz spent much of the game on the turf and was not a factor on the Union attack. Sebastien Le Toux was Philadelphia's breakout star last season, but the Frenchman was out of sync in Houston. Le Toux sprained his left ankle in an exhibition game in February and re-injured it in pre-season training. One wonders if he's truly 100%.
Vancouver: The widely regarded weakness of the Whitecaps is their depth. With DeMerit and Michael Boxall away on international duty and Shea Salinas, Davide Chiumiento, and Russell Teibert all fighting injuries, it's time for the bench to come through. One lesson learned from the Whitecaps exhibition game versus the Colorado Rapids is that head to head the Caps can roll with anyone, but as soon as the bench comes in they struggle. Let's hope that changes.
Tactics
Philadelphia:
Last season Nowak played aggressively from the first minute to the 90th, no matter what the score or situation. Last week in Houston we saw a different side of the manager—when Philadelphia took the lead early, the club played tight defense and relied on the counterattack to create scoring opportunities. The Bimbos aren't playing solely to entertain fans or evaluate talent anymore—they're playing to win.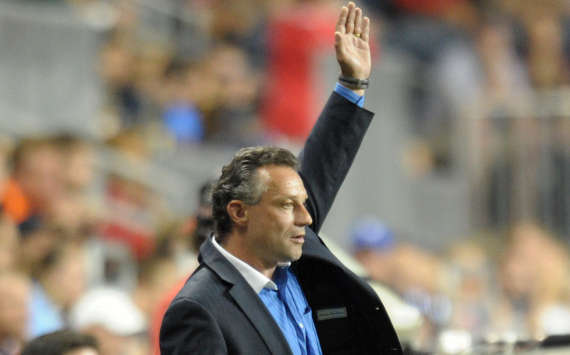 Vancouver:
With all the injuries it is safe to expect a similar 4-4-2 to last week's game against TFC. Chiumiento and Teibert might play, but if they do it won't be for the entire match. Expect Teibert to start on the left at least for 60 minutes, and Nizar Khalfan to go in for Chiumiento on the right. The strikers are fairly straight forward with Hassli and Atiba Harris expected to start. The defense is a bit more of a gong show. Bilal Duckett could get his first MLS start in the central role, which would leave Alain Rochat on the left. If Duckett played well in the Whitecaps first reserve game, expect him to get the start.
Intangibles
Philadelphia:
Taking on an expansion team in their home opener, this will be one of the first times Philadelphia are expected to win. It will be interesting to see how they handle such unfamiliar expecatations.
Vancouver:
With injuries and their first road game there's no better time than now to see what the Caps are made of. The Caps will be missing their captain and a few injured starters. It remains to be seen whether the cover will be adequate. They passed their first MLS test, time for the next one: winning on the road.
Outcome
Ramin Majd:
This game has letdown written all over it for Vancouver. The Whitecaps will be traveling cross-continent after a huge emotional win, fresh off taking out their Canadian rivals Toronto FC 4-2 in the first week of the season. The Union play well at home and will be itching to give the new kid on the block a black eye. Philadelphia 2-0 Vancouver.
Tyler Page:
As much as I want them to storm out with passion and pull off a win, the odds are definitely against them in this one. It's difficult to win on the road at the best of times but near impossible to be the road team in a home opener. I'm going to say 2-1 Philly.
Follow Goal.com on

to get the latest soccer news directly. Check out Goal.com's

page; be part of the best soccer fan community in the world!