CARSON, Calif. – It didn't take long for Chivas USA coach Robin Fraser to identify and establish the compulsory standards for his new squad.
Each and every member of the Red-and-White would assume the traits Fraser once embodied during his days patrolling the back line: determined, professional and resolute.
"I think that, for sure, no matter if it is your first day or your last day, you can be focused, you can work hard and you can concentrate," Fraser said after he put his starters through their paces on Tuesday morning. "Those are the demands that we've really tried to instill here."
While those expectations are by no means novel, they are also not endemic in this day and age. Fraser learned their value during his successful MLS career and watched firsthand how much success Real Salt Lake enjoyed when players implement them on a daily basis.
As Fraser entered his first job as boss this winter after serving three-and-a-half seasons as an assistant to Jason Kreis, he knew he needed to import a few experienced veterans to enforce the guidelines he outlined to his youthful squad and set the tone during practice sessions.
"It's important that the players know what it is supposed to look like," Fraser said. "Part of that is set by the veteran players. They've been in successful situations and they know what a winning team's mentality is supposed to be like and what the approach to training and approach to games is supposed to look like. It helps you to establish the tone you're trying to create."
Familiar faces such as Andrew Boyens, Jimmy Conrad, Simon Elliott, Nick LaBrocca, Alejandro Moreno and Heath Pearce soon arrived to bolster a group that boasted a bevy of talented young players in addition to the more seasoned likes of Paulo Nagamura, Zach Thornton and Mariano Trujillo.
By introducing a group of MLS regulars – a collection that includes several players with significant international experience – into the youthful mix, Fraser created a core group ready to assume the burden of carrying out his instructions on a daily basis.
"It's an every day thing," Conrad said. "We're still teaching a lot of young guys how to be professionals. It's not just showing up on game day. It's bringing the same attitude and mentality to practice every day with every roll of the ball. There is some consistency in seeing what you're able to bring (on a daily basis)."
The constant attention to detail does not always carry over into game settings. Conrad and Fraser expressed frustration at the mental mistakes that plagued an otherwise encouraging effort in Saturday's 3-2 home defeat to Sporting Kansas City.
Some errors are unavoidable considering the influx of new starters and the relatively untested players in certain key positions on the field, but the ready-made excuses do not make the missteps any less galling to a coach fixed on forming a solid defensive shape predicated on concentration and effort.
"I was pleased with a lot of the game, but I was really displeased with individual mistakes," Fraser said. "The players know themselves that maybe that is the difference between getting points and getting no points. But for the first time out in a real game, I think there are plenty of things to be encouraged about."
The key for Chivas USA remains trying to translate those promising signs – the relatively compact shape from back to front, the movement through midfield and the dynamic attacking play shown in spurts – into points without rushing through the bedding in process required for such a revamped squad.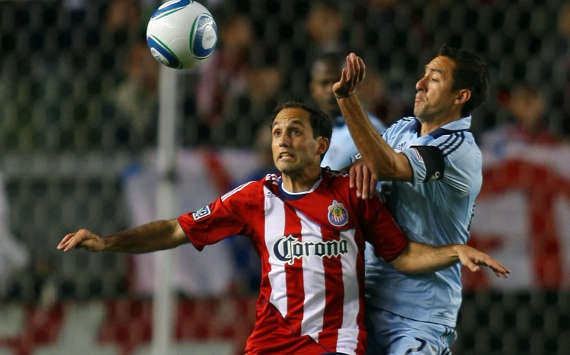 "It's a fine line," LaBrocca said. "You have to be patient, but, at the same time, you can't be too patient because then you'll see half the season slip past you all of a sudden."
Fraser contends he has enough pieces in place to ensure such a scenario doesn't unfold, though he also admits he needs his side to improve as well.
There are areas within the squad in need of reinforcement. Blair Gavin could supply some much needed creativity when he is fit enough to feature from the start, but another inventive presence to aid Marcos Mondaini in midfield and a ruthless poacher up front would help. One more top-flight center back could press U.S. U-20 international Zarek Valentin for his place in the side, especially with the promising Seth Owusu in need of time to polish his skills and settle into a new country and a new league.
Whether the necessary improvements arrive through internal dedication or external importation remains uncertain. It is, however, unmistakeably clear that Fraser wants his charges to adopt a rigorous approach to their duties as the squad continues to evolve and strives to achieve its goals.
"Whenever it's a new group, it's always going to be viewed as a work in progress," Fraser said. "Certainly, it will be for a long time. At the same time, this is professional sports and we need to get results."

Kyle McCarthy writes the Monday MLS Breakdown and frequently writes opinion pieces during the week for Goal.com. He also covers the New England Revolution for the Boston Herald and MLSsoccer.com. Contact him with your questions or comments at kyle.mccarthy@goal.com and follow him on Twitter by clicking here.

Follow Goal.com on

to get the latest soccer news directly. Check out Goal.com's

page; be part of the best soccer fan community in the world!