CARSON, Calif. – Coaches toss and turn for hours after nights like these.
By most accounts, Los Angeles entered Sunday night's 1-1 draw with New England as the clear favorite to secure all three points and performed well enough to procure them. A set of unusual circumstances intervened to throw those plans off course and condemn the Galaxy to a night of post-match reflection.
The peculiar confluence of factors on this particular evening included:
– A driving rainstorm that drenched southern California and the Home Depot Center pitch. While the field held up as well as it could have under the circumstances, the weather mitigated the disparity between the two sides.
"It was tougher tonight because, obviously, you had the wind, you had the rain," Galaxy midfielder David Beckham told reporters. "It was a constant heavy rain, not just a drizzle. I would say the conditions were difficult, but it is the same for both teams."
– The concession of a set piece goal to New England midfielder Shalrie Joseph after just three minutes. Joseph's header at the back stick came after he wriggled free from Leonardo – the replacement for the injured Omar Gonzalez (shoulder) – to head home Marko Perovic's cross. The goal boosted the Revs' confidence and set the stage for a frustrating night.
"We did a poor job," Galaxy coach Bruce Arena explained. "The ball came back to Perovic. I don't think we put him under any kind of pressure. He plays the ball back in and we should have been pushing out of the goal. We are well aware of the player that is going to get at the end of crosses. It's Joseph. There is no secret there. We just did a poor job on the entire play, a poor job giving the ball away maybe 30 seconds before that that resulted in a corner kick. We didn't do well in the opening minutes of the game and it cost us points."
– Three disallowed goals for the home side on the evening, including a tap-in by Juninho that referee Hilario Grajeda wiped away for no apparent reason.
"The one that [Revolution goalkeeper Matt] Reis dropped is not a foul," Galaxy midfielder Landon Donovan said about the rejected strike on 23 minutes. "I don't think anyone in here can claim that [potential infraction] is a foul, including Reis. If you saw his reaction, it was pretty obvious."
- The inability to convert several chances in the first half or slice through the improved Revolution shape with any regularity during the second stanza. It is worth noting Chad Barrett and Mike Magee started up front, while Juan Pablo Angel entered as a second half substitute as he worked his way back from illness.
"I think we played well," Arena said. "We could have scored a bunch of goals. We fell short there, but overall the passing of the ball, creating chances, defending was good. We just didn't get that second goal."
While all of those factors contributed to an immensely frustrating draw, it is the final point that may have forced Arena to think for a while.
Supply lines rarely present much of a problem for the Galaxy. With Beckham, Donovan and Juninho among the midfield four and the latter two prone to dangerous and incisive movements, chances will come. They might not arrive as frequently when teams defend properly – New England did just that when they held a higher line in the second half to close down the ample space allotted in the first half – but they won't dry up either.
The question of who will finish off those opportunities if Angel is unavailable continues to pose some concerns. Los Angeles' current crop of forwards – aside from the predatory, if aging, Angel – falls into the category of solid complementary players. Barrett and Magee struggle to reliably convert proffered opportunities, while Jovan Kirovski generally takes up a position a bit further away from goal. Those three forwards aren't going to run past you, but they'll help out in the buildup and finish off the odd move.
It is, however, somewhat telling that Donovan, Juninho (after yet another screeching drive last night saw him tally for a second straight match) and Beckham (on set pieces only) all register as more menacing options from midfield. While relying on midfielders to score regularly works well enough over the long haul, it can prove somewhat detrimental in the short term as other teams adjust and compensate to address the issue.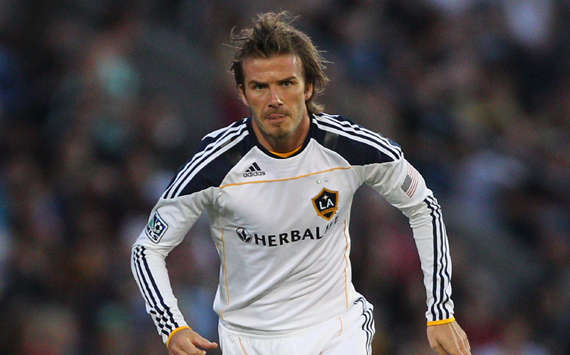 On most nights, the lack of sharpness wouldn't have mattered. The floodgates would have opened after Grajeda kept the whistle in his pocket on Juninho's disallowed goal because the Revs didn't sort themselves out until halftime and the Galaxy would have coasted to victory. Barrett or Magee would have taken one of their chances, while Angel would have his timing down on the run that instead carried him offside during stoppage time.
But when Arena and the Galaxy think about the big picture, it is a scene that revolves around one objective: winning MLS Cup on home soil (more on that later) at the end of the season. Regular season success is all but assured – the Galaxy simply possesses too much drive and too much talent to stop grinding out victories – yet postseason matches often hinge on seizing the opportunity when the moment is right.
The decisive instant never arrived against the Revolution. The prospect of similar misfortune – or an Angel injury – striking when the stakes are much higher? Well, that's enough to keep a coach up at night.

Five Points – Week 1
MLS commissioner Don Garber stopped by the Home Depot Center press box at halftime to chat about a few of the pressing issues surfacing throughout the league. In lieu of the usual recap of the weekend's events, here is a glimpse at a few of the key points from the discussion:
1. On Charlie Davies and his two goals for D.C. United in its 3-1 win over Columbus:
"It's a good story. I'm not sure what I expected. [United president] Kevin Payne has always been such a supporter of the national team and I think he was hoping he could do something to help Charlie to get his career back on track. It looks like he's playing pretty well. It could develop into a pretty good story for us, but, most importantly, I hope it develops into Charlie getting his legs back and maybe getting back onto the national team and, hopefully, staying in MLS."

2. On Omar Bravo and his two goals for Sporting Kansas City in its 3-2 win over Chivas USA:
"He did [have a good start]. It wasn't just two goals. It was two nice ones. It's interesting to have him in Kansas City. That team rebranded and it has a new stadium that I think you guys will be very, very impressed with. The ownership group there is very focused and very smart. It's a market that had been struggling in the early years that now I feel very strongly will be a good market for us."
3. On Chad Ochocinco's trial with Sporting:
"I got asked that question on television and I can pretty much guarantee that if the lockout ends, Chad won't be staying in Major League Soccer or training with a team. It's fun, it's exciting, but it's not something I'm paying much attention to. I haven't seen him or heard much about it. I'm just following it on Twitter like all you guys are."
4. On attending the first match in Vancouver on Saturday night:
"It was Seattle with whitecaps. It's a beautiful setting – you can see the mountains off in the distance. The crowd was very passionate. The team looked pretty good. It was a sold out stadium. It was a cool day, and it was pretty cold out there. I think that's going to be a very, very strong market. I mentioned the ownership [earlier in the discussion]. Imagine what will happen when they have Portland coming up there, Seattle coming up there and LA coming up there, [plus] Toronto and, next year, Montreal playing in the Nutrilite [Canadian] Championship. They're going to have a lot of really good games."
5. On AEG president and CEO Tim Leiweke's pronouncement that MLS Cup will be held in Los Angeles:
"I think he'd like to see it here. It's not yet been decided. Tim's always good for comments that get us all excited on the press side and get me frustrated on my end. But we're hoping to get an announcement soon. … We're negotiating with AEG about bringing the Cup here, but we're not finalized yet. I think this would be a great place to have MLS Cup."
Kyle McCarthy writes the Monday MLS Breakdown and frequently writes opinion pieces during the week for Goal.com. He also covers the New England Revolution for the Boston Herald and MLSsoccer.com. Contact him with your questions or comments at kyle.mccarthy@goal.com and follow him on Twitter by clicking here.
Follow Goal.com on

to get the latest soccer news directly. Check out Goal.com's

page; be part of the best soccer fan community in the world!