WASHINGTON, D.C. - The nation's capital might be on the other coast from Hollywood and all the movie sets and big time screen stars, but Saturday night in Washington D.C. provided a Hollywood moment for the drama of Charlie Davies. He scored twice on his D.C. United debut, as United beat the Columbus Crew 3-1.
Almost a year and a half after a car accident in Northern Virginia severely injured Davies and killed another passenger, Davies marked his MLS debut with two goals in 25 minutes.
After Chris Pontius won a penalty kick in the 62nd minute for United, Davies stepped up to score the eventual game winner.
"There was no discussion - I was taking the ball," Davies said in the locker room after the match. "Dax [McCarty] came over with the ball, and told me, 'We believe in you.' That says it all."
Davies sent Crew 'keeper Will Hesmer the wrong way, and collected what could be the first of many goals that he scores in MLS this season. The goal not only signified a win for D.C. United, but it marked the return of Davies after a tremendous recovery from his car accident.
"He took a chance. He came on his own to tryout for this team, and he has done a lot of work to get back here," United manager Ben Olsen said. "It is emotional for myself and anyone who is close to him right now, to see him comeback, and comeback in this way."
Davies' return to the field has been a long and frustrating journey for a player who had forced his way into the U.S. national team in 2009. But after missing out on the World Cup when he thought he was ready, and not being able to break into his Sochaux team in France, Saturday proved to be more than just a simple game. Of course the goals that went along with that sweetened the deal for Davies, his team, and supporters alike.
And after a dreadful 2010, United wanted to get off to a good start in 2011. With plenty of new pieces in place, that's exactly what happened.
"I'm pretty pessimistic, so I don't envision things like this," Olsen said after the game. "But it was a good night, and I am happy for those guys to get the monkey off their back early."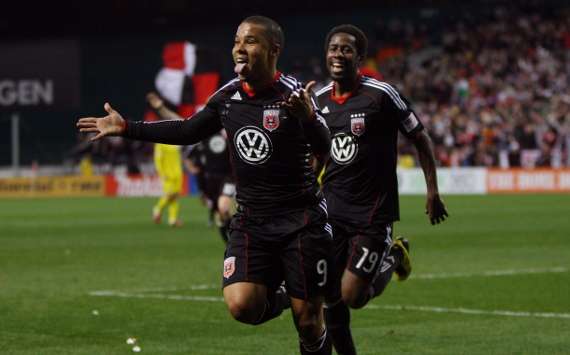 Davies second goal came from the run of play, in which his pace and quickness were on display, as he beat Chad Marshall to a long ball and then rounded Hesmer to make the score 3-0 in favor of United.
"I think that there aren't anymore doubts about my speed or quickness," Davies said. "I knew [Marc] Burch was going to play a ball down the sideline, and I knew I had the speed on Chad Marshall. And I got the speed on Will Hesmer, and he isn't going to beat me to the ball.
"At that point, it's just about being calm as a striker. You are alone, and no one is going to take the ball from you, just take a breath, and put it in."
After the match, an emotional Davies thanked his support that had helped him through a trying time.
"The support was overwhelming. Once that final whistle blew, and I looked over at the fans, I lost it emotionally," Davies said. "Their support meant so much to me, and throughout this whole process of me coming back as a player, they have stuck with me, from the beginning to the end."
And one of his biggest supporters just might be his teammate, McCarty.
"I told him that he deserves it and he has a whole nation behind him, because he really does," McCarty said.
For more MLS news, follow Steven Streff on Twitter @streffsoccer


Follow Goal.com on

to get the latest soccer news directly. Check out Goal.com's

page; be part of the best soccer fan community in the world!