On Form:
Jeremy Horton For Real Salt Lake:
RSL is a team that's already cooking with gas. One big advantage of making a deep run in CONCACAF Champion's League is that Real have already played three meaningful matches prior to opening their MLS campaign - San Jose will have to adjust to that pressure in this one. Those CCL matches have given the world a chance to see how good Salt Lake are, and the answer appears to be that they are very good. In posting a 2-0-1 record since February, RSL have outscored their opponents 6-1. I wouldn't say Real are in midseason form, but they certainly look very strong in every aspect of the game.

Nicholas Rosano For San Jose Earthquakes:
While it is difficult to put too much stake in the preseason, it appears as though Chris Wondolowski is continuing to bring the goals. The 2010 MLS Golden Boot winner has scored in each of the last five preseason games he has featured in. The Earthquakes themselves have enjoyed a relatively successful preseason results-wise, but it's important for them to now carry those results into a bright run of form to kick off the season. Furthermore, the Earthquakes' injury-plagued defense is back and ready for action, most notably Ike Opara, who spent most of last season out with a broken foot.
Off target: Real Salt Lake:
The big disadvantage of making a deep run in CONCACAF Champion's League is that the injuries are already starting to mount. Reigning MLS Defender of the Year Jamison Olave headlines the disabled list with his strained hamstring. Chris Schuler has filled in admirably for Olave, but at the same time he's not Olave. Defender Chris Wingert also may miss the San Jose game with a sprained ankle, which would leave RSL with a patchwork back line this weekend. You expect to see things like this from every team in summer and fall, but not on March 19th.
San Jose Earthquakes:
Despite the generally positive results in preseason, the team's performances have somewhat tapered off, especially following their return from training with Tottenham in England. After fairly listless performances against Colorado and Portland, it is all-important for Frank Yallop to make sure his side transitions smoothly into the regular season and that he can make his new system succeed in MLS.
Tactics: Real Salt Lake:
Last year Real opened the season in San Jose with an emphatic 3-0 road win, so they should feel pretty confident. I don't expect the same thing this time around because of the injuries, the 3 days' rest since an emotional CCL win over Deportivo Saprissa, and the emergence of Chris Wondolowski. Wondo will give Kyle Beckerman, Will Johnson, and the back line plenty to worry about, which will limit their ability to get involved in the offense.

San Jose Earthquakes:
Considering the relative lack of transfer activity, one of the big talking points in San Jose's offseason was the implementation of a new, attack-minded 4-3-3. Fans will in all likelihood see Bobby Convey and Joey Gjertsen, who has had a sparkling preseason, flank a target man to form the forward line of three. Though key acquisition and presumed target man Steven Lenhart will miss out through injury, Ryan Johnson has what it takes to step in and will the role. The ongoing adjustments in Chris Wondolowski's position see him this season starting in an attacking midfield role, settling in just behind the front three. He has looked comfortable there in preseason and has expressed confidence in his new role, and all that's left is for him to make it count in competitive play.

Intangibles: Real Salt Lake:
Because of the short turnaround since their last match, Jason Kreis may go to his bench a bit more than he would normally. It would be interesting to see if he chooses to start Arturo Alvarez against his former club. On one hand, Alvarez may be quite motivated to face the team that left him open during the last expansion draft, but on the other hand, San Jose know his tendencies better than anyone and might be able to render him ineffective.

San Jose Earthquakes:
The Earthquakes have struggled monumentally on opening day ever since returning to the league in 2008, having been shut out by Los Angeles, New England, and most recently Real Salt Lake. The team has not even scored a goal, to boot, being outscored 6-0, so an early goal could go a long way towards exorcising the opening day demons, whereas conceding early could be disastrous.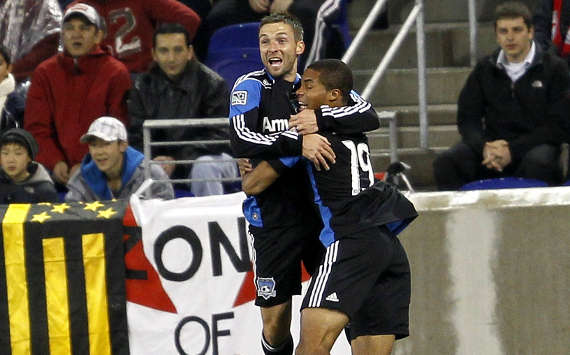 Outcome:
Real Salt Lake:
I think RSL will have some success going against San Jose's back line, but Wondolowski is a far better player than he was last time these teams met. Plus Salt Lake are banged up and might be prone to suffer a bit of a letdown after their recent spate of critical CCL matches. Real Salt Lake 1-1 San Jose Earthquakes, Paulo Jr. and Ryan Johnson with the goals.
San Jose Earthquakes:
Real Salt Lake has an excellent team, but traveling to San Jose after the midweek game against Saprissa, I'd go for a 1-1 draw.
You can follow Nick Rosano for more Earthquakes and MLS chatter at @nicholasrosano
Follow Goal.com on

to get the latest soccer news directly. Check out Goal.com's

page; be part of the best soccer fan community in the world!