2011 throttles up to full speed with all 18 teams set to take the field during the first weekend of the regular season.
Let the games well and truly begin.
First Kick may have already come and gone in two markets after Los Angeles' 1-0 victory at Seattle on Tuesday, but the remaining 16 teams will finally relegate training camp to the rear-view mirror by starting their seasons this weekend.
Compelling story lines will garner attention across North America as the teams take the field. Portland and Vancouver will do so for the first time as they kick off their first seasons in MLS. As the Whitecaps open their temporary home at Empire Field, they will face Toronto FC in the first MLS match between two Canadian clubs. Colorado will commence its MLS Cup defense against the Timbers, while Omar Bravo will play in his first MLS match against the American outpost of his former Mexican club. And, in case you forgot, there's a certain D.C. United striker poised to return to the field for his first competitive outing since a life-threatening injury nearly ended his career.
Those stories – and several others – should create plenty of talking points by the end of the weekend. At long last, the focus now shifts to the action on the field. Thank goodness.
With the clubs and the players now ready to start another campaign, the Forecast has ended its winter hibernation to offer up its first predictions of the 2011 MLS season:
Last week: n/a
For the 2010 regular season: 97/199 (49%)
Saturday
Toronto FC @ Vancouver – 6:30p.m. (TSN) – Goal.com Preview
Canada will finally host its first domestic MLS derby as these two likely rivals strike up a top-flight acquaintance for the first time at Empire Field. Two points favor the home side in this encounter: (1) TFC generally does not fare well when it makes a trip to the West Coast and (2) the Reds will have to make this journey with a host of question marks – including a rather threadbare squad – in the aftermath of what can best be described as a chaotic preseason. If the Whitecaps can turn Dwayne De Rosario into a peripheral figure, they could mark their MLS debut with a victory.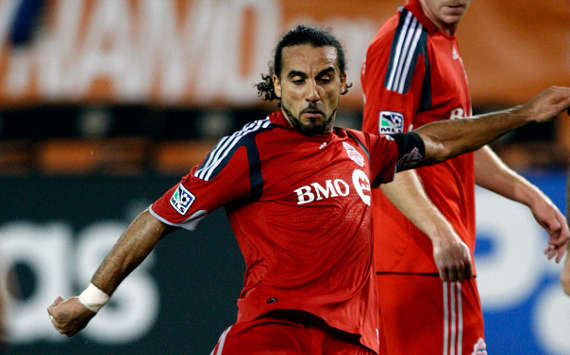 Prediction: Vancouver win.
Columbus @ D.C. United – 7:30p.m. – Goal.com Preview
RFK Stadium will swell with emotion from the moment Charlie Davies steps out onto the field. Pity the Crew for walking into this cauldron on opening night (even if Davies only features as a sub) and plan on United finding some way to channel that energy into its performance.
Prediction: D.C. United win.
Seattle @ New York – 7:30p.m. – Goal.com Preview
Tough slate for Sounders FC to start the season. Play in Seattle on Tuesday and then fly to New York in time for a Saturday night kick off? Fitness shouldn't be too much of an issue at this stage, but mental focus could cause problems for the visitors after a heaping dose of the same old frustrations earlier this week.
Prediction: New York win.
Philadelphia @ Houston – 8:30p.m. – Goal.com Preview
In year one, the Union really struggled to find much traction away from PPL Park. It will take a bit of defensive nous – probably provided by those veteran Colombians, one would suspect – to take something away from this encounter. If Dominic Kinnear hands Will Bruin a full debut in his first pro match, he could prove to be a handful for the revamped Union back four after impressing during preseason.
Prediction: Houston win.
Chicago @ FC Dallas – 8:30p.m. – Goal.com Preview
Brimstone Cup meetings usually offer a bit more edge than the typical match, but the potential glut in midfield could put a damper on things. Both sides want the ball, but FCD looks more likely to acquire and retain it. When the Hoops win the ball, the Fire must receive a steady dose of defensive work rate from its wide players – perhaps Gonzalo Segares and Marco Pappa, if Thursday's training session report from MLSsoccer.com correlates to the match – to cover for the lack of pace at the back and the empty space in the corners.
One other point worth noting: don't expect FCD to miss Jair Benitez (one-match ban) too much with Jackson and Zach Loyd available to man the fullback slots.
Prediction: FC Dallas win.
Portland @ Colorado – 9:00p.m. (Fox Soccer Channel) – Goal.com Preview
Timbers coach John Spencer has a few injury doubts (Troy Perkins and Sal Zizzo) heading into his first match as boss, but the biggest problems for the expansion franchise in their first MLS outing are the location and the opposition. Expect the Rapids to celebrate their MLS Cup victory in style by exerting control through midfield and stretching the visitors' defense time and again.
Prediction: Colorado win.
Sporting Kansas City @ Chivas USA – 10:30p.m. – Goal.com Preview
Could be a peculiar atmosphere at the Home Depot Center with Chivas Guadalajara hero Omar Bravo set to visit. Will the crowd get behind Bravo and his new teammates or the American version of the Red-and-White? Either way, this match might be a sneaky one for the neutrals to enjoy with Jimmy Conrad facing his old club and Sporting's penchant for attacking soccer.
Prediction: Draw.
Real Salt Lake @ San Jose – 10:30p.m. – Goal.com Preview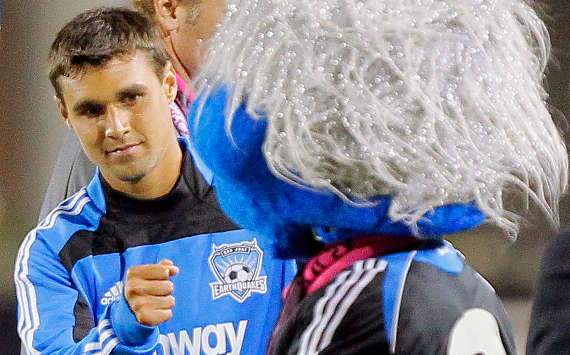 The opener presents an intriguing baptism for Frank Yallop's 4-3-3 formation. Chris Wondolowski is expected to play in an attacking midfield role – that should put him right in Kyle Beckerman's dominion tactically, so he'll have to drift wider to find space – but the key bits may occur on the flanks. Watch to see how deeply and how often San Jose's wide players drop into midfield to shore things up against RSL's dominant midfield group. If San Jose can disrupt RSL's rhythm, it should procure a result, particularly in light of the Claret-and-Cobalt's heavy lifting in Champions League play on Tuesday.
Prediction: Draw.
Sunday
New England @ Los Angeles – 8:00p.m. (Telefutura) – Goal.com Preview
Becks, Donovan and Co. didn't win any style points in the 1-0 victory at Seattle on Tuesday, but Bruce Arena's side did show that it remembered how to win matches without submitting a stellar performance. LA may not need to rediscover their top form for this match with the Revs battling key injuries – Kevin Alston and Ousmane Dabo will miss out, while Didier Domi remains a question mark – ahead of the opener.
Prediction: Los Angeles win.
Follow Goal.com on

to get the latest soccer news directly. Check out Goal.com's

page; be part of the best soccer fan community in the world!