SAN JOSE, Calif. - Frank Yallop and the San Jose Earthquakes may have found a recipe for success in their run to the 2010 Eastern Conference final, but they are looking to keep it fresh as they prepare for 2011.
One of the questions that has dominated any Earthquakes-related talk in the offseason is how the team will continue to get the most out of Golden Boot winner Chris Wondolowski. In the preseason, Wondolowski has featured as a central midfielder both in training and exhibition matches, though Yallop emphasized that his role was more of a free one.
"We're changing the system a little bit, we just want to get Wondo so that he can roam around a little bit," Yallop said at training last week. "When he roamed around a little bit [last season] he tended to get all his goals. When he was up front trying to play the position, it didn't really work for him."
Although Yallop just hinted at a new system, the Earthquakes' preseason activity has shown that a more fluid 4-3-3 formation could be on the way. With new additon Steven Lenhart joining Ryan Johnson as a potential target forward, Yallop will have plenty of options to lead the line.
Lenhart, with a reputation in the league as a bruising forward, was succint when asked about his contribution to the Earthquakes' new system, answering: "Score goals. It's a pretty straightforward position- hold the ball up, get in behind, try and score, help the team."
Providing the service for those goals will likely be Bobby Convey, the team's assist leader in 2010, on the left wing and a revitalized Joey Gjertsen on the right wing, with more support coming from the center of midfield. However, Yallop emphasized that nothing would be too rigid when it came to finding the best fit.
"You could see anything," he said. "That's what I like about our guys, it is versatile. We're playing better soccer as well."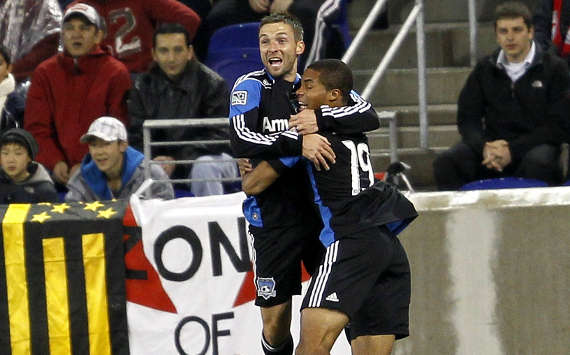 Key Contributors | Yallop needs more goals out of Ryan Johnson
"It gets more guys around the ball, it gives more free range for everyone to make runs into the box once we get the ball back," added Wondolowski. "We have great guys that can cross the ball so once we get wide, that puts more guys around the box and more guys to make those dangerous runs so that we can get on the other end of it."
Wondolowski himself will likely spend more of his time in the midfield, but the Bay Area native is comfortable with his new role.
"It's been successful so far in preseason, so I really like it and I like the role and I'm very comfortable with it," he said when asked about his new role in the center of midfield. "I like being able to play there, being able to come back and get the ball some and also make late runs into the box, so it's the best of both worlds for me."
The new system has so far worked a treat for the Earthquakes during preseason, as the team can boast wins over MLS Cup champions Colorado Rapids as well as English outfits Birmingham City and Colchester United. The real test for the new-look team will come in the team's home opener on March 19 against Real Salt Lake, but with the team looking confident, they will certainly have a shot.
You can follow Nick Rosano for more Earthquakes and MLS chatter at @nicholasrosano
For more on Major League Soccer, visit Goal.com's MLS page and join Goal.com USA's Facebook fan page!