One night in Orlando will likely create a series of headaches for Shalrie Joseph.
The experienced New England midfielder was arrested by Orlando police on one count of trespassing after
an incident in the team hotel
. Club officials subsequently dismissed Joseph and right back Kevin Alston from the training camp trip for disciplinary reasons and shipped the duo back to Massachusetts later that day.
After sorting through the aftermath of the incident this week, the Friday Five examines a few of the pertinent issues likely to arise from the kerfuffle:
1. Don't expect Joseph's legal problems to linger:
Joseph may have found himself in more legal trouble than he anticipated after attending a party on Sunday morning, but the current charges should represent little more than a nuisance during the forthcoming weeks and months. Joseph faces one count of trespassing in a structure or conveyance. In Florida, this charge is considered a second degree misdemeanor. Although state statutes permit a jail sentence of up to 60 days for such misdemeanors, Joseph – as a first offender in the state, according to a search of Florida's criminal history information database – likely faces a fine, a spell of probation and/or a stint of community service if he is found guilty or enters a plea.
Instead of seeking a judicial resolution, Joseph could apply for a pretrial intervention program that could result in the dismissal of all charges, pending successful participation within 90 days. It is, however, an option usually only granted to Florida residents, though the Ninth Judicial Circuit in Orange County does allow some exceptions for out-of-state defendants.
2. Further punishment could be on the way from the Revolution and MLS:
As Joseph carefully attends to his ongoing legal concerns in Florida, he must also await potential disciplinary action by the Revolution and MLS. New England has not announced any further rebukes aside from Joseph's early departure from Florida, but the club may feel some pressure to mete out additional punishment after MLS executive vice president of player relations and competition Todd Durbin told MLSsoccer.com on Thursday that the league is currently reviewing the incident. Joseph's past transgressions probably won't help him as the Revs brass and league officials weigh potential sanctions, but it appears no more than a fine is merited given the facts involved and the league's precedent in similar situations.
3. Joseph's tenure as Revolution captain likely is and probably should be over:
The totality of Joseph's behavior over the past 12 months – including his absence on the first day of training camp – raises significant questions about whether he should serve as club captain for the upcoming season. On the surface, Joseph still appears to present a viable option. As a player and a leader on the field, Joseph continues to marshal his teammates by example with his effort and his production. But Joseph's recent transgressions have shown a level of judgment that simply does not correlate with the off-the-field requirements of the job. Revolution coach Steve Nicol has given Joseph plenty of latitude despite his troubles over the past year, but this incident may force him to move in a new direction. If Nicol does decide to depose Joseph and hand the captaincy over to another player, the likely candidates would probably include goalkeeper Matt Reis and midfielder Chris Tierney.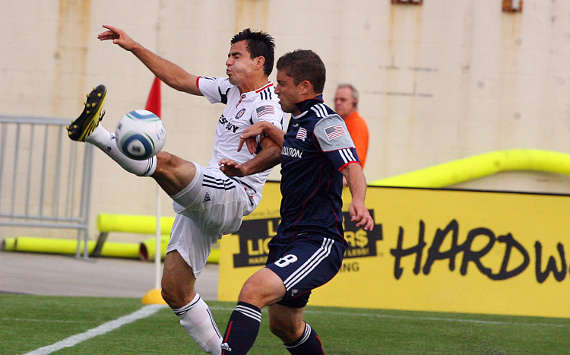 4. Add another complicating factor to an already complex series of contract talks:
The recent imbroglio further complicates Joseph's future with the Revs. Joseph's contract is set to expire at the end of the 2011 campaign, but it remains to be seen whether both sides can reach a suitable accord on a new pact. Joseph's current salary ($450,000 base/$475,000 guaranteed in 2010, according to MLS players' union documents) makes him the highest paid player in MLS outside of the Designated Player category.
It remains to be seen exactly how much of an impact these recent events will exert on this complicated set of contract discussions. While Joseph is expected to seek a new contract that matches his current deal or places him into DP territory, he has watched his bargaining position weaken substantially over the past year due to his off-the-field issues. New England carries a fearsome reputation among players around the league for driving a particularly hard bargain at the negotiating table, but it will be interesting to see how hard the Revs will push in this instance given Joseph's talismanic presence on the field.
5. Another setback for Alston:
Joseph grabbed most of the headlines with his arrest, but Alston's involvement in the situation also earned him a premature trip home to Boston. The dismissal marked the end of a terrible trip for the 22-year-old right back after he sustained yet another injury to his left hamstring in the Revs' 2-0 victory over the Univ. of Central Florida on Friday night. Alston remains a hugely promising prospect and a important contributor to the Revs' starting XI, but this incident – especially given its proximity to the injury on Friday and a departure date set for early in the week to facilitate further medical tests – represents another forgettable moment along a path that has grown increasingly complicated over the past year or so.

Kyle McCarthy writes the Monday MLS Breakdown and frequently writes opinion pieces during the week for Goal.com. He also covers the New England Revolution for the Boston Herald and MLSsoccer.com. Contact him with your questions or comments at
kyle.mccarthy@goal.com
and follow him on Twitter by clicking
here
.