The most peculiar of draws handed Columbus and Real Salt Lake the type of opportunity MLS teams crave in CONCACAF Champions League play.
With a victory in the all-MLS, two-legged quarterfinal affair set to commence tomorrow at Crew Stadium (8:00p.m., Fox Soccer Channel), the triumphant side will likely emerge as a viable contender to seal the first American berth in the final since Los Angeles defeated Olimpia (Honduras) in the then-Champions Cup final back in January 2001.
A favorable dispersal of the eight remaining teams provides significant reason for encouragement. In a twist of fate more likely to be found in a novel than a mathematical textbook, all four Mexican sides landed on one side of the draw and the remaining Central American sides – Honduran giants Olimpia and Costa Rican powerhouse Saprissa – partnered with the U.S. representatives on the other side. To cap off this extended stroke of fortune, Columbus and Real Salt Lake were drawn together instead of against either Olimpia or Saprissa.
MLS commissioner Don Garber could not have asked for a kinder draw for his league. Instead of fighting through heavy legs against in-season foes, the two MLS representatives enter the quarterfinals on level pegging against an opponent coping with similar issues. More importantly, the scenario guarantees one of the two American representatives will earn MLS' first semifinal berth during the Champions League era.
The task from then onwards appears more approachable than in past years. A manageable date with one of the two in-season Central American powers – Olimpia currently sits third in Honduras after seven weeks, while Saprissa sits second in group A and fourth overall in Costa Rica after eight weeks – looms in the semifinals. If either Columbus or Real Salt Lake can navigate the minefield presented by playing the semifinal second leg in one of two historically formidable Central American venues, it will receive the favor of playing the second leg of the final against one of the four Mexican sides on American soil.
All things considered, this path represents a far gentler path than either American club could have anticipated. The pressing question at this stage centers around which MLS side will earn the opportunity to push onwards after the quarterfinals.
Real Salt Lake enters this two-legged affair as the heavy favorite for several reasons. The Claret-and-Cobalt made few changes to its possession-oriented squad during the close season and RSL boss Jason Kreis should benefit from his ability to name a familiar starting XI on Tuesday night. From top to bottom, no side in MLS offers the cadence in possession or the defensive strength usually supplied by the 2009 MLS Cup winners. The apparent recovery of top scorer and seasoned Champions League performer Alvaro Saborio from offseason knee surgery should further bolster RSL's hopes, though Kreis will hope creative conduit Javier Morales is fit enough to play in the first leg after he sustained a sprained ankle in last week's preseason finale against Chivas USA. In addition to those competitive strengths, Kreis and his team will benefit from playing the second leg at Rio Tinto Stadium, a venue in which RSL has not lost to a MLS opponent since May 9, 2009.
Although the order of the two legs poses an inherent problem for the Crew, Columbus coach Robert Warzycha must guide his group over a series of hurdles to clinch a spot in the semifinals. Columbus revamped its squad during the winter and ushered several of its veterans – including creative inspiration Guillermo Barros Schelotto and seasoned captain Frankie Hedjuk – out the door. The corresponding upheaval will make it difficult for Warzycha to stitch together a coherent approach for this significant test. Injuries will further constrain Warzycha's selection choices with influential midfielder Eddie Gaven hampered by an ankle injury, starting left back Shaun Francis (hamstring) unlikely to feature in the first leg and former FC Dallas goalkeeper Ray Burse, Jr. signed to a short-term deal to start in place of injured goalkeepers Will Hesmer (shoulder) and Andy Gruenebaum (hip), according to the Columbus Dispatch.
Despite the apparent advantage Real Salt Lake holds heading into the tie given the uncertainty swirling around the Crew at the moment, the two legs will determine which MLS side will progress to the semifinals. Fortunately for the winner, it will slide onto a gilded path that presents a rare opportunity to mount a sustained push for Champions League glory.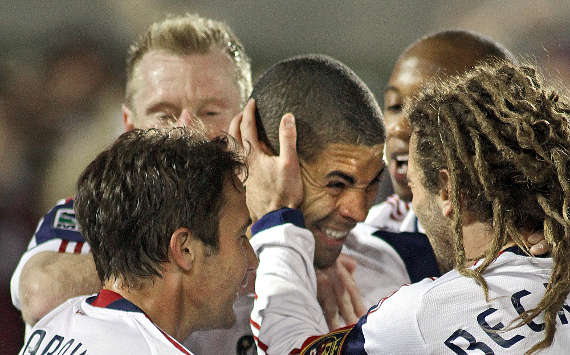 In addition to the all-MLS quarterfinal set to start on Tuesday, the other three series will also start this week. Here is a brief look at the remaining quarterfinal fixtures:

Cruz Azul (Mexico) v. Santos Laguna (Mexico)
First Leg – Tuesday, Estadio Azul, Mexico City, 10p.m. (Telefutura)
Second Leg – March 1, Estadio Corona, Torreon, 8p.m. (Telefutura)
Stability meets chaos as these two familiar foes tussle for a spot in the semifinals. Cruz Azul nicked a late winner through Christian Gimenez to defeat Atlas, 2-1, on Saturday, while Santos will enter the match with interim boss Eduardo Rergis in charge after the club dismissed Ruben Omar Romano for an offensive gesture toward supporters after Saturday's 2-0 defeat to Queretaro. Cruz Azul's superior recent form – third in the combined table – and its surplus of experience within its starting XI and in its dugout should see La Maquina comfortably seal a spot in the semifinals.

Toluca (Mexico) v. Monterrey (Mexico)
First Leg – Wednesday, Estadio Nemesio Diaz, Toluca, 8p.m. (Telefutura)
Second Leg – March 2, Estadio Technologico, Monterrey, 8p.m. (Telefutura)

Toluca will hope the influential Zinha can transfer his domestic form to the continental stage after he scored the first goal and pulled the stings in his side's last league match, a 5-0 victory over Queretaro on Feb. 12. Monterrey has stumbled a bit since the start of the Clausura, but a 0-0 draw with Tigres at the weekend marks a third successive match without defeat. Monterrey, however, will miss prolific marksman and top scorer Humberto Suazo for the first leg after he suffered a shoulder injury in Saturday's derby. Without Suazo in the lineup and with Toluca well rested after an idle weekend, the tie should be finely balanced heading into the second leg.
Saprissa (Costa Rica) v. Olimpia (Honduras)
First Leg – Thursday, Estadio Ricardo Saprissa, San Jose, 8p.m. (Galavision)
Second Leg – March 3, Estadio National, Tegucigalpa, 8p.m. (Galavision)

Saprissa will host the first leg in its formidable home venue on the heels of a 2-0 home victory over Puntarenas this weekend. Experienced schemer Walter Centeno continues to exert his influence over a side teeming with Costa Rican internationals. Olimpia settled for a 1-1 draw with bitter rivals Marathon over the weekend after dispatching Necaxa by a 2-0 scoreline in midweek. While Olimpia can count on several Honduran internationals – including promising forward Roger Rojas – to provide a fair dose of quality, the experienced Champions League campaigners from Costa Rica hold the edge ahead of this affair.
Kyle McCarthy writes the Monday MLS Breakdown and frequently writes opinion pieces during the week for Goal.com. He also covers the New England Revolution for the Boston Herald and MLSsoccer.com. Contact him with your questions or comments at kyle.mccarthy@goal.comand follow him on Twitter by clicking here.
Follow Goal.com on

to get the latest soccer news directly. Check out Goal.com's

page; be part of the best soccer fan community in the world!