The wait for the MLS regular season schedule is finally over.
With just over a month to go until Los Angeles visits Seattle for First Kick on March 15, the American top flight released its long-awaited fixture list on Thursday afternoon. Eighteen teams – including expansion sides Portland and Vancouver – will contest 306 matches (34 total for each club - 17 home, 17 away) to determine the ten playoff participants.
The March-to-October slate will no doubt leave some teams pleased and other clubs puzzled as they peruse their marching orders for the upcoming campaign. The Friday Five surveyed the scene and offers a few notable tidbits pertaining to the schedule release:
1. Expect the midweek matches to dip in quality:
The condensed calendar (more on that later) pushed 41 games to Wednesdays and forced most teams into one or more spells of playing three matches in eight days. Included in that group are eight matches – involving New England, Los Angeles, Toronto FC (once as home, once as away), Colorado, New York (as the home team against the Rapids on May 25), Columbus, San Jose and Houston – featuring teams faced with what could be best described as cross-continental journeys on either side of the midweek fixture. Several other midweek matches hand clubs lengthy journeys on one end of the swing, while still others make geographical sense. Throw in the five Thursday-Sunday turnarounds (affecting ten teams) created by ESPN2 viewing windows and a recipe exists for some fatigued legs and some ragged games around the league.
2. Killer road trip will determine fate of Sporting KC's season:
Peter Vermes' side will start the campaign with a league-record 10-game road excursion while the construction workers finish up the final touches on Sporting Park. While Sporting will play 17 of its final 24 matches – including eight in a row between July 30 and Sept. 10 – at its glittering new facility, those extra home dates won't matter without a few road results during the opening gauntlet. Past years may have allowed Sporting a bit of leeway to recover, but the additional competition for playoff berths – even with the two additional teams in the field this season – means Sporting will have to improve upon its 4-8-3 road mark to stay afloat.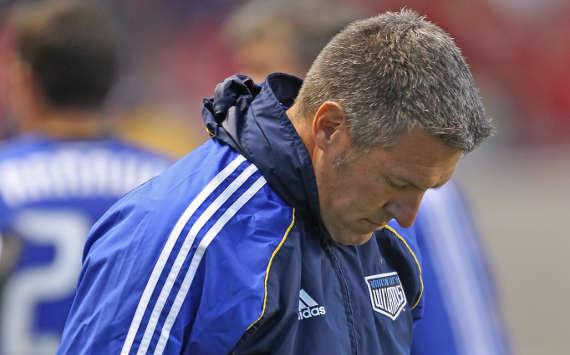 3. Breathe a sigh of relief when World Cup qualifying comes around:
Although MLS couldn't find a way to lessen the burden for the CONCACAF Gold Cup in June, the league managed to set aside one midweek date – Aug. 10 – for international friendlies and two fall weekends – Sept. 3-7 and Oct. 8-12 – for CONCACAF World Cup qualifying. The move marks an overdue step toward compliance with the FIFA calendar and reduces the tangential punishment on clubs that employ international performers.
4. Television reshuffle leaves viewers with fewer national TV options for regular season matches:
ESPN/ESPN2 trimmed its regular-season schedule from 25 to 21 contests – including four matches over Independence Day weekend – in order to accommodate eight windows for international friendlies involving MLS clubs. The switch does boost the number of ESPN games to four from one last season, but it also increases the emphasis on the rather meaningless – but more television-friendly – exhibition fare during the summer. Telefutura farmed two-thirds of its 30 Spanish-language matches out to Galavision to allow MLS to schedule more of those fixtures at night. While the 30 combined games amounts to a seven-game increase from the Telefutura schedule in 2010, the widely available, over-the-air channel will only show 10 of them and won't televise any matches between May 7 and Sept. 10 unless it picks up the All-Star Game. On many cable systems, Galavision requires an additional Spanish-language package.
It is also worth noting that the schedule did not include any matches scheduled to be aired by Fox Soccer Channel. FSC and MLS have agreed to a one-year deal to allow FSC to show MLS – and presumably other SUM-related – matches in 2011, according to a Tweet from ESPN's Allen Hopkins, but the final broadcast schedule remains uncertain. If FSC and MLS do cement their partnership for another year, it will be interesting to see where the price point falls – MLS wanted $20 million at the start of negotiations, while FSC offered $7 million, according to Sports Business Daily – and whether FSC airs a package similar to its 31-match offering in 2010.

5. ESPN fluffed its lines by shunning FC Dallas
: Fourteen of the eighteen MLS teams will feature at least once during ESPN/ESPN2's MLS coverage this season. Three of the omissions make sense: Canadian teams Toronto FC and Vancouver were left out because their viewers do not count in American Nielsen ratings, while Columbus plays in a small market and revamped its squad during the offseason. While those decisions make sense, the decision to comprise a national TV schedule without FC Dallas does not. Schellas Hyndman's side reached MLS Cup last season and usually concocts eye-pleasing fare for the viewer. In addition to those aesthetic bounties, FCD also plays in the nation's fifth-largest media market, according to a 2009-2010 Nielsen survey. Aren't those factors enough to merit one chance for a worthy team to play on ESPN2 in a road match against Los Angeles, New York, Philadelphia or Seattle?

Kyle McCarthy writes the Monday MLS Breakdown and frequently writes opinion pieces during the week for Goal.com. He also covers the New England Revolution for the Boston Herald and MLSsoccer.com. Contact him with your questions or comments at
kyle.mccarthy@goal.com
and follow him on Twitter by clicking
here
.