David Beckham has repeatedly driven home one point with his actions during his three-and-a-half years as a member of the Los Angeles Galaxy.
His priorities lay elsewhere.
Marketing considerations prompted Beckham's well-intended move to the United States, but competitive wanderlust fuels his persistently wandering eye and his shifting loyalties. Beckham's innate need to compete against top foes has undermined his American experience from the moment he rushed back from a left ankle injury to make his Galaxy debut in an exhibition against Chelsea in July 2007.
Beckham's burning desire to see out his England career into its last throes compelled him to engineer two loan spells with AC Milan at the expense – though not in a financial sense, surely – of his employers. In both seasons, Beckham missed more than half of the MLS campaign. The second of those spells concluded abruptly when he tore his left Achilles tendon in March and missed the World Cup.
As Beckham entered the final year of his lucrative pact with little in the way of tangible accomplishments on the field to show for it, the Galaxy likely hoped against hope that its wayward star would fully commit himself to the cause for this make-or-break season. At the moment, it looks like a burden too onerous for Beckham to bear.
While the engineered moves to Milan during the past two winters left the Galaxy with a sour taste in its mouth and a wad of cash in its pockets, the recent wranglings with Tottenham should have elicited quizzical looks instead. Los Angeles finally stood up to its star by mandating his presence for the start of the season, but Beckham and his handlers attempted to seal a brief loan move – similar to Landon Donovan's temporary deal with Everton last winter – anyways. Beckham's mutterings about returning to England cloaked only in Manchester United colors caved quickly under the weight of expediency as other options emerged. Protracted wranglings scuppered the potential loan deal with his most logical suitor, but Beckham opted to train with Harry Redknapp's side in a similar fashion to his winter spell with Arsenal in January 2008.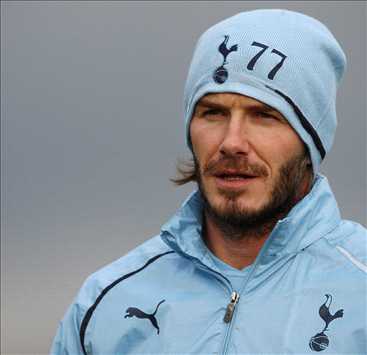 No misgivings would arise from the arrangement if Beckham wrapped up his work with Spurs in time to join the Galaxy at the start of its training camp. He didn't. Instead of jetting back to Los Angeles to link up with his teammates, Beckham struck a deal with the Galaxy and Tottenham to extend his stay until Feb. 24. He is scheduled to arrive just three weeks before the season opener in Seattle.
Although Beckham's continued absence does not constitute the ideal scenario, the arrangement does possess some benefits for the Galaxy. It placates Beckham by permitting him to remain in a competitive environment as he tends to his pregnant wife and his family for an additional fortnight. By staying with Spurs, his fitness should not present a concern when he finally lands in California. Beckham's extended London excursion also allows Los Angeles manager Bruce Arena to gather the majority of his squad together for the opening stages of training camp without prying media attention disproportionately trained upon one member of the club.
Despite those seemingly ample and sound reasons for permitting Beckham's extended stay in England, the decision will not likely benefit Los Angeles in its quest to secure MLS Cup. Beckham may return fully fit, but he must once again infuse himself into a squad in the midst of forming its identity. Cohesion remains an important part of any MLS title challenge. While Beckham's professionalism is generally above reproach, his iffy commitment to the club and the Galaxy's pliant approach to his wishes separates him from his teammates. Arena has worked wonders in the past to bridge this divide, but the instant circumstances – notably, Beckham's expiring contract and the possibility of a Bosman pre-contract agreement in the summer – will make this challenge his toughest test to date. Any schism within the team could prove fatal to the Galaxy's lofty ambitions and spark a discussion about why the club didn't pawn him off to an English club during the winter.
Beckham's continued presence in Los Angeles despite the distractions he carries with him reinforces the Galaxy's belief in his value to the bottom line and to the squad. It is not a stance without merit. With Juan Pablo Angel now in the starting XI to finish off the sweeping moves much like Edson Buddle did last season, Beckham will have an enticing target for his crosses and his set pieces. His industry and his passing will also serve the Galaxy well as Arena attempts to develop support lines for Donovan.
Only time will tell whether the Galaxy made the right choice to stick with Beckham instead of selling him to fund the search for another high-priced player to replace him. The present just reinforces the temporal and superficial nature of the relationship between the two parties and underscores Beckham's continuous search for greener grass elsewhere.
Kyle McCarthy writes the Monday MLS Breakdown and frequently writes opinion pieces during the week for Goal.com. He also covers the New England Revolution for the Boston Herald and MLSsoccer.com. Contact him with your questions or comments at kyle.mccarthy@goal.comand follow him on Twitter by clicking here.
Follow Goal.com on

to get the latest soccer news directly. Check out Goal.com's

page; be part of the best soccer fan community in the world!