Method used to assign David Bingham to San Jose has a spotty record of success.
San Jose general manager John Doyle erupted with joy when he heard the Earthquakes landed California goalkeeper David Bingham.
"[He] was somebody I've known for a long time and I wanted," Doyle told MLSsoccer.com after Wednesday's lottery. "But when I saw where we were in the lottery, I said, 'No chance.'"
Perhaps Doyle should have tempered his enthusiasm despite his apparent stroke of luck. The lottery system always gives clubs a chance to emerge victorious if they opt into the peculiar mechanism to vie for the available player, but the method – designed to convey a draft eligible or Generation adidas player's rights if signed after the SuperDraft – rarely indicates a likelihood of professional success.
It is, in short, a peculiar dispersal device with a rather unsettling record of underwhelming results for the players distributed by it. Although most of the players assigned by the lottery process have entered the league as touted prospects, only a few of those players have fulfilled those lofty expectations. The majority of lottery designees have either struggled to make an impact in the league or washed out completely for a variety of reasons.
As Bingham starts his first training camp with his hometown team and tries to overcome the apparent lottery hex, the Friday Five discusses a few of the notable players to enter the league in a similar fashion:
1. Gus Kartes, former Tampa Bay midfielder (2001):
With all due respect to the pioneering Mario Longo, Kartes' return from Greece in 2001 marked the first lottery to garner true interest since the concept first appeared in 2000. Kartes signed a lucrative, long-term deal with Olympiakos as a teenager, but he never blossomed into a first-team regular with the Greek giants. Colorado won his rights in a lottery after he signed a pact with MLS upon returning to the United States, but the Rapids immediately shipped the Tarpon Springs, Fla. native to his hometown club. Kartes made 16 ineffectual appearances for the Mutiny in 2001 before washing out of MLS when the club contracted after his one and only season in the league.
2. D.J. Countess, former Metrostars, Dallas, Chicago and Real Salt Lake goalkeeper (2001):
The highly touted U.S. youth international started his career after the Metrostars – the luckiest franchise in the history of the lottery with four players assigned to the club between 2002 and 2006 – won his rights in August 2001. Countess spent two of his five MLS seasons as a regular starter with Dallas (2003) and Real Salt Lake (2005), but he never established himself among the league's upper echelon of goalkeepers. After making 54 appearances during his four-and-a-half years in MLS, he departed after the 2005 season after his contract expired and spent the next three years under contract in Sweden, Chile and Argentina.
3. Danny Szetela, former Columbus and D.C. United midfielder (2004):
The 17-year-old U.S. youth international spurned interest from Everton and Manchester City to sign with MLS in July 2004. Despite repeatedly expressing his wishes to play for his hometown Metrostars, Szetela landed in Columbus in a nationally-televised lottery to distribute his rights, and remained there when the two clubs couldn't reach an agreement on a possible trade. Szetela appeared in 34 matches with the Crew over three seasons before departing MLS to join Racing Santander in August 2007 after a fine display at the U-20 World Cup. The move to Spain and a subsequent loan deal with Brescia in Italy failed to pan out and Szetela returned to MLS with D.C. United in 2009. A mixture of attitude concerns and injury problems contributed to the currently unattached Szetela's departure from the Black-and-Red in March 2010.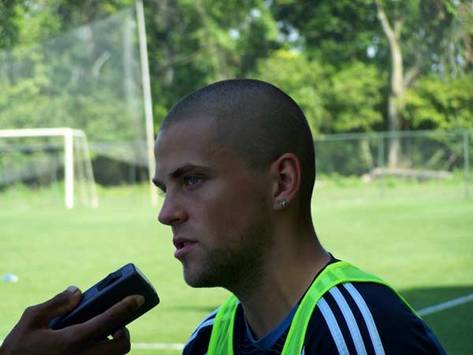 4. Robbie Rogers, Columbus midfielder (2007):
No lottery player has approached the level of success attained by the former Heerenveen winger. Rogers left the Dutch Eredivisie to join MLS in March 2007 and linked up with the Crew in time to appear in 10 matches and feature in the U-20 World Cup for the United States during his first season. After finding his footing during his debut campaign, Rogers rose to prominence by earning a spot in the MLS Best XI and playing an important role in Columbus' run to MLS Cup glory in 2008. Rogers did not hit those lofty heights domestically in the following two seasons, but he increased his profile internationally by narrowly missing out on a berth on the U.S. World Cup roster and racking up 13 caps by the end of 2010.
5. Luis Gil, Real Salt Lake (2010):
Naturally creative midfielders remain a scarce breed in the United States, but the early stages of Gil's career inspire hope that he may one day join that narrow class. The gifted 17-year-old distinguished himself with the U.S. U-17 squad and signed a Generation Adidas deal in March 2010 after spurning interest from Arsenal. Kansas City won his rights in the ensuing lottery, but the Wizards promptly shipped his rights to Real Salt Lake, one of his two preferred destinations. Gil spent time on loan with now-defunct AC St. Louis (U.S.S.F. Division II) last season, but he only played in one CONCACAF Champions League match with RSL during his rookie season. With the Claret-and-Cobalt's considerable squad depth, Gil will have plenty of time to develop before feeling any pressure to feature regularly in the first team.
Kyle McCarthy writes the Monday MLS Breakdown and frequently writes opinion pieces during the week for Goal.com. He also covers the New England Revolution for the Boston Herald and MLSsoccer.com. Contact him with your questions or comments at
kyle.mccarthy@goal.com
and follow him on Twitter by clicking
here
.
Follow Goal.com on

to get the latest soccer news directly. Check out Goal.com's

page; be part of the best soccer fan community in the world!