Kyle McCarthy concludes his two-part review of the SuperDraft and the Supplemental Draft by running the rule over the Western Conference.
Chivas USA
SuperDraft: Zarek Valentin (#4), Victor Estupinan (#14), Jon Okafor (#40)
Supplemental: Ernesto Carranza (#22), Curtis Ushedo (#40)
This particular draft combined a familiar dose of technical attacking players with a rather unfamiliar helping of purely defensive additions. This juxtaposition rose to the fore from the moment Chivas USA made its two first-round selections.
New boss Robin Fraser knows a thing or two about defending and his thumbprints are all over the choice of former Akron center back Valentin. Under past regimes, the Red-and-White may have opted for the more explosive Kofi Sarkodie to patrol the right side of defense, but Fraser decided to go with a more conservative Valentin to provide some much needed stability.
"Zarek is a proven winner," Fraser said. "He's a leader, he's very vocal and he has a good understanding of the game. He's very, very solid. I feel like he's an important part of what we're trying to do."
While Valentin fits the mold of his coach, Estupinan caters more to the ethos forged by the club since its inception. The Ecuadorian forward is a bit of a wild card given the small sample size afforded by his work at the combine, but his explosiveness could provide a nice contrast to the robust Justin Braun up front.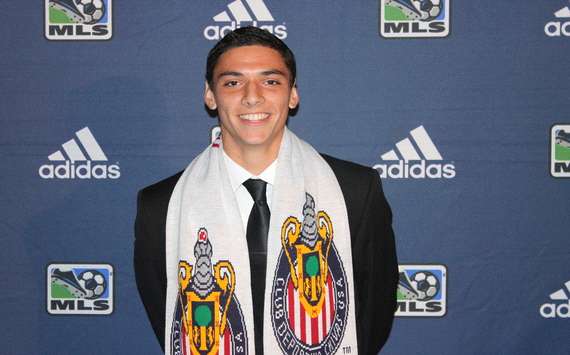 "With Victor, he's a little different than some of the other forwards we've seen," Fraser said. "We feel like he's got a really good understanding of the game. His movement is that of a true striker. He does a lot of things that make us think he has a bright future ahead of him."
Colorado
SuperDraft: Eddie Ababio (#18), Colin Givens (#36)
Supplemental: Phillip Bannister (#36), Javed Mohammed (#54)

The reigning MLS Cup champions appeared content to operate around the edges of their squad given their rather modest haul of picks. Colorado used its top two selections and one of its supplemental choices to address its need for extra bodies were needed in defense. Ababio fits nicely with the Rapids' emphasis on team speed in the wide areas, while Givens offers more depth in central defense. While the Rapids aren't desperate for more attacking options after Omar Cummings' abortive stint at Aston Villa recently concluded, they may decide to look to Europe for a more creative option in midfield or another potent option in attack.

FC Dallas
SuperDraft: Bobby Warshaw (#17), Charlie Campbell (#35), Scott Gordon (#53)
Supplemental: Alexis Pradie (#15), Paul Ogunyemi (#17), Brayan Martinez (#18), Ariel Osorio (#35), Craig Hill (#53)
Depth isn't a pressing concern for Schellas Hyndman, but FCD did acquire potential cover for Daniel Hernandez by picking up the versatile Warshaw with FCD's first-round pick. If the former Stanford defender can transition into Hernandez's deep-lying midfield role, FCD may have uncovered a potential successor without dipping into the transfer market. If Warshaw can't cut it, he can simply provide cover in central defense. The rest of the selections encompass several areas of the field, but it is worth noting that Hyndman and technical director Barry Gorman spent the club's final two picks on a pair of familiar faces from SMU.
Houston
SuperDraft: Kofi Sarkodie (#7), Will Bruin (#11)
Supplemental: Evan Newton (#7), Sergio Castillo (#25)
The first-round haul represents the perfect storm for the Dynamo: two potential contributors with no impact on the salary budget. Both Generation adidas players should bolster the squad in their rookie seasons, but Bruin may bear more of a burden to pick up some slack right away.
The former Indiana forward exhibits some characteristics of a traditional target forward. Houston has a few options at that spot, but both Brian Ching and Cam Weaver often struggle to stay out of the trainer's room and Jason Garey needs to establish himself as a regular in the side after his move from Columbus. The circumstances could create opportunities for Bruin to log minutes in 2011, but his first task will no doubt involve learning a few tricks of the trade from former U.S. international striker Ching.
"I couldn't ask for a better guy up top to try and play with than Brian Ching because he's done it all," Bruin said. "I have so much to learn and I look forward to learning it all from him.
Los Angeles
SuperDraft: Paolo Cardozo (#16), Hector Jimenez (#34)
Supplemental: Daniel Keat (#3), Ryan Thomas (#16), Dustin McCarty (#34), Zach Johnson (#52)
Galaxy manager Bruce Arena loaded up on technical players in the SuperDraft by selecting Cardozo and Jimenez. Arena currently has more than his fair share of relatively slight players to choose from in midfield, but both selections will have the chance to impress if they can prove they merit instant playing time.
Keat could turn out as the most important addition in the group given Los Angeles' struggles to find a competent holding midfield. Arena has searched high and wide for a holding player over the past year, but he hasn't found one player capable of grasping the role as his own. If Keat can impress in training camp and Arena avoids adding a specialist senior player in the transfer market, he could stick as a contributor.
Despite making six selections during the two drafts, the Galaxy reaffirmed its commitment to its 2011-or-bust mentality by acquiring Chad Barrett last week and signing Juan Pablo Angel as its third and final Designated Player on Wednesday. While these six players may have a role to play in the long-term, the concurrent moves only serve to reinforce the importance of the short-term in Carson.
Portland
SuperDraft: Darlington Nagbe (#2), Chris Taylor (#22)
Supplemental: Spencer Thompson (#2), Robby Lynch (#12), Raymundo Reza (#20), Taylor Mueller (#38)
The final verdict on the Timbers' first MLS SuperDraft will no doubt rest upon whether Portland made the right decision to pass on Perry Kitchen to take Nagbe. For the moment, it looks like a fairly wise decision with Kenny Cooper set to provide an intriguing partner up front when Nagbe earns first-team minutes. The biggest question for Timbers coach John Spencer is whether Nagbe is capable of playing through the middle or whether he will have to shift into a wider position. If Spencer decides he needs to play a bit wider, it could pose a problem or two in any potential partnership between Nagbe and the always-drifting Cooper.
Real Salt Lake
SuperDraft: Jarad van Schaik (#52)
Supplemental: Jeff Attinella (#14), Andrew Cost (#32), Nick Love (#50)
Forget about the four players RSL eventually brought into the fold here. All four will face a fairly difficult task to obtain a place on the Claret-and-Cobalt's already crowded roster for 2011. The real take home message for this draft is in the resources RSL acquired with its selections: Arturo Alvarez, Luis Gil and the allocation money proffered by Chivas USA in exchange for RSL's first-round pick. By most measures, that haul counts as a success even if none of the four selections remain with the club.
San Jose
SuperDraft: Anthony Ampaipitakwong (#33)
Supplemental: Phillip Tuttle (#32), Victor Cortez (#51)
Ampaipitakwong will have plenty to prove when he makes his Earthquakes bow after nearly slipping out of the second round. His creativity and his tidy passing could come in handy for an Earthquakes midfield in need of a bit of both qualities heading into next season.
The big knock on Akron's former attacking fulcrum rests with his lack of a natural position at the MLS level. A lack of industry and pace rules out any extended stint as a wide player given the demands Frank Yallop places on his wingers, while a lack of size may make him a tough sell as a central midfielder. He may have to play as a second forward, but it remains to be seen whether he can make an impact at that spot and with limited touches on the ball.
Even with those significant questions in tow, San Jose can take comfort in obtaining top value for its pick at the back half of the second round.
Seattle
SuperDraft: Michael Tetteh (#20), Leone Cruz (#21), Servando Carrasco (#27), Bryan Meredith (#29), Alex Caskey (#47)
Supplemental: Josh Ford (#11), Corey Attaway (#29), Sean Morris (#47)
Sounders FC boasts considerable options for its starting XI, but it could use a healthy boost to increase its depth at the back end of its roster. Eight overall selections will hand Sigi Schmid plenty of choices, though one would suspect the two goalkeepers will vie for one or fewer spots in the squad. Tetteh looks like the most likely to stick with his Generation adidas contract, but the likes of Carrasco and Caskey display the sort of creativity Schmid likes from his draft picks. Cruz could also provide cover in a central defensive corps ready to welcome back Jhon Kennedy Hurtado.
Vancouver

SuperDraft: Omar Salgado (#1), Michael Nanchoff (#8), Jeb Brovsky (#19), Bilal Duckett (#37)

Supplemental: Michael Boxall (#1), Joe Anderson (#19), Santiago Bedoya (#37)
In a draft class filled with relatively predictable selections, Vancouver took the most heat for selecting U.S. U-20 forward Salgado with the first overall pick. The move even surprised Mr. Number One himself.
"I was surprised," Salgado said. "I didn't know it was coming. I knew they were a little bit interested in me, but I didn't expect this."
There were other, more practical options available for Vancouver with Salgado barred from featuring in the first team until he turns 18 in September. Vancouver chose Salgado over the likes of Kitchen and Nagbe based primarily on his training stint with the club last summer, according to Whitecaps president Bob Lenarduzzi.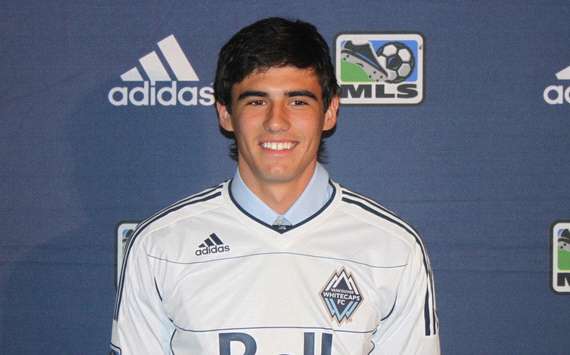 "We had Omar with us in the summer, although for a briefer period of time than we would have wanted to," Lenarduzzi said. "We were actually looking to sign him at that time, but unfortunately the FIFA rule precluded that (move). What we saw in that period of time was huge potential."
The key for the Whitecaps moving forward will lie with translating its ability to cultivate young talent to its new MLS club. With the likes of West Bromwich Albion striker Marcus Haber churned through the club in recent years, Vancouver has shown it can develop players for higher levels. It remains to be seen whether the rather peculiar demands of MLS will impact Vancouver's work in that area, but Salgado presents an interesting test case as the Whitecaps transition into the league.
Kyle McCarthy writes the Monday MLS Breakdown and frequently writes opinion pieces during the week for Goal.com. He also covers the New England Revolution for the Boston Herald and MLSsoccer.com. Contact him with your questions or comments at kyle.mccarthy@goal.comand follow him on Twitter by clicking here.
Follow Goal.com on

to get the latest soccer news directly. Check out Goal.com's

page; be part of the best soccer fan community in the world!