Chicago
SuperDraft:
Jalil Anibaba (#9), Jason Herrick (#45), Davis Paul (#51)
Supplemental:
Amani Walker (#9), Yannick Salmon (#27), Sam Arthur (#45)
The considerable crop of forwards may bolster an attack in need of some depth, but it is the rearguard most in need of strengthening after C.J. Brown's retirement. Fire coach Carlos de los Cobos didn't construct the sturdiest of defenses in 2010, but he will be able to add Anibaba to his central defensive corps in time for the upcoming campaign.
Anibaba earned MVP honors at the recent MLS Player Combine and could feature as the Fire attempts to rebuild this season and restore its past glories.
"I know they're a well established club and they have a great history," Anibaba said. "I'm just excited and honored to be a part of it."
Columbus
SuperDraft:
Rich Balchan (#12), Justin Meram (#15), Cole Grossman (#28), Bernardo Anor (#48)
Supplemental:
Ben Sippola (#30), Andy Adlard (#48)
The Crew deviated from accepted wisdom for a second consecutive year by selecting Indiana defender Balchan in the first round. The selection appeared to be a bit of a reach as most observers had him pegged for no earlier for the second round, but Columbus leaned heavily on its regional scouting for this draft season and will hope it has seen something a bit different from the versatile defender.
Opportunities should arise for the two first-round picks – plus the other four selections – as Columbus continues to retool its roster. The first task for Balchan and Meram: helping the Crew erase the memory of last year's failed first-round gamble on Bright Dike by earning a roster spot with some room to spare.
D.C. United
SuperDraft:
Perry Kitchen (#3), Chris Korb (#31), Joe Willis (#50)
Supplemental:
Blake Brettschneider (#21)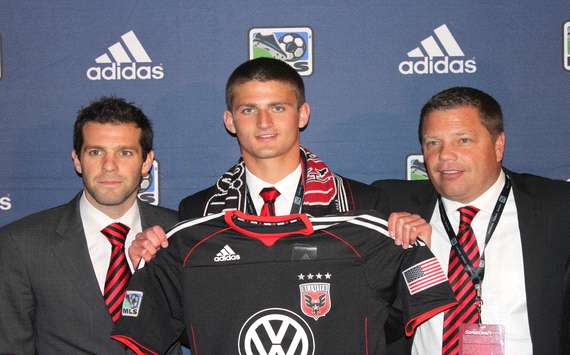 The biggest question surrounding United's draft revolves around Kitchen's eventual landing spot on the field. D.C. currently has a wealth of choices in central midfield and a comparatively lighter group in central defense, but most observers – including Kitchen himself – believe the former Akron midfielder is best suited to a spot further up the field.
United coach Ben Olsen is content to wait and see how the situation develops after the consensus top-two pick kindly slipped to his side at number three.
"Right now, we'll see," Olsen said. "We can sort that out in preseason. I've seen him play center back at a high level and I've seen him play as a defensive midfielder at a high level. He will push our players to earn a starting spot. I know that."
New England
SuperDraft:
A.J. Soares (#6), Stephen McCarthy (#24), Steven Perry (#39), Ryan Kinne (#42), Alan Koger (#54)
Supplemental:
Hunter Christiansen (#6), Fernando Cabadas (#24), Andrew Sousa (#42)
As the Revs entered the offseason, they were faced with rather disparate problems of adding top-end players and bolstering the bottom of the roster. The breadth of options afforded by eight draft picks should guarantee the Revs a competitive battle in training camp to provide New England boss Steve Nicol with more choices as he fills out his roster. International additions may take care of the top end, but the club likely harbors some hope of first-round pick Soares playing an influential role relatively soon.
Barring any further developments in central defense, New England currently has Soares penciled in as one of three specialist center backs. With Cory Gibbs and Emmanuel Osei now plying their trades elsewhere, Darrius Barnes and Ryan Cochrane are the other options currently in the fold. Unless Nicol opts to field Didier Domi in central defense or supplements the current group, Soares may have to step in and contribute sooner rather than later.
New York
SuperDraft:
Corey Hertzog (#13), John Rooney (#25), Tyler Lassiter (#30), Billy Cortes (#38)
Supplemental:
Jimmy Maurer (#4), Teddy Schneider (#31)
Prolific striker Hertzog may steal the headlines some day after slipping out of the top ten on draft day, but much of the instant focus will fall squarely on Rooney's shoulders. After tromping off to America to forge his own career, Rooney will now have to cope with the rather bright lights and the occasionally intense scrutiny afforded to him in New York.
New York coach Hans Backe isn't particularly bothered by those concerns – he is currently searching for a central defender to allow him to retain Rafael Marquez at the base of his diamond – but he suggested his new recruit had the tools to carve out his own niche with the Red Bulls as a box-to-box option in central midfield.
"I must say, I was surprised that it was possible to pick him at 25," Backe said. "I can't speak for everyone – we all see differently when we analyze players – but, at the Combine, I rated him as one of the two or three absolutely best central midfield players."

Philadelphia
SuperDraft:
Zac MacMath (#5), Michael Farfan (#23), Levi Houapeu (#41)
Supplemental:
Ryan Richter (#5), Josh Walburn (#23), Matthew Marcin (#41)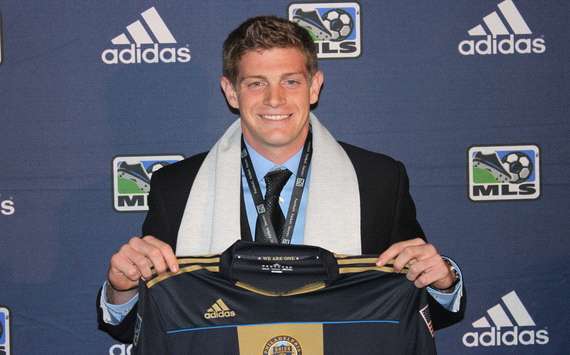 Few MLS clubs place such an overt emphasis on developing and scouting college and youth talent. The Union's persistent efforts reaped five players with significant ties to the mid-Atlantic region and one well-known quantity in Farfan. In purely fundamental terms, it appears as if Philadelphia has placed its faith in local talent for the short-term.
Time will tell if the emphasis on local talent will pay off, but the overall assessment of this group will likely hinge on the ability to provide a nurturing environment for MacMath. Philadelphia raised significant question marks about its ability to manage and tutor goalkeepers with last year's merry-go-round between the sticks. The current situation, however, looks a bit less fluid. The pending addition of Faryd Mondragon should add some stability in the first team as MacMath attempts to develop into the long-term number one the Union thought it had pegged when it acquired former starter Chris Seitz just over a year ago.
Sporting Kansas City
SuperDraft:
CJ Sapong (#10), JT Murray (#32), Konrad Warzycha (#46)
Supplemental:
Sam Scales (#10), Mike Jones (#28), Michael Mravec (#46)
For the second consecutive year, Sporting opted to use its first round pick on a physical forward. Recent Stoke City trainee and United States call-up Teal Bunbury worked out just fine for Kansas City last season, but Sapong will face a considerably more crowded route toward the first team.
Sporting manager Peter Vermes believes his top choice could provide another intriguing option – and perhaps even a partner – up front as his side prepares for the upcoming campaign.
"You know, there were a couple of things (we liked about him)," Sporting manager Peter Vermes said. "Last year, we picked Teal Bunbury with the third pick overall in the first round. We felt that his explosive style – in this league – can be dangerous with the way we play. CJ brings a lot of the same qualities. We think – between the two of them – they could be a pretty interesting tandem."
Toronto FC
SuperDraft:
Demitrius Omphroy (#26), Matt Gold (#43), Junior Burgos (#44), Joao Plata (#49)
Supplemental:
JC Banks (#8), Steven Beattie (#13), Spencer Thompson (#26), Scott Rojo (#44)
TFC imported several cheap attacking options with its eight combined selections, but the most prominent move involved shipping out one of their most expensive players during the SuperDraft. Chad Barrett's departure to Los Angeles will create yet another void in a squad already low on players, but the removal of his hefty salary ($205,000 base) also gives the Reds even more budget room as they seek to mold a squad capable of implementing new coach Aron Winter's approach.
"It's sort of early to say the least, but it's narrowing all of the time," TFC director of player development Paul Mariner said about his side's list of targets. "We're looking far and wide. This is a global business we're in now and it's amazing how many people want to come and play in this league. We're narrowing it down. We're obviously not going after people who are going for crazy money. We're mindful of that, but Aron and Bob have a certain way they want to play and a certain way they want to put the team together. I'll be assisting them as much as I can in bringing that about."
Kyle McCarthy writes the Monday MLS Breakdown and frequently writes opinion pieces during the week for Goal.com. He also covers the New England Revolution for the Boston Herald and MLSsoccer.com. Contact him with your questions or comments at
kyle.mccarthy@goal.com
and follow him on Twitter by clicking
here
.


Follow Goal.com on

to get the latest soccer news directly. Check out Goal.com's

page; be part of the best soccer fan community in the world!