BALTIMORE, Md. -- The drama started from the moment Vancouver announced its first pick.
Few people expected a rather stunning surprise to kick off the 2011 MLS SuperDraft. Usually, the deviation from the expected course of actions occurs after a few picks. Or, at the very least, it takes place at a point that allows everyone to settle into their seats.
Vancouver's decision to select United States U-20 international Omar Salgado paved the way for an engaging and unexpected opening round. The usual features – rising and falling prospects and trades galore – cropped up once again, but a series of intriguing storylines added spice to an already compelling day.
As the dust settles from a hectic Thursday in the Charm City, the Friday Five sheds light on a few of the interesting subplots from one of the busiest days of the year:
1. To trade or not to trade, that was Vancouver's question: Once Vancouver decided to upset the projected pecking order and place Salgado atop its draft board, the Whitecaps faced another important decision. Should they stay at number one or move down the draft order a bit to a lower spot where they believed they could grab Salgado?
"It's a cat-and-mouse game," Vancouver president Bob Lenarduzzi explained. "You talk to people and they felt he was going to drop down. Then you're hearing, no, if he's available at two, he'll likely go at two. I have to think that some of the same people we were talking to, other clubs were talking to as well."
The uncertainty of the situation – plus Vancouver's comfort level with Salgado after his stint in British Columbia last year – led the Whitecaps to eschew the opportunity to pick up additional assets and select Salgado a bit higher than most people anticipated. While the choice may have cost Vancouver some allocation money or a useful player, Lenarduzzi said the decision made the most sense for the team in the long term.
"We're happy with the decision at this stage," Lenarduzzi said. "Quite frankly, at the end of next season – or, more likely, at the end of the second season – we're going to look back and say it looks like you made the right decision or you didn't at that point. But we're satisfied at this point that the potential we see in Omar is great."
2. A gift-wrapped Kitchen for D.C. United at number three: Vancouver's decision to take Salgado at number one opened the door for D.C. United to select the player it had wanted all along.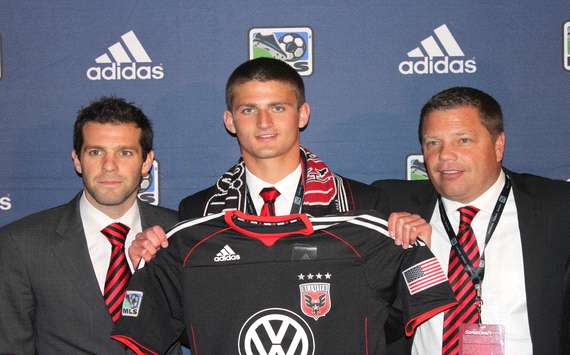 With Portland all but committed to taking Darlington Nagbe with the second pick before the draft, D.C. United could hardly contain its joy or its surprise when Perry Kitchen dropped to number three.
"Yes, yes," United coach Ben Olsen said when asked whether he was surprised to land Kitchen at number three. "I said it all along: I would have picked him at number one. It's not to say that those were wrong picks – everybody has their different needs – but, right now, our needs are for a guy like him."
With D.C. now focused on building a squad in the reflection of Olsen's combative and intense image, it couldn't help but add Kitchen – a player noted for his fierce will to win and his strong character – to help lay the groundwork for a return to prominence in the future, according to Olsen.
"It's something I think we've lacked in the past few years," Olsen said about the dearth of competitors in the squad over the past few years. "I think we have them and I think we're starting to build a group of guys that has a different mind frame when it comes to winning ballgames. Hopefully, he's going to be a part of that."
3. Houston chooses between two players and eventually lands both: As the Houston technical staff pondered its options with the seventh pick, it faced a pleasant, but still difficult, scenario.
Two of the three players tabbed as potential choices before the draft – Akron defender Kofi Sarkodie and Indiana forward Will Bruin – remained on the board. After contemplating the choice for a bit, Houston opted to take Sarkodie – a player expected to come off the board in the top five – with the pick and pass on Bruin.
If the Dynamo's first round had ended there, it probably would have counted as a win. Instead, the situation somehow improved considerably when Portland decided to trade out of its recently acquired pick at number 11 and offered an opportunity for Houston to jump back into the proceedings.
"We had a couple of things, but then it really went quiet," Dynamo coach Dominic Kinnear said. "The difficult thing was that two of the three were there, so who were we going to pick? We figured that we might be out of it from here on in (with the other one), but Portland was making the rounds to see if people would trade."
Once Kansas City opted to take James Madison forward C.J. Sapong with the tenth pick, the Dynamo dished some allocation money to the Timbers in order to secure the second of its two preferred players still on the board prior to its original selection.
"We kind of waited to see who Kansas City would take," Kinnear said. "When we knew that Will was available, we made a move to trade for him. Lucky for us, it was accepted and we got him."
4. Circumstances help Sporting Kansas City make its selection at number ten: While Houston crossed its fingers and hoped Sporting would stay away from Bruin with his pick, Sporting manager Peter Vermes couldn't quite believe his luck as he surveyed his own draft board.
Sporting identified two players it wanted with the tenth pick: North Carolina defender Jalil Anibaba and Sapong. Both players fell to Chicago's selection at number nine – "I was shocked," Vermes said – to guarantee Sporting would land at least one of its two intended targets.
Chicago decided to pluck Anibaba off the board to bolster its decimated central defensive corps. The Fire's choice left Sporting to happily take Sapong to provide cover for Teal Bunbury and further strengthen its already considerable options up front.
"We were just making the determination of what we wanted to do because we do have some guys who are coming in who can play as a central defender," Vermes said. "We think (Sapong is) a very good kid who has some qualities that are hard to find. (The situation) was very good. We're excited."
5. Old bonds forge a mutually beneficial deal between Chivas USA and Real Salt Lake: When Real Salt Lake shopped its first-round pick (14th overall) around the league, one potential buyer made considerably more sense than all of the others.
Chivas USA wanted to hop back into the first round to position itself to select Ecuadorian forward Victor Estupinan. As the Red-and-White went searching for an opportunity to do so, it leaned on some inside knowledge to spot an opening. New boss and former RSL assistant Robin Fraser happened to know that his former club needed allocation money more than it needed another player.
"It's all part of the business," Fraser said. "They have needs and we have needs. Whatever we can do to help each other – as long as we accomplish our individual needs – then we do what we have to do."
All the goodwill and trust generated by Fraser's three-and-a-half-year stint as an assistant for the Claret-and-Cobalt helped to navigate the path between the initial proposal and the final pick-for-cash swap. RSL general manager Garth Lagerwey said Fraser's presence helped to cinch the deal for both parties.
"They were awesome in a way," Lagerwey said. "We had five teams interested in that pick. At the last minute, everybody went away, but the one guy we trusted was right there. We had another team that had made an offer, but we basically told Chivas that if you get over this (number), it's yours. It took a time out, but we got there."
Kyle McCarthy writes the Monday MLS Breakdown and frequently writes opinion pieces during the week for Goal.com. He also covers the New England Revolution for the Boston Herald and MLSsoccer.com. Contact him with your questions or comments at kyle.mccarthy@goal.com and follow him on Twitter by clicking here.
Follow Goal.com on

to get the latest soccer news directly. Check out Goal.com's

page; be part of the best soccer fan community in the world!