BALTIMORE - The MLS SuperDraft is a hectic, emotional occasion. Trades are hashed out in miniscule windows of time. Decisions are made in minutes and then justified for careers.
If you wait around long enough, everyone files out and custodians begin stacking chairs. But for the few hours prior to the celebratory brews, it's a mess.
Here are some of the thoughts of some of the key players in the 2011 MLS SuperDraft:
- Perry Kitchen, the third overall pick taken by 2010 basement dwellers D.C. United, was excited to join the storied franchise.
"I feel great. I wasn't expecting it, but I love it," he gushed. "The fans are great, so I am really excited. I will fit in very well."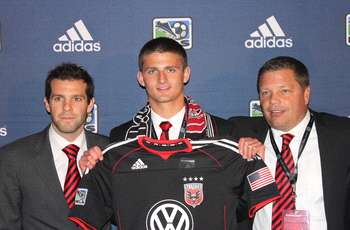 - A fixture of draft day is uncertainty. Many players can only guess how they'll be used, even players as highly rated as Kitchen.
"I don't know exactly where they're expecting me to play," the U.S. U20 international said, "because I can play both center back and defensive midfield. But whatever it is, I am excited."
- The Philadelphia Union's new goalkeeper, Zac MacMath, said that he's looking forward to competing for a place with Brad Knighton and rumored signing Faryd Mondragon.
"I've heard reports that they are going to sign another keeper, but I think it's a great opportunity for me to work with veterans and fight for a spot," the fifth overall selection said.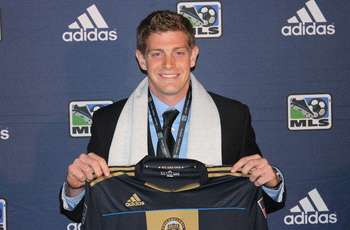 - Sporting Kansas City head coach Peter Vermes sees his first round selection, C.J. Sapong, as player who will have an impact immediately and in the future.
"Last year, Teal Bunbury, who we picked with the [fourth] pick overall in the first round, we felt that his explosive style in the league could be very dangerous with the way we play, and CJ brings a lot of the same qualities."
Vermes added: "We think that between the two of them, they could be a pretty interesting tandem. We think that he's a very explosive and powerful type of forward, who plays very well with his back to the goal. Not only right away he can have some impact with the team, but think over time, he has a huge upside."
- Steve Nicol, coach of the New England Revolution, was delighted to have picked up Cal defender A.J. Soares with the sixth overall pick.
"He's a football player. He likes to pass the ball, and can pass the ball," Nicol opined. "He's very mature for his age, and that's something you want in particular from a center back."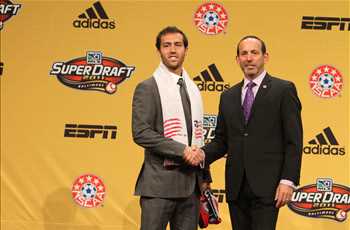 - Several of the draftees expressed admiration for their new coaches.
Perry Kitchen was full of praise for his new organization: "I think he (Ben Olsen) is a great coach. I think the fan base is amazing."
Zarek Valentin, taken by Chivas USA, said of Robin Fraser, "I met Robin recently, we had an interview. He's an amazing guy. I really like the vision he has for the club moving forward and everything that goes along with that. He's a real classy guy."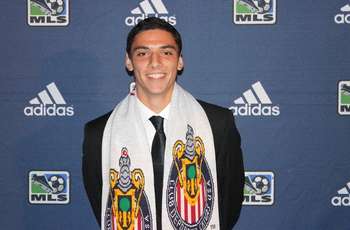 - MLS added a twist to this year's draft by including a number of foreign-trained players. Supporters' Shield winners Los Angeles Galaxy drafted one of these players, Uruguayan Paolo Cardozo, with the 16th overall pick. Galaxy manager Bruce Arena talked about Cardozo and the difficulties involved with signing a young foreign player.
"Paolo Cardozo was a player that we liked at the combine," Arena explained. "We know he is a young kid, and he needs to mature a little bit physically, but technically, he is a good player, quick, creative, and 21 years old now.
"If we can create the right environment for him, and allow him time to get acclimatized to living in the United States, and playing in MLS, he's a player with a good future."


Follow Goal.com on

to get the latest soccer news directly. Check out Goal.com's

page; be part of the best soccer fan community in the world!