Kyle McCarthy answers reader questions on the eve of the SuperDraft.
BALTIMORE – SuperDraft eve is finally upon us.
For many involved in tomorrow's festivities, tonight is one of the longest nights on the MLS calendars. Coaches and executives pack into the hotel bar to discuss the upcoming proceedings into the wee hours of the night. Players are discussed and schemes are hatched by everyone involved. Throw in the inevitable late night review sessions before tomorrow's draft and this night usually offers up something worth talking about the next day.
While we wait for the inevitable news to dribble out from those late night cocktails, there are plenty of other topics worth discussing with the SuperDraft less than 24 hours away.
With time at a premium, let us hop straight into your questions:

Do you think teams in general put too much emphasis on the Combine?
@Chr31ter
It depends on how much emphasis you think the teams put on the Combine in the first place. Most teams use the Combine as one piece of their overall evaluation of a player, but the particular circumstances– the location of his college and the availability of scouting tape, to name two – surrounding a player can make it a significant portion of the calculus.
For some of the lesser-known players, the Combine can serve as a make-or-break proposition. It isn't nearly as determinative for players from national team programs or prominent schools.
MLS would benefit from a central scouting service to help teams gather data on players, but I think teams employ the current setup reasonably well given the inherent limitations enforced by budgetary and geographic restraints.

How much is GA status weighed in the draft?

@IMCJasonD
It really depends on the club. Some clubs can afford to take a player without regard for the potential roster or salary budget hit. Other sides cannot afford to add salary given their current constraints. Talent is the overriding factor in any selection, but GA status does play a significant role at some points, particularly as the draft enters the second and third rounds.
With limited foreign spots available - how heavily does that impact a team when considering one of the foreign entrants in the draft?
@KIRSoccer
A player's foreign status can absolutely impact his draft status. All things being equal, it's more favorable for a club to select an American (or, for Toronto FC and Vancouver, a Canadian) instead of an international player.
In order to pull the trigger on an international player, a club has to be convinced that he presents a superior option to the other choices available AND he is talented enough to merit one of the club's international spots when placed in competition with external options. The standard isn't a particularly easy one to meet, especially in the later rounds.
The foreign players - do they get selected, when and by whom?
@mattclimbs
Several of the players added to the Combine should get selected at some point, probably from the middle of the first round onwards. Victor Estupinan is probably the best bet to come off the board first, and he should be followed in some order by Paolo Cardozo, Joao Plata and John Rooney by the end of the second round. Martin Rivas will also present a decent option as the draft progresses.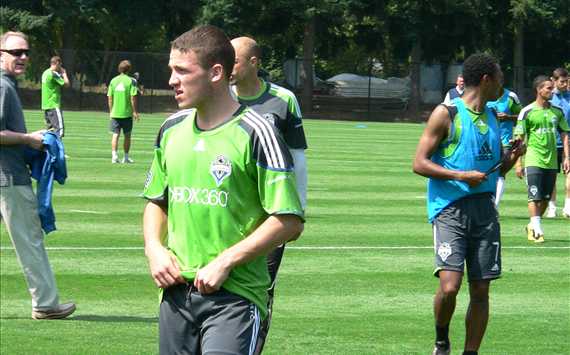 John Rooney | Impressed at Combine
It's hard to predict which teams could get involved because of the disparate nature of the contingent, but history suggests sides like Chicago, D.C. United and Kansas City will not shy away from thinking outside the box.

D.C. should deal? Hasn't their avoidance of the draft part of what has driven them to the bottom?
@MRoadarmel
I noted on my Twitter feed on Tuesday night that I believe United should entertain offers with an eye toward dealing the third pick and moving down a later spot in the first round.
While there are several options available for D.C. at number three, United is more than one player away at this point and already possesses several youthful options within its squad. With the drop off in value from Darlington Nagbe at two to the remainder of the options at three, it might be worth United's trouble to investigate its options to see if it can accumulate additional resources in a trade while dropping down into a less favorable spot later in the round.
As far as United's current plight, it's fair to say the mess in the District exists for several reasons well beyond the SuperDraft.
If RSL trades their first round pick this year, what do you think they can get for it? Smart move?
@cashable
It is a sensible one. The Claret-and-Cobalt doesn't need to bring in a first-round pick and probably doesn't have the salary budget room to accommodate one on its senior roster. RSL general manager Garth Lagerwey hinted his club might be amenable to dishing the pick on Tuesday, but this isn't the type of draft that will yield a significant bounty for a late first-round selection.

When do you think Anthony Ampaipitakwong gets taken?
@tshires
Ampaipitakwong's case is a difficult one to judge. His skill on the ball is there for all to see and he produced consistently at Akron, but there are persistent questions about where he fits in at the professional level. I suspect he could come off the board in the latter stages of the first round, but he may end up slipping into the first half of the second round.

Do you think Houston could take John Rooney to replace Stuart Holden?
@ASeaborne
No one player in this SuperDraft could replace Holden in the center of Houston's midfield. Rooney showed well at the Combine, but he doesn't offer the vast array of skills Holden does. Could Houston take him? I suppose so, but it almost certainly won't occur with the seventh pick or with such lofty expectations placed upon his shoulders.

Is there a "value chart" for MLS draft picks? Something like the one for NFL. Complete: #6+ X = #1 overall?
@MVGordonBrown
I can't speak for every team, but I am not aware of any universal point allocation system for MLS SuperDraft picks. The MLS process is a bit more ad hoc than the rigid and systematic affair preferred by the NFL because of the peculiar foibles inherent in the SuperDraft.

Can you throw out a Combine Best XI off the top of your head?

@DavidGubala

Goalkeeper:
Bryan Meredith (Monmouth)

Defenders:
Kofi Sarkodie (Akron), Bobby Warshaw (Stanford), Jalil Anibaba (North Carolina), Greg King (UConn)

Midfielders:
Paolo Cardozo (Quilmes), John Rooney (unattached), Cole Grossman (Duke), Joao Plata (LDU Quito)
Forwards:
Victor Estupinan (LDU Quito), Corey Hertzog (Penn State)
Kyle McCarthy writes the Monday MLS Breakdown and frequently writes opinion pieces during the week for Goal.com. He also covers the New England Revolution for the Boston Herald and MLSsoccer.com. Contact him with your questions or comments at
kyle.mccarthy@goal.com
and follow him on Twitter by clicking
here
.

For more on Major League Soccer visit Goal.com's
MLS page
and join Goal.com USA's
Facebook fan page
!