Few important decisions and moments are captured by official awards.
It's the nature of the beast, really. Season-long awards capture excellence over time and reward consistency rather than momentary brilliance. While the truly exceptional players deserve the recognition of such honors, the truly accomplished moves and the interesting occurrences of the season also merit a moment or two in the spotlight.
With that caveat in mind, here are ten slightly off-beat highlights (and lowlights) in MLS over the past year:

Most pervasive trend
The decay of recent powers
Perennial MLS Cup contenders Chicago, Houston and New England dropped out of the playoffs with a whimper. Columbus wobbled its way to second place in the Eastern Conference by grinding out results, but the Crew cleaned house after the season and now faces a significant retooling project with Guillermo Barros Schelotto out the door. Success is cyclical in this parity-driven league, but 2010 carried more downs than ups for the usual frontrunners.

Most complete team
Real Salt Lake
While the Claret-and-Cobalt's Rocky Mountain rivals scampered away with MLS Cup, RSL garnered most of the plaudits for its easy-on-the-eyes passing game in two competitions this season. No MLS side could match RSL's depth, its ability to compete on the continental stage and its persistence at Rio Tinto Stadium. The primary blemish in an otherwise excellent season: a defeat to resurgent FC Dallas in the Western Conference semifinals.

Best farewell tour
Juan Pablo Angel's departure from New York
The classy former Colombian international striker scored 13 goals in his farewell season in New York. Although Red Bulls management made it clear that it wanted to move in another direction around midseason, Angel accepted the news professionally, lauded his supporters whenever possible and remained a key contributor as New York claimed first place in the Eastern Conference.
Best riposte to the critics
Schellas Hyndman, FC Dallas coach
Few, if any, observers around the league expressed any faith in Hyndman's ability to succeed at this level during his first two seasons on the job. Hyndman cobbled together his squad over the two years, forged a collective spirit within it and reaped the benefits of his diligence with a regular season to remember and an unexpected trip to MLS Cup. Plus, he donned perhaps the year's most discussed jacket. All in all, 2010 represented a banner year for the former SMU coach.

Best player hidden in a forgotten market
Omar Cummings, Colorado
Cummings received some belated attention during the Rapids' run to MLS Cup glory, but the 28-year-old forward deserved national plaudits well before his moment in the sun. The pacy forward has improved in leaps and bounds during his four years in Colorado and his current partnership with Conor Casey boasts just about everything one would want from a prototypical MLS tandem. It is little wonder that foreign clubs such as Aston Villa have taken an interest in his services because he is a player who could thrive at a higher level.
Best personnel work done in a forgotten market
Paul Bravo, Colorado
Bravo, the Rapids' technical director, offered up a master class in how to construct a MLS Cup contender. By keeping his big guns happy and signing up-and-comers like Omar Cummings and Kosuke Kimura to club-friendly deals over the past couple of seasons, Bravo created enough cost certainty to make favorable deals in the trade market this year. Colorado accumulated several contributors – Mac Kandji, Brian Mullan, Anthony Wallace and Marvell Wynne – via trade and consummated perhaps the deal of the season by acquiring Jeff Larentowicz from New England in exchange for two backups, some allocation money and a draft pick. Throw in last year's deal for Drew Moor (a win-win swap with Ugo Ihemelu shipped to FC Dallas) and it's easy to see how the Rapids laid the foundation for their first title.
Most befuddling acquisition(s)
Toronto FC signs fullbacks Raivis Hscanovics and Maxim Usanov
The Reds desperately needed fullbacks and scoured the world for additional cover. They finally arrived in April, but they failed to address the situation. How and why Preki decided to select these two particular players and sign them to relatively expensive deals remains uncertain. Hscanovics looked well out of his depth every time he took the field, while Usanov offered little more than brute force at right back. It came as no surprise to see both players leave the club by the end of the year.
Worst idea

Expanding the playoffs to 10 teams
If the proposed structure had been in place in 2010, two palpably mediocre sides – Kansas City and Chicago – would have featured in the postseason. Case closed.
Worst time to lobby for a new contract
Dwayne De Rosario, Toronto FC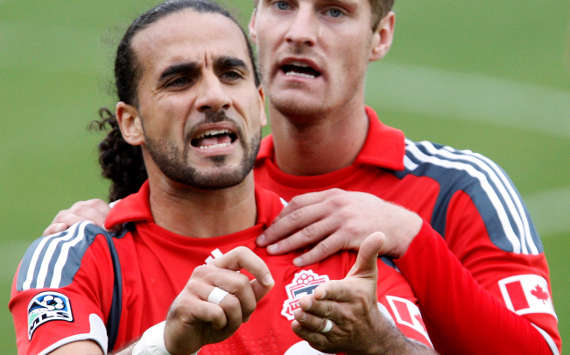 With the Reds crashing out of the playoff race despite his best efforts and losing to San Jose at home, the TFC captain took a moment to express his desire for a fresh deal after drawing his side back to within 2-1 at BMO Field on Sept. 25. The curling strike deserved a proper celebration, but De Rosario's check signing instead inspired questions about his leadership qualities and obscured his valid case for a new deal with a mimed dose of brazen selfishness. Although the jury remains out on his current situation, De Rosario's apparently unauthorized trial at Celtic may soon fall into the same category.
Worst ongoing saga
Philadelphia's handling of Chris Seitz
Is he in? Is he out? Is he somewhere in between? Is he worth protecting? Is he not? Is he the future? Is he already the past?
Union manager Peter Nowak couldn't decide on one answer for any length of time during much of the team's inaugural season and the young goalkeeper struggled to cope with the dearth of confidence in him and the uncertainty caused by the waffling. Seitz's poor form eventually led the Union to decline his option at the end of the season.
As Seitz made his way to FC Dallas for free in the second stage of the Re-Entry Process, Nowak probably couldn't have helped but wonder what he could have done with the sum of allocation money – reportedly between $175,000 and $200,000 – used to secure Seitz's services from Real Salt Lake last year.
Kyle McCarthy writes the Monday MLS Breakdown and frequently writes opinion pieces during the week for Goal.com. He also covers the New England Revolution for the Boston Herald and MLSsoccer.com. Contact him with your questions or comments at kyle.mccarthy@goal.com and follow him on Twitter by clicking here.

For more on Major League Soccer visit Goal.com's MLS page and join Goal.com USA's Facebook fan page!