In the final full week of 2010, it is finally time to review an entertaining campaign.
The synopsis will run through the entire week as we work to capture the highlights and low-lights of another season for the American top flight. It will start today with a look at the selected few picked to garner the season-ending awards and then continue on Wednesday (other awards) and Friday (a look at a few of the unheralded performers of the year).
Without any further adieu, here is a look at the Monday MLS Breakdown's chosen award winners as submitted to the league before the end of the season.
Most Valuable Player
1. David Ferreira, FC Dallas midfielder
2. Chris Wondolowski, San Jose forward
3. Javier Morales, Real Salt Lake midfielder
While there were four viable candidates – including Los Angeles' Landon Donovan – for three spots on the ballot, Ferreira and Wondolowski stood out as the top two choices for their ample production. Ferreira's consistent brilliance throughout the course of the season provided the decisive factor as he edged out a stirring charge from Wondolowski that was eerily reminiscent of Jeff Cunningham's belated, goal-driven push last season.

Coach of the Year
1. Hans Backe, New York
2. Schellas Hyndman, FC Dallas
3. Jason Kreis, Real Salt Lake
This category appeared fairly straightforward from the outset. All three coaches were worthy of the honor given the campaigns constructed by their teams, but only Backe compiled his team from the carcass of one of the poorest sides to ever take a MLS field. He even accomplished the arduous feat with fairly negligible contributions from Thierry Henry and Rafael Marquez.

Defender of the Year
1. Nat Borchers, Real Salt Lake
2. Jamison Olave, Real Salt Lake
3. Omar Gonzalez, Los Angeles
RSL set a new record for stinginess by conceding just 20 times on the season. The central defensive partnership between Borchers and Olave provided the bedrock for those exploits, and it is hard to distinguish which of the two players is more deserving of the honor. Olave earned the MLS gong by eliminating most of the mistakes that have pockmarked his formidable presence over the past few season, but the more consistent and less heralded Borchers earns the nod here for his steadier performances.

Goalkeeper of the Year
1. Nick Rimando, Real Salt Lake
2. Kevin Hartman, FC Dallas
3. Donovan Ricketts, Los Angeles
Hartman and Rimando distinguished themselves as the top two candidates over the course of the season. Rimando enjoyed more defensive protection even though FCD's underrated group showed well, and his steady presence also helped to establish the necessary foundation for RSL's stunning success. Hartman grabbed more highlights than Rimando did with his resurgence, but he featured just 20 times after starting the season as FCD's number two and subsequently missing multiple games with a knee injury sustain in a highly publicized collision with Henry.
Comeback Player of the Year
1. Bobby Convey, San Jose midfielder
2. Nathan Sturgis, Seattle midfielder
3. Carlos Mendes, New York defender
The batch of candidates could only yield one winner as Convey reestablished himself as one of the league's premier left-sided operators. Mendes and Sturgis served as solid contributors for their sides in 2010, but Convey earned top billing by conjuring up form near his best and offering up one of the performances of the season with his two-goal explosion in the second leg of the Eastern Conference semifinal season against New York.
Newcomer of the Year
1. Alvaro Saborio, Real Salt Lake forward
2. Joel Lindpere, New York midfielder
3. Ryan Smith, Sporting Kansas City midfielder
Lindpere simply deserves more credit for his smooth work in the Red Bulls midfield. His lively and selfless play in midfield played an integral part in New York's success. Despite Lindpere's exploits, Saborio represents the best choice for his assertive play as a target man and his considerable haul of 12 goals from 27 appearances.
Best XI
Goalkeeper
Nick Rimando (RSL)
Notes:
A simple choice based upon the Goalkeeper of the Year vote.

Defenders
Nat Borchers (RSL) – Jamison Olave (RSL) – Omar Gonzalez (LA)
Notes:
There isn't much to add here either, but it's probably fair to say Heath Pearce probably ranked as the top choice among fullbacks.
Midfielders
Jeff Larentowicz (Colorado) – Daniel Hernandez (FCD)
David Ferreira (FCD) - Javier Morales (RSL) – Sebastien Le Toux (Philadelphia)
Notes:
MLS dictates a 3-5-2 formation, so this particular group includes two worthy holding players in Larentowicz and Hernandez. Le Toux's impressive season for the Union makes him the choice for the final midfield spot instead of Lindpere.
Forwards
Landon Donovan (LA) – Chris Wondolowski (SJ)
Notes: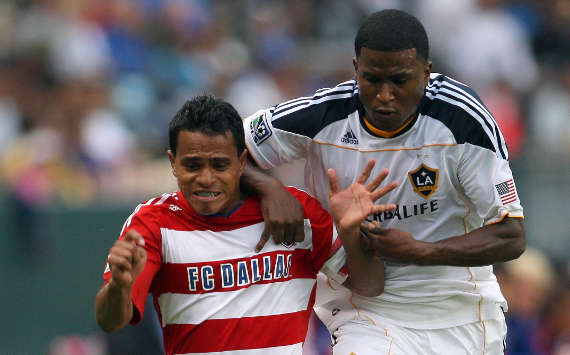 With both Edson Buddle and Donovan listed as forwards on the MLS ballot, the Galaxy men must split one spot up front even though the league rejiggered its approach to accommodate both players. Donovan earns the nod here for providing Buddle with the majority of his openings.
Kyle McCarthy writes the Monday MLS Breakdown and frequently writes opinion pieces during the week for Goal.com. He also covers the New England Revolution for the Boston Herald and MLSsoccer.com. Contact him with your questions or comments at kyle.mccarthy@goal.com and follow him on Twitter by clicking here.

For more on Major League Soccer visit Goal.com's MLS page and join Goal.com USA's Facebook fan page!