The former MLS star will train in Scotland.
Freddie Ljungberg will train with Celtic FC with an eye toward a deal with the Scottish club, Celtic manager Neil Lennon revealed.
The Swede's contract with Major League Soccer expired this winter and Ljungberg has been pursuing options back in Europe to continue his career.
''Ljungberg is coming in tonight [Sunday],'' Lennon said after his side's 2-0 win over St Johnstone. ''It is not a trial or anything like that. It's so that we can have a look at him and he can look at us.
''We were contacted three or four weeks ago. I don't think he is over the hill. He has always kept himself in good condition.
''He had a horrendous time with injuries at West Ham but in the last 18 months he has played a lot of games in America.''
After leaving West Ham, the former Arsenal playmaker transferred to MLS to play for Seattle Sounders FC. While there, club doctors diagnosed him with hypoglycemia, also known as low blood sugar. Since then the 33-year-old has found his fitness and established himself in the United States, helping Seattle win the 2009 U.S. Open Cup.
However, a contract dispute led to Seattle trading Ljungberg to the Chicago Fire midway through the 2010 season. There, the experienced star struggled to kick-start the Fire's season, and the team failed to qualify for the playoffs.
With Ljungberg set to sign in Europe, Chicago will end up paying a second round pick in the 2011 MLS SuperDraft to Seattle for his half-year of services. Had Chicago re-signed Ljungberg, the club would have owed Sounders FC a first-round selection.
Despite the lack of interested parties in MLS, Lennon thinks the former Swedish international can help the Hoops' title challenge in the Scottish Premier League.
''You don't lose the quality; he might be missing an edge but we will see how he is,'' Lennon added. ''He has been a quality player for a long time, he is vastly experienced and again, it's just an opportunity that might be there for us.
''He is a big name but that doesn't concern me as such, it is the quality he can bring to the club and if it is there we will pursue it.''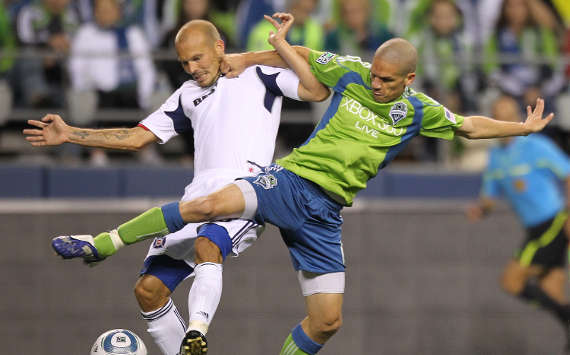 For all the latest transfer news visit Goal.com's Transfer Zone and join Goal.com USA's Facebook fan page!