Los Angeles manager Bruce Arena may as well have delivered a brief, handwritten note to each of the 17 other clubs in MLS to accompany his selections in stage two of the Re-Entry Process last Wednesday.
2011 or bust for the Galaxy.
Most of Arena's brethren around the league probably didn't need the overt notification regarding an approach all too familiar for this particular club. The signs regarding the present were there for all to see after the Galaxy's pair of near misses over the past couple of campaigns.
The typical life cycle of a good MLS side more often than not unfolds in two stages. As Sigi Schmid so often professed during his reign in Columbus, it usually takes the better part of three years to construct a side capable of challenging for MLS Cup. Once a team reaches its apex, it can generally stay reasonably competitive at that level for two to three years before disintegrating due to salary budget concerns.
Certain forces – a dearth or an excess of allocation money, a particularly astute personnel department or a series of sudden departures to Europe – invariably contract (or, in some rare cases, extend) the time frame on either side, but the template remains fairly consistent. In MLS, parity and time almost always reign in tandem to destroy the great sides.
While Arena did his best to shrink the front end by building with some of the pieces in place upon his appointment in August 2008 and cobbling together a series of proven parts to finish one match short of MLS Cup glory in 2009, he is now facing the inevitable problem of trying to prolong his team's window of opportunity on the back end.
Time isn't on Arena's side as the Galaxy ponders its short- and medium-term future because the precarious nature of this mix of young and old will start to crumble.
David Beckham's contract expires at the end of the campaign, and neither side has uttered much in public about a possible extension. Landon Donovan's future also remains uncertain for the long term even though he signed a fresh, four-year extension last year because Premier League teams continue to hover around him for any sign of discord or disinterest. Other key components – from existing cogs like Gregg Berhalter and Jovan Kirovski to potential new imports Juan Pablo Angel and Frankie Hejduk – will likely contemplate retirement in the near future, while younger players like Juninho and Michael Stephens probably aren't yet capable of playing more than complementary roles on a title-winning team.
With a now-healthy Beckham and a hopefully-rested Donovan ready to lead the charge in 2011, Arena could only reason one reasonable conclusion: circle the wagons and obtain the best available players for next season with diminished regard for the future consequences.
No pursuit quite typifies this win-now mentality like the seemingly doomed hunt for AC Milan playmaker Ronaldinho. There are, of course, AEG-related boons to reap if the seasoned Brazilian playmaker crosses the Atlantic, but the occasionally motivated maestro represents a gambit for short-term success. The beach, the burgers, the sun and the women endemic to life in southern California all point toward a rather harsher long-term adjustment to American soccer for the Samba king than the one enjoyed by the fitness-conscious Beckham. The deal for the gifted 30-year-old playmaker looks more unlikely now than it has in recent months, but the continued desire to add a player with a seemingly limited shelf life at this stage of his career only reinforces the need to focus on the present.
Similar sentiments carry over to the potential arrivals of Angel and Hejduk. Angel, in particular, addresses a glaring need – a viable partner for Edson Buddle to allow Donovan to provide genuine incisiveness and width in midfield – as he decides whether he wants to continue in MLS this season for a considerably reduced rate. While Arena may have to employ every power of persuasion he can muster to convince Angel to join the Galaxy, he likely won't encounter similar problems when he goads Hejduk to return to southern California for fewer dollars. In the former Columbus captain's case, he stands to take a true hometown discount to add a bit of the character and the professionalism previously supplied by the now-retired Chris Klein and Eddie Lewis.
The continued and expensive emphasis on the present eventually inflicted its punishment on the future. Arena pawned homegrown forward Tristan Bowen to city rivals Chivas USA for an undisclosed sum of allocation money. While Bowen may turn into a useful player at this level or a higher one in a few years' time, the 19-year-old glittered infrequently as a squad player in 2010. Similar circumstances in 2011 meant Arena could bear make a painful trade to bring the future into the present, allowing Los Angeles to accumulate more of the allocation money it will require to somehow squeeze within the salary budget.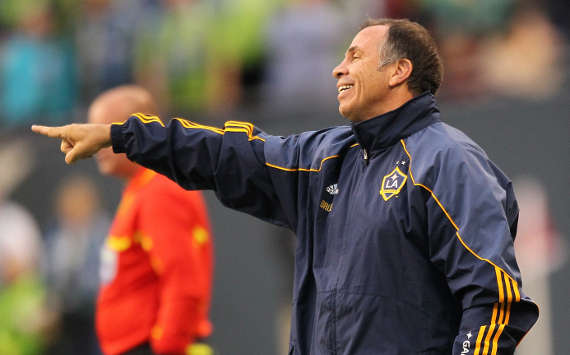 Sacrifices like the one required to send the promising Bowen down the hall at the Home Depot Center create the foundation required to challenge for MLS Cup. Several players in the Galaxy locker room will restrict their own ambitions and their own paychecks to improve the squad, while Arena will have to scrounge around in less glamorous places than he'd presumably prefer to shop in order to find the center back and the holding midfielder his side desperately requires to mount a title challenge.
The ultimate results of those concessions appear as hazy as the smog-filled skyline does on a humid summer day. The success or failure of this group – and its prospects for doing so in a competitive and deep Western Conference – will be determined at some juncture well after the calendar turns.
For now, one conclusion arises as the Galaxy eschews the future for the present: that point won't extend past the third weekend in November.
Kyle McCarthy writes the Monday MLS Breakdown and frequently writes opinion pieces during the week for Goal.com. He also covers the New England Revolution for the Boston Herald and MLSsoccer.com. Contact him with your questions or comments at kyle.mccarthy@goal.com and follow him on Twitter by clicking here.

For more on Major League Soccer visit Goal.com's MLS page and join Goal.com USA's Facebook fan page!