One word should populate all of the whiteboards and wish lists around MLS prior to the start of the Re-Entry Process this afternoon.
Need.
The first crack at this limited market of 35 players should focus solely on acquiring players who fill a glaring hole on the roster. There will be a time and a place for adding quality players from this pool to round out the squad – read: next Wednesday in stage two – but the structure actively discourages plucking options who may merely serve as a complement to the existing framework during the first stage.
The reasons –
as explained in detail in the Monday MLS Breakdown
– are fairly simple. Every player on the board enters stage one at either his bona-fide offer price (if he is one of the three out-of-contract players) or his declined option price. If a club selects a player and signs him for 2011, it must pick up the full tab on his guaranteed contract for next season. If a player isn't selected in stage one, he may negotiate a different and presumably reduced deal with the league prior to stage two.
In the always transitive world of MLS roster construction, those restrictions serve as stringent limitations on the aspirations of technical directors heading into the process. A significant slip on the wrong player during stage one could hinder a club's chances of using the external market to acquire more cost effective solutions. Caution, it seems, is the order of the day.
Those ruling principles, however, aren't absolute. Some teams will emerge from stage one with an extra player or two because the options on offer represent a significant upgrade over the present stock in place. D.C. United holds the first pick, and new United boss Ben Olsen told
dcunited.com
he planned to make an addition or two during this stage. Other clubs – Columbus has publicly mentioned its interest in a couple of players, while Toronto FC possesses almost as much flexibility as D.C. does because of its significant salary budget room – could also dabble as the process starts.
Even with a few teams willing to select players at this stage, it looks far more likely that the majority of clubs will watch from the sidelines and wait for players to enter stage two at a lower salary number. While all teams need to acquire and horde domestic talent as the league continues to expand, the vagaries of this novel process supply little economic incentive to do so this afternoon.
Despite the strictures involved in stage one and the potentially costly options on the table, there are a couple of interesting names available in the pool. Some players will come off the board today, while most will have to wait until next week. Here are five names to watch as the process unfolds:
1. Jimmy Conrad:
It's fairly interesting to see the former U.S. international defender's name in the pool at all given Sporting Kansas City's lack of depth in central defense, but a high price tag ($232,750 base in 2010 and a bona-fide offer for 2011 on the table for stage one) and a late-season concussion probably played some part in the decision. If the out-of-contract Conrad is healthy, he can provide the experience and the leadership more than a few teams crave at the back. D.C. would make some sense for Conrad, as would TFC. Also worth noting: Conrad said he's open to a return to Kansas City if the two sides can find common ground.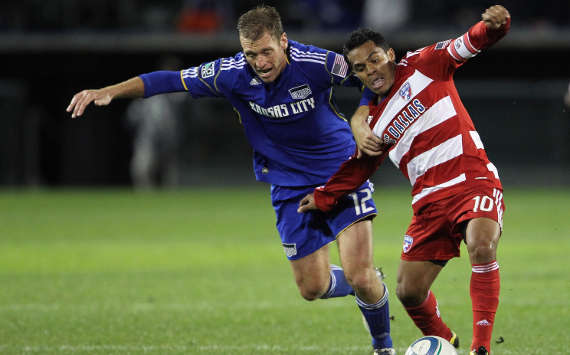 2. Frankie Hejduk:
While Columbus believed that the veteran defender didn't quite live up to his $120,000 contract in 2010, the former U.S. international fullback might entice a team or two at this stage if his option number doesn't call for an outlandish increase. Fullback-needy Chivas USA stands out as a potential suitor for the southern California native, but it wouldn't be a surprise to see other clubs hop into the mix for the 36-year-old without waiting for the final price to fall.
3. Juan Pablo Angel:
An expensive option price – Angel made $1.6 million this year and merits a bump next year – probably makes the former Colombian international striker a second stage candidate, but it's always tough to tell when and where a goalscorer might go (Jeff Cunningham and his $220,000+ option fall into the same category) with goals always at a premium around the league. Angel tallied 13 times despite slowing down a bit in 2010, so he still falls into that category rather comfortably. Several sides have expressed an interest in Angel's services at various points over the past year, and it's fair to say that one or two clubs will at least contemplate taking him in stage one to ward off the competition. Whether any club actually pulls that pricey trigger today remains an open question.
4. Guillermo Barros Schelotto:
Even with his considerable production in 2010, the veteran Argentine schemer doesn't make much sense at this stage given his DP-money option ($650,000 in 2011, according to the
Columbus Dispatch
). Barros Schelotto would make considerable sense for some teams – Chivas USA, in particular, seems like a nice fit with its desire to possess the ball and its current lack of creativity – but he will likely have to wait a week before learning his destination after the Dispatch cited sources saying he might be willing to play for a non-DP sum of $325,000 in 2011.

5. Luke Sassano:
The versatile former New York midfielder earns this spot, but any one of a handful of modestly-compensated players could have earned it. Clubs will continue to look to bolster their depth as the re-entry process starts today and continues into next week, but the question becomes when and whether a team should take a risk on a reserve player deemed surplus to requirements by another side. There isn't much financial upside to waiting, but there is the downside of guaranteeing a potentially replaceable player a contract for the full season during both stages. It'll be interesting to see how clubs toe the line as the re-entry process unfolds.
Kyle McCarthy writes the Monday MLS Breakdown and frequently writes opinion pieces during the week for Goal.com. He also covers the New England Revolution for the Boston Herald and MLSsoccer.com. Contact him with your questions or comments at kyle.mccarthy@goal.com and follow him on Twitter by clicking here.

Keep updated with Major League Soccer throughout the playoffs by visiting Goal.com's MLS page and joining Goal.com USA's Facebook fan page!