Everyone around MLS needed a healthy helping of the turkey dished out across the United States yesterday.
The sleep-inducing Thanksgiving favorite finally slowed down the flurry of player movement sweeping through the league during this holiday week.
Toronto and Vancouver combined to keep the trade carousel moving by striking a deal on Thursday and underlining the fact that Canadians celebrate Thanksgiving in October, but the other sixteen teams finally took a breather after treating the previous few days like a swap meet on the side of the road.
Wednesday's expansion draft provided the impetus for all of the address changing, so the Friday Five – making its triumphant return for the winter – digs deeper into some of the talking points raised by all of the transactions:
1. For both expansion clubs, accumulating assets played a significant role in forming their draft boards: Portland and Vancouver selected 20 players on Wednesday afternoon. By Thursday afternoon, eight of those players were already headed elsewhere. Portland made three deals and picked up D.C. United's Rodney Wallace, allocation money (though a portion of that haul likely went with Dax McCarty to D.C. for Wallace) and two draft picks, while Vancouver collected two chunks of allocation money, two international spots and a first-round pick. In addition to the eight deals, Portland selected two U.S. internationals – former Chivas USA and soon-to-be Tigres defender Jonathan Bornstein and ex-Real Salt Lake forward Robbie Findley – who will likely play outside of MLS in 2011.
2. John Spencer's bravado might be a bit misplaced: The former Houston assistant appeared over the moon about how his Timbers fared in the horsetrading associated with the draft. So over the moon, in fact, that he suggested it felt like only one team participated.
"We came out of the expansion draft like, in our eyes, there was only one team in it," Spencer said on Wednesday. "We got the guys that we wanted. It's not pie-in-the-sky. It's not a smokescreen. We got the guys we were looking to get."
Assuming Bornstein and Findley play elsewhere in 2011, Spencer's confidence in Portland's selections appears a bit presumptuous. Portland drafted one likely starter (Eric Brunner), exchanged one certain starter for another (McCarty for Wallace) and pinned the rest of its hopes on four borderline starters (Jordan Graye, David Horst, Peter Lowry and Adam Moffat). If those inexpensive players plus a modest amount of additional resources and a couple of gambles on Bornstein and Findley is what Portland dreamed about prior to the draft, then the enthusiasm may be merited.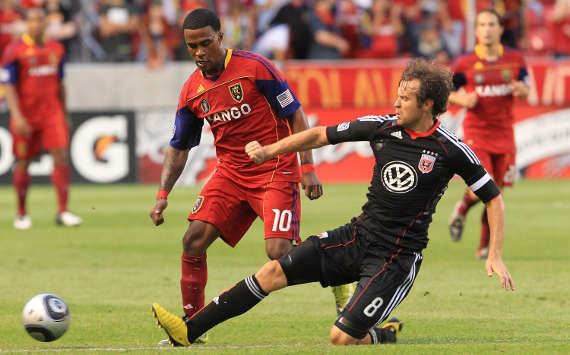 But the present day balance almost certainly has to fall toward Vancouver, doesn't it? Whitecaps director of soccer operations Tom Soehn amassed a staggering amount of useful resources for the five players he traded and retained a group of five players that should include a minimum of three opening day starters (Joe Cannon, John Thorrington and at least one of Atiba Harris and Shea Salinas). Those players will certainly cost the Whitecaps more money than the Timbers' inexpensive and younger crew, but they also guarantee that the Whitecaps, not the Timbers, emerged as the instant winners in the draft.
3. D.C. United addressed one of the most glaring needs in the league by acquiring Dax McCarty: McCarty immediately adds a bit a quality to the relatively barren wasteland known as United's central midfield. Portland extracted a significant price by picking up the promising Wallace, but McCarty immediately becomes the top midfielder on United's rickety depth chart. McCarty's arrival – presumably to partner the reliable-when-healthy Clyde Simms in some fashion – reduces United's reliance on Branko Boskovic to shoulder any defensive duties in a five-man midfield setup and couples two reliable MLS starters in the center of the park. Considering the pairings injury-riddled United fielded centrally in 2010, the new duo of McCarty and Simms is a considerable step up in class.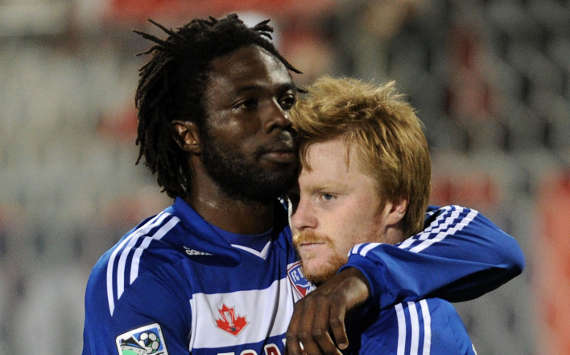 4. Somehow, RSL – the deepest team in the league – emerged from the expansion draft with more depth: No club entered the expansion draft with more trepidation than the 2009 MLS Cup winners. RSL couldn't protect 16 or 17 players, so the Claret-and-Cobalt left a mix of regular contributors (Ned Grabavoy, Robbie Russell and Andy Williams) and promising young talents (Chris Schuler and Collen Warner) unprotected. Instead of making RSL pay for assembling the league's strongest roster, Portland snatched up David Horst (far enough down the depth chart to log his minutes in Puerto Rico in 2010) and Robbie Findley (who almost certainly isn't re-signing with MLS and definitely wasn't coming back to RSL). To cap it all off, RSL used up some of its extra budget room (courtesy of the CONCACAF Champions League) to acquire Arturo Alvarez from Portland for a second-round pick that almost certainly wouldn't have contributed in 2011.
All told, RSL emerged from the dreaded expansion draft with a much-needed wide attacking option in Alvarez and without sustaining a significant loss to its anticipated 2011 core.
"Honestly, I can't believe I'm saying this, but I think we're better than we were at the beginning of the day," Real Salt Lake general manager Garth Lagerwey told the Salt Lake Tribune.
5. If there's one team that could and should overpay for a fullback option, it's Toronto FC: The Reds shipped their first-round pick (eighth overall) to Vancouver on Thursday for former Seattle midfielder Nathan Sturgis. TFC likely overpaid for Sturgis – after all, Seattle chose to protect reserve forward Mike Fucito instead of the modestly compensated Sturgis, a starter in central midfield likely set to lose his place to Alvaro Fernandez or a new acquisition in 2011 – but the decision makes sense given the paucity of fullback options on the roster. TFC struggled to fill holes at both left and right back last season and Sturgis, in addition to his most recent role in central midfield, can feature on either side. Simply by joining the roster, Sturgis is immediately better than any of the choices employed at either fullback spot in 2010. For TFC, his arrival and the depth he provides in three spots counts as a win despite the high price.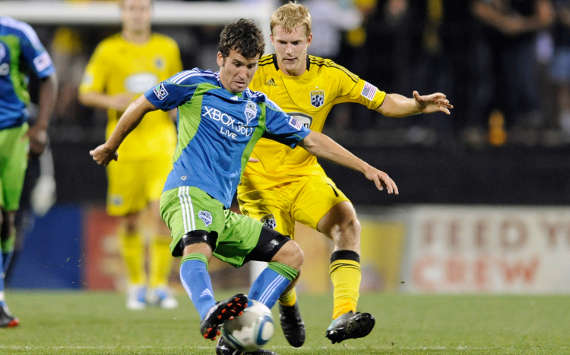 One other point worth noting: TFC (and Vancouver) probably values a first-round pick slightly less than an American side would because the selected player would likely fill one of the international roster berths.
For the latest news and updates from Goal.com, follow our Twitter account and join Goal.com USA's Facebook fan page!