The best way to take the sting out of a bully's jibes is to ignore him. The Colorado Rapids tried a similar tact against the man who bullied the Los Angeles Galaxy a week prior, David Ferreira.
Instead of man-marking the MLS MVP in the MLS Cup final against FC Dallas, Colorado held a strict shape and let the Colombian select which marker he came up against.
Initially, it looked as if the plan would backfire horribly, as Ferreira ghosted in between the two central defenders to tip home Marvin Chavez's early cross and open the scoring. But the Rapids didn't panic, held their shape, and kept plugging away.
An ultra-deep defensive line meant Ferreira couldn't exploit counterattacks as he does so adroitly, and a narrow midfield four helped constrict the space Ferreira likes to float in as well as counteract Dallas' extra numbers in midfield.
After the goal, Ferreira's influenced waned and he started drifting to the flanks or partnering Atiba Harris up front to find space and the ball.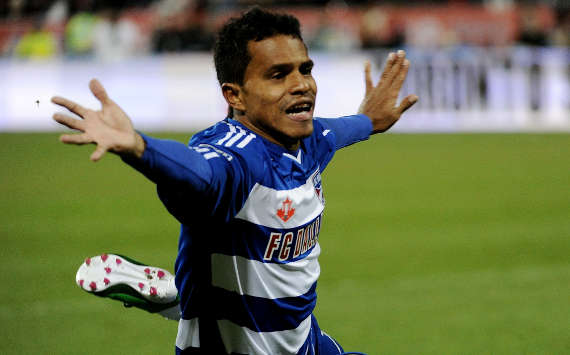 "I thought the midfield boys and the back four did a wonderful job of keeping their distances right to limit David Ferreira," Rapids coach Gary Smith said. "He drifted a little bit wider. When he starts going wider and deeper, you know that you're job properly."
While Smith will credit his players publicly, he might privately admit that a complete dearth of movement from Harris up top gummed up the works for Dallas in attack. With no off-the-ball runs to pull defenders out of the way, Ferreira didn't have any holes to exploit.
Harris was Schellas
Hyndman's masterstroke against the Galaxy
, and his demise against Colorado. Well, along with a breakdown of Dallas' slick passing game.
The impressive form and positioning of Jeff Larentowicz helped exile Ferreira up nearly as high as Harris on many occasions, or wide left once Brek Shea left the match. In those spots, Ferreira still had several crucial chances, including a dangerous cross to Ugo Ihemelu late in extra time, but with him unable to control play, Dallas struggled to impose its passing game.
The other reason for a more aerial approach by the Hoops was that Colorado choked out the early distribution.
"The key was the two guys up front took away that deep-lying midfielder, Daniel Hernandez, allowing us to get screens," captain Pablo Mastroeni explained. "Then when Ferreira got on the ball, it was easy to step up and press, knowing that their outlet was going to be to their center backs and not necessarily to Daniel because he was marked by their two guys up front. The backline did a fine job of holding their line. We made the field awfully small for those guys."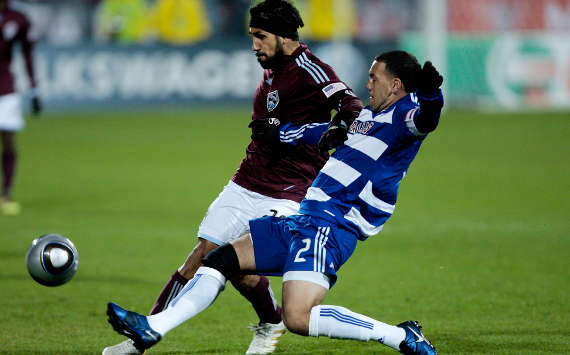 In the end, two almost shamefully opportunistic goals gave Colorado a 2-1 win in extra time and the club's first MLS Cup.
It was ugly. It was chippy. It was gritty. And it was all of those things because Colorado imposed the exact sort of game it wanted to play on Dallas and kept the bully of Ferreira at a wary arm's length.
Zac Lee Rigg writes things and stuff for Goal.com. You can follow him on Twitter @zacrigg, if you really want to I guess.
Keep updated with Major League Soccer throughout the playoffs by visiting Goal.com's MLS page and joining Goal.com USA's Facebook fan page!