TORONTO – For the first time anyone can honestly remember, circumstance and fortune favored the Colorado Rapids.
If the Rapids could have drawn up the conditions for a one-off tie, the set of variables in play for MLS Cup 2010 probably would have closely resembled the ideal. The biting cold, the choppy field, the lenient referee and the swirling wind constituted a perfect storm for the robust Rapids to topple a silky smooth FC Dallas side.
But all of those advantages paled in comparison to the one edge that well and truly decided the outcome on the evening.
This sometimes ragged and always rugged affair hinged on desire and fortitude. With this group of players at its disposal, Colorado always stood a good chance of prevailing in such an earnest battle.
"This team has unbelievable character," Colorado defender Drew Moor said. "It's the tightest group of guys I've ever been with at any level. We love each other. We work for each other. We all have that streak in us where it's a never say die attitude. We don't think we're out of any game."
Belief can carry a side a long way even when adversity strikes. After Colorado shaded the early exchanges in a rather dour first half, it did in the form of David Ferreira.
The FCD playmaker exerted little influence on the proceedings due in large part to Colorado's excellent defensive shape, but one moment of brilliance and a collective Rapids breakdown at the back ensured he at least landed on the scoresheet. Marvin Chavez enjoyed far too much time and space to curl his cross in from the right wing and Ferreira, as he often does, ghosted into the right spot at the perfect time to open the scoring on 35 minutes.
The goal didn't necessarily reflect the tenor of the game to that point, nor did it cause the Rapids to bow their heads. Doubt wasn't an option. Given the way the match unfolded, it didn't need to be.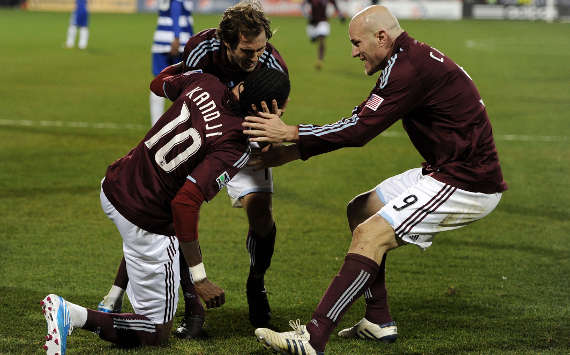 Colorado imposed its approach on the game from the opening whistle. Industry and shape mattered far more than artistry and panache, a testament to Colorado's relentless chasing and harrying on and off the ball and its ability to constraint FCD's expansive ambitions. By cutting off the supply to Daniel Hernandez – several Rapids credited Casey and the peripheral Omar Cummings for their defensive work – and Ferreira, Colorado forced FCD into alternative routes and molded the game to its liking.
"This game suited the way we play," Colorado goalkeeper Matt Pickens said. "We've got Pablo (Mastroeni), we've got Jeff (Larentowicz) and we've got guys that work their tail off. They fight tooth and nail. We don't play pretty soccer. That wasn't it tonight. It was a gritty goal by Conor, a gritty goal by Mac and we got the result."
Larentowicz, in particular, stood head and shoulders above the rest. The 26-year-old midfielder drove Ferreira out of the game and into inopportune areas to escape his attentions. Lrentowicz won seemingly every tackle in central midfield and distributed smartly at most points, turning the Rapids' numerical deficit in central midfield into a stark advantage for most of the night.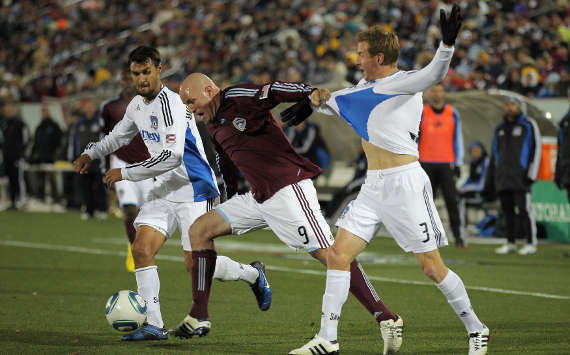 It was an edge borne out of a deft series of moves that underscored the importance of using the internal MLS market as a fundamental building block for constructing a championship team.
Larentowicz's arrival from New England for a modest sum – after his contract expired, Colorado nicked him for two reserves, a decent chunk of allocation money and a draft pick – represents the most criminal of the acquisitions, but other moves contributed just as mightily to the cause. Moor arrived from FC Dallas last year in exchange for Ugo Ihemelu to provide a calming and steady influence at the back. Fellow defenders Anthony Wallace (FC Dallas) and Marvell Wynne (Toronto FC) offered high value contributions for negligible tariffs. Veteran grinder Brian Mullan cost just the hobbled Colin Clark and allocation money when he returned home from Houston during the summer to add a healthy dose of graft and veteran nous. Key reserves like Mac Kandji (acquired from New York for the much-maligned Mehdi Ballouchy midseason) and Wells Thompson (acquired in the Larentowicz deal) arrived to supply some much-needed depth.
All of those moves by technical director Paul Bravo and coach Gary Smith cobbled together the necessary pieces to forge a well-drilled unit brimming with character and intensity. In other words, the Rapids possessed exactly the type of group required to overcome a deficit against Columbus, a gritty San Jose club and this mountain to scale against FC Dallas.
Granted, the second half probably represented a success only in its outcome from a Colorado perspective. Conor Casey scored while sitting on his rear to equalize after 57 minutes, though his opportunity to poke home owed much to Jamie Smith's excellent run down the left and FCD's not-quite-as-excellent defensive work during the sequence. For much of the remainder of the half, Colorado soaked up a fusillade – though most of the barrage focused on easy-to-digest diagonal balls instead of creative play – in the final 25 minutes or so to somehow scrape into extra time.
Cruelty played a role in deciding the match in the second half of extra time, though the peculiar nature of the winner certainly didn't matter much in the winning locker room. Kandji – inserted for the injured Omar Cummings (thigh) after 98 minutes – collected a raking diagonal ball from Casey, nutmegged Jair Benitez on the right side of the FCD penalty area and toe-poked toward goal. Two FCD players who deserved better – stalwart defender George John and sterling goalkeeper Kevin Hartman – could only watch as John's thigh diverted the ball into the net.
"You know, it's a final," Larentowicz said. "That's just kind of what happens. It was either going to go to penalties or it was going to happen that way. Even if they scored, it was probably going to be a knock-down or a blocked shot and a rebound. That's what comes out in finals because everyone is much more tense and much more on edge."
The stakes promptly increased after Kandji promptly writhed around theatrically – much to FCD's consternation – after the goal and limped off with a left knee sprain to reduce the Rapids to ten men. Substantial victories, after all, rarely come easily for these Rapids.
"Our backs were up against the wall," Colorado captain Pablo Mastroeni said. "We knew it was coming. They've got good players. To be honest with you, it was a test of our will more than anything tactical or technical. It was about having the spirit to overcome a great challenge. Collectively as a team, we did that."
There were heart-stopping moments along the way as FCD pressed for an equalizer and the 10-man Rapids threw everything they had into defending the narrow advantage. FCD created the perfect chance inside the Colorado penalty area with four minutes to play, but it fell to the wrong man in Ihemelu and he skied it over the bar. John nearly atoned for his awful slice of luck by pushing a difficult opportunity into the lower corner, but Matt Pickens somehow flashed out his right hand to push the effort away.
Somehow, some way, Colorado survived to capture its first championship. It was, in many ways, the quintessential Rapids victory: long on belief, character, commitment, determination and grit with bits of unheralded quality sprinkled in for good effect.
"We've always got a chance in a game," Smith said. "And for anyone out there that didn't back us, I pity you. Because any money I had, if I knew that every time a side walked out onto pitch, they were going to give everything they got in a pinch, you ain't going to be far away."
On this blustery night in Canada, the manner in which this match played out and the way Colorado forced this match to unfold ensured the Rapids were now more than a team always there or thereabouts.
They were champions.
Kyle McCarthy writes the Monday MLS Breakdown and frequently writes opinion pieces during the week for Goal.com. He also covers the New England Revolution for the Boston Herald and MLSsoccer.com. Contact him with your questions or comments at kyle.mccarthy@goal.com and follow him on Twitter by clicking here.
For more on Major League Soccer, visit Goal.com's MLS page.