TORONTO – There was a palpable air of quiet resignation coupled with sheer shock in the FC Dallas dressing room following their 2-1 MLS Cup extra time defeat to the Colorado Rapids. The silence of the room was almost as jarring as the George John own goal, a 107th-minute deflection of a Macoumba Kandji shot that left 'keeper Kevin Hartman helpless to stop, which gave the Rapids their first ever MLS Cup.
Brek Shea was almost catatonic.
"I . . . didn't play my best," said the U.S. international before apologizing for his inability to articulate his thoughts.
Though head coach Schellas Hyndman and captain Daniel Hernandez made it perfectly clear during the post-match press conference that nobody on the squad placed any kind of blame on John for the defeat, the second-year defender himself didn't shy away from accepting culpability and spoke with candor.
"It happened so fast," said the former Washington Huskie about the game-winner. "I didn't have time to react and I'm not really sure, but I take full responsibility for it. It's my fault. It cost us the cup. I should have done better with it."
The assurance that his teammates harbored no ill will towards him for the gaffe did little to change John's opinion on the matter.
"The guys are just being nice about it," offered John. "It is what it is. We lost 2-1. [The own goal] was the winning goal for them."
Hartman, making his fifth MLS Cup appearance, was gracious in defeat and accepting of his club's fate.
"Certainly, we felt like we had the team and the group to get a result," said the two-time Cup-winner. "Unfortunately, it just seemed like the bounces weren't going our way. And that's going to happen, but we put ourselves in a great position by getting [David Ferreira's] early goal."
Though he felt that both Colorado goals were creations of unforced Hoops' errors, the veteran 'keeper had high praise for his opponents.
"Colorado certainly made it difficult for us to play," stated Hartman. "The field wasn't necessarily extremely conducive to the way we like to play, but you can't take anything away from them. They'd certainly done everything they needed to do to win tonight. They worked really hard. I thought their midfielders were winning a lot of second balls."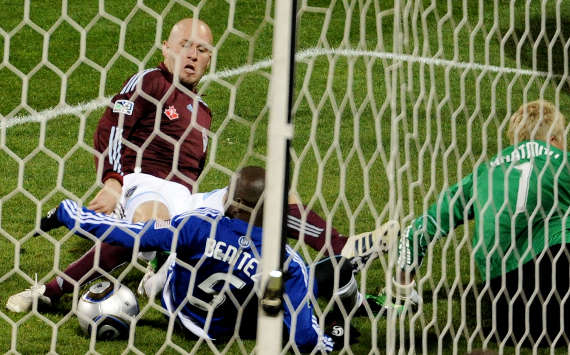 Hartman lamented the manner in which the match was lost and greatly empathized with John, but recognized that such is the nature of soccer.
"To lose it on an own goal, where you have a player who's really trying to do something beneficial to the team and block a cross . . . once I saw that, I kinda thought that maybe we're done," said the MLS all-time wins leader. "When you get bounces like that, when we've had such fortune the whole year, to get those kind of scrappy goals like that, that's not really how FC Dallas has been going about their business for a long time."
Later on Monday, every MLS team must submit a protected list for this year's expansion draft. Each team will protect 11 players who will then be unavailable for selection by either the Vancouver Whitecaps or the Portland Timbers. Having come so close to winning it all, it seems as if nobody on FCD wants to see any of his teammates depart, as there is a sense of unfinished business for the Hoops right now.
"To a man, everyone in the room would agree that we would rather play with one another than any other players," said Hartman. "We feel really confident in the group that we have here and we were able to overcome extreme adversity on numerous occasions this year and we really felt like we had a group that was able to be champions. A couple of bounces go the wrong way and it turns your season from a success into a failure. I don't see it that way. We were a step away from where we wanted to be and we gotta do whatever we possibly can to get back here as soon as we can and win a championship with this group."
Whether or not FCD will be able to accomplish that feat remains to be seen, but the disappointment from a cold November night in Toronto will linger with the club until it steps back on the pitch in 2011 when it will have the chance to banish those memories and capture the franchise's first MLS Cup.
Keep updated with Major League Soccer throughout the playoffs by visiting Goal.com's MLS page and joining Goal.com USA's Facebook fan page!